Last Updated on March 30, 2020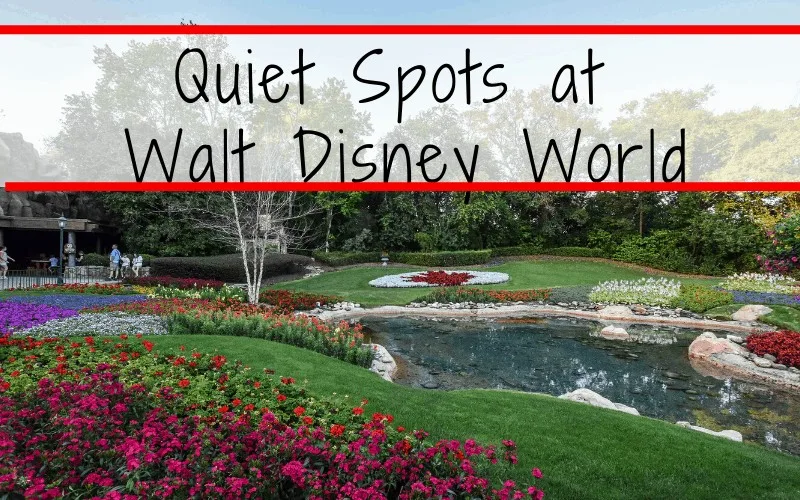 Find Some Quiet restful spots at Walt Disney World. Relaxing, quiet, and restful aren't always a thing at Disney Parks. The bucket list trips from far and wide are often fast and hard.
Every once in awhile, even the most organized Disney guest needs a break from the sound, lights and other stimuli. Florida residents with Annual Passes definitely have an advantage here.
This post may contain affiliate links.
To which I earn a small commission, at zero cost to you!
Find more info in our
Privacy Policy
.
Whether your child has an issue with overstimulation or simply needs quiet time to recharge, you can factor in quiet time at each of Disney's theme parks with a little planning.
In order to be considered relaxing and refreshing, an appropriate spot must quiet, shaded and provide seating (the floor doesn't count).
While dining settings and restrooms cover these three particular criteria, we are looking for something a little more restful and easy on the eyes.
Quiet Spaces and Restful Spots at Disney World Parks
Where can one take a family member with a cognitive disability when they become over-stimulated, has a "meltdown", or needs a break?
Disney Cast Members will be your best resource for locating the nearest quiet space.
Magic Kingdom
Main Street, U.S.A.: First Aid; Side Street by Crystal Arts
Adventureland: Swiss Family Treehouse; Corridor to the left of Pirates of the Caribbean
Liberty Square: Behind Ye Olde Christmas Shoppe
Frontierland: Tom Sawyer Island (NOTE: You must take a raft ride to/from the island and some waiting may be required); Splash Mountain garden area
Fantasyland: Pathway leading from Cinderella Castle to Fairytale Garden; Pete's Silly Sideshow area; Pathway behind The Barnstormer
Tomorrowland: Near Walt Disney's Carousel of Progress
Disney's Hollywood Studios
Hollywood Boulevard: First Aid
Echo Lake: Walkway surrounding Echo Lake
Animation Courtyard: The Voyage of Little Mermaid attraction, Near the restrooms to the left of The Magic of Disney Animation attraction
Sunset Boulevard: Courtyard outside The Twilight Zone Tower of Terror™
Commissary Lane: Outside ABC Commissary
EPCOT
Future World West: Courtyard and restroom area outside Imagination pavilion; Area between Seas entrance and Coral Reef Restaurant
Future World East: First Aid (part of Odyssey Center building next to Test Track); Common area near Misson: Space and Test Track
World Showcase:

Mexico-Outside area to the right of the pavilion near the backstage gate;
Germany-Garden area next to Glaskunst;
Japan-Garden area;
Morocco-Village Corridors;
France-To the right of the buildings along the water's edge;
International Gateway;
United Kingdom-Garden area at the back of the pavilion (when shows are not running at the gazebo)
Canada – Victoria Gardens
Disney's Animal Kingdom
Discovery Island®: First Aid (next to Creature Comforts); Discovery Island Trails
Africa: Gorilla Falls Exploration Trail
Asia: Maharajah Tiger Trek
Slow and Quiet Disney World Attractions
This is not the same as a restful spot to de-escalate a tantrum or coax a small child into a nap, however, to keep the good times rolling there are a handful of attractions at Disney World that are less thrilling and visually appealing, and relaxed.
Magic Kingdom
Tomorrowland Transit Authority (a.k.a. the "People Mover")
Walt Disney World Railroad
Liberty Belle Riverboat
Tom Sawyer Island
Swiss Family Treehouse
Disney's Hollywood Studios
Voyage of the Little Mermaid
Animation Gallery
EPCOT
Future World
Innoventions
Living with the Land
Disney's Animal Kingdom
Discovery Island Trails near Tree of Life
Gorilla Falls Exploration Trails
Conservation Station
Na'vi River Journey
Guides for Guests with Disabilities
Available at Guest Relations, these guides can also be downloaded in a printable format for each theme park:
Your Thoughts...
Please share your thoughts in the comments or reach out on social media...We would love to hear from you.
Follow Mouse Travel Matters for Disney Parks news, the latest info and park insights, follow MTM on Twitter, Facebook, and Instagram.
You May Also Like…
Overview of DAS (Disney Access Service)
What's in My Camera Bag for Disney World and Theme Parks?
Tips on Managing Disney World Holiday Crowds
6 FastPass+ Tips You Need To Know
10 Things You Absolutely Must Do Before Your Walt Disney World Vacation
How To Experience Disney With A DAS Pass