Last Updated on April 1, 2020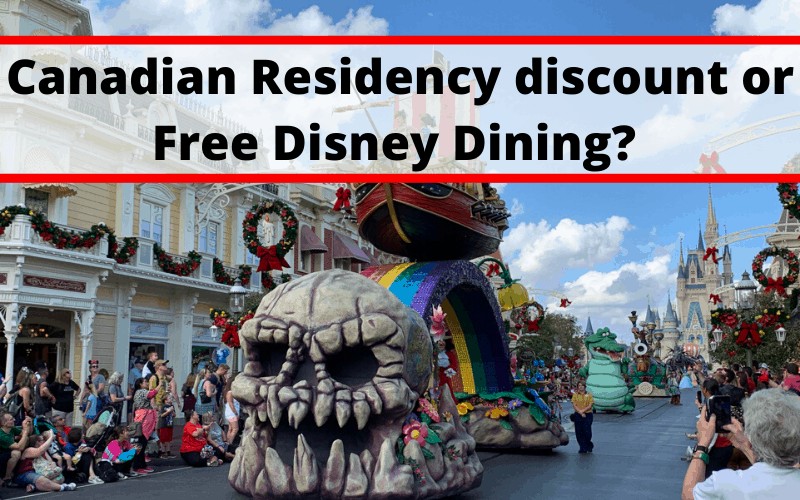 With Free Disney Dining just announced, many guests are flooding the internet in hopes of applying this discount to their reservation. But as Canadians, is this really the best course of action or are there better deals for us?
Before we get into the nitty-gritty comparisons, let's take a minute to review exactly what both discounts have to offer.
Canadian Residents Offer
With this offer, Canadian residents like you can save 20% on a 4-day or longer Walt Disney World theme park ticket and enjoy admission to one theme park per day valid for dates on or before December 31, 2020.
Free Dining Offer
With this offer, enjoy a FREE dining plan when you purchase a non-discounted 5-night/6-day vacation package that includes a room at a select Disney Resort hotel, on select dates, and a ticket with Park Hopper option.
Canadian Residency discount or Free Disney Dining?
Just quickly looking at the options above, Canadian Residency discount has far fewer restrictions in terms of dates, resort selection, and type of tickets available for purchase.
Canadian resident ticket discounts can be combined with room discounts, and applied to any date before December 31, 2020. So while Disney is currently offering up to 20% off rooms only for the spring, Canadians can still save 10% on Value resorts, plus 20% off tickets (roughly the equivalent of the exchange rate) and paying meals out of pocket. Free Disney Dining requires guests to void their room and ticket discounts (and purchase Hopper Passes, which we don't believe are worth it) in favour of free meals.
Quick Example
Canadian Resident Tickets for 4 days $327 USD, Discounted Pop Century room for 4 days $493, food estimate for 1 person for 4 days, $220. Grand total of $1,040
Free Disney Quick-Service Dining Plan for 4 days; $548 Pop century resort, $506 tickets with hopper pass, free quick service meals. Grand total $1,054
While $14 doesn't seem like big savings, this is $14 per person in your party and doesn't allow for guests to save money by bringing their own food into the parks.
In our opinion, the free dining offer can be great but you definitely need to do the math first. Don't just blindly assume it's the best option simply because it's "free". In some cases, it could end up costing you more because you'd be giving up other discounts.
Your Thoughts...
Please share your thoughts in the comments or reach out on social media...We would love to hear from you.
Follow Mouse Travel Matters for Disney Parks news, the latest info and park insights, follow MTM on Twitter, Facebook, and Instagram.
You May Also Like…
Free Dining is Now Available for 2020!
Secrets to free Disney dining plan 2020
How to get difficult Disney world dining reservations
Annual pass or Disney dining plan
10 Reasons for leftover dining credits
Best Disney World Resorts for Free Dining