Last Updated on July 26, 2020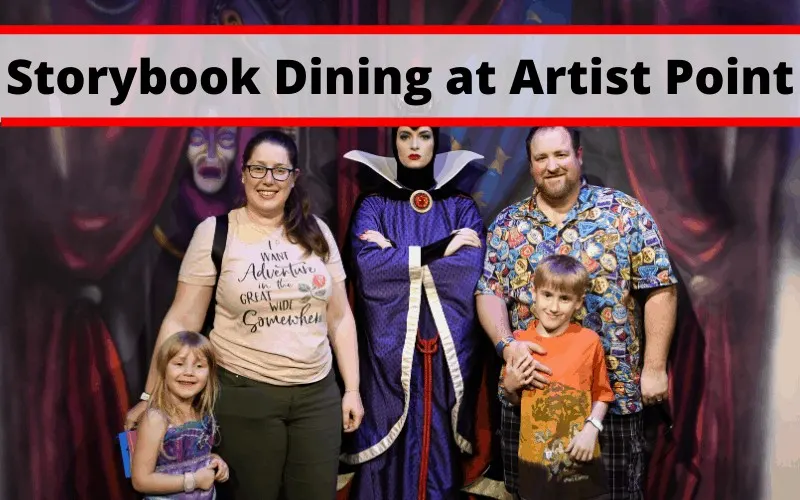 Storybook Dining at Artist Point with Snow White character meal review at Walt Disney World's Wilderness Lodge, serving a prix fixe menu.
In this restaurant review, we'll share food photos, how the kids and adults all felt about the experience and if it's worth the money or Disney Dining Plan credits.
Storybook Dining at Artist Point opened as a reimagined Snow White-themed meal in December 2018 and quickly became one of the hottest dining reservations at Disney.
Disney's Storybook Dining at Artist Point
Fast Facts:
Three-course dinner is $55+ per adult and $33+ for children 3-9 years old
Dinner costs one credit on the Disney Dining Plan
Reservations are hard to get, so make them 180 days in advance
Characters include: Snow White, Grumpy, Bashful and the Evil Queen
Located inside Disney's Wilderness Resort Lodge
It is modelled after the atmosphere of the national parks of the western United States and features both natural and Native American elements. The main building was modelled after the Old Faithful Inn in Yellowstone National Park. An artificial geyser and hot springs are located on the resort grounds.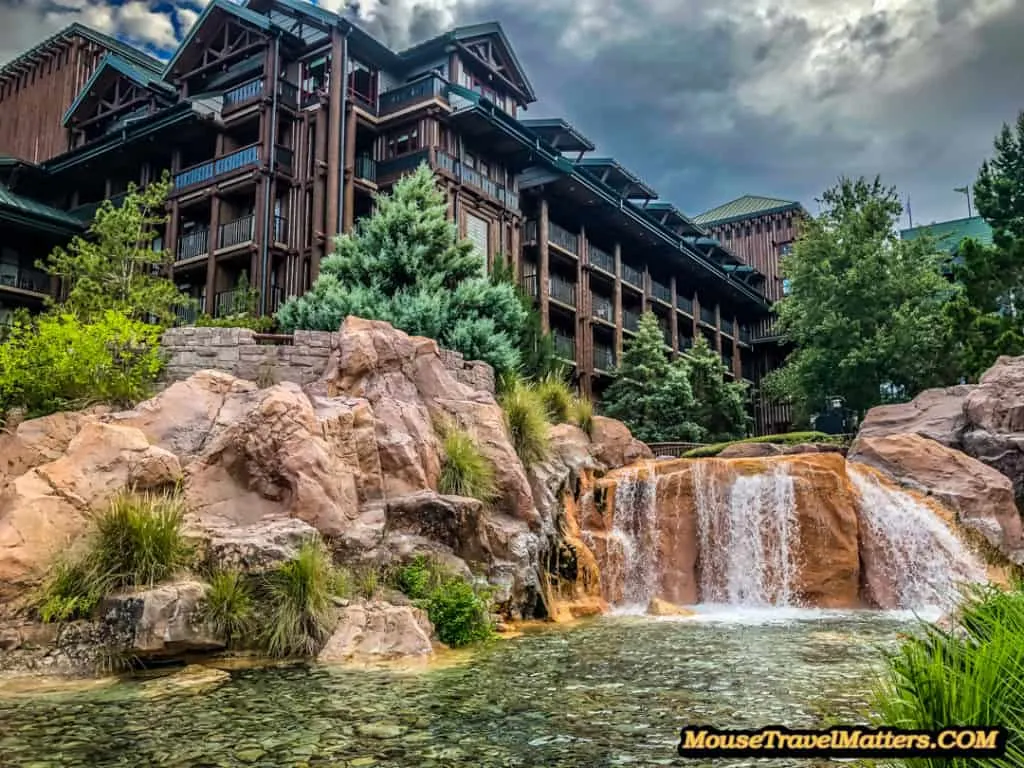 A bubbling hot spring originates in the lobby and continues outside where it is transformed into a roaring waterfall that "pours" into the swimming area. Follow the path behind the pool area to Fire Rock Geyser – a 120-foot geyser that erupts hourly from 7 am to 10 pm.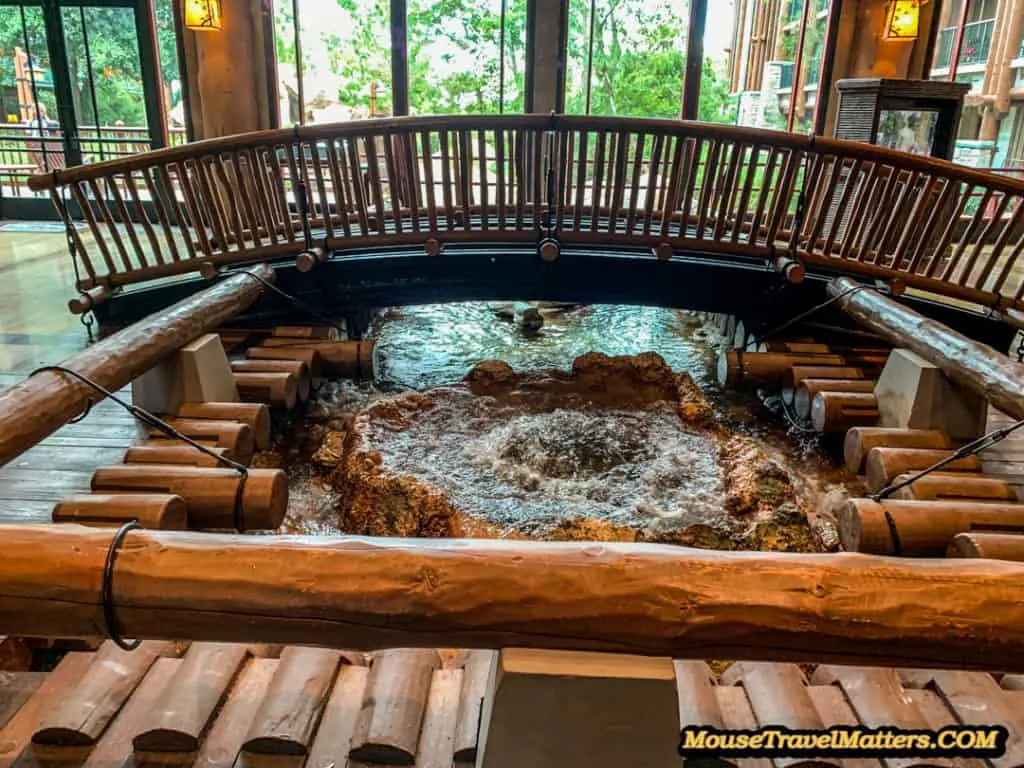 How to get to Disney's Wilderness Resort Lodge
The easiest and fastest way to reach Disney's Wilderness Resort Lodge is to drive, either with your own car or through a car-hire service like Lyft or the Minnie Vans.
If this is not possible, or you have the time to "go the long way", you will want to get from your resort to the Magic Kingdom via Disney transportation. From the Magic Kingdom, guests can take the boat over to Copper Creek Springs within Disney's Wilderness Resort Lodge.
Boat service may be suspended during thunderstorms, so if it's raining or looks like it's about to, Disney will provide buses. Boats to the Magic Kingdom start running 30 minutes before the scheduled opening of the park and close 90 minutes after the park closes. The boat ride is about 10-15 minutes long.
Storybook Dining Review at Artist Point
Character Dining Review
The restaurant Artist Point has changed a lot in the past few years. Going from Signature to Character dining experience and renovating to fit the new theme.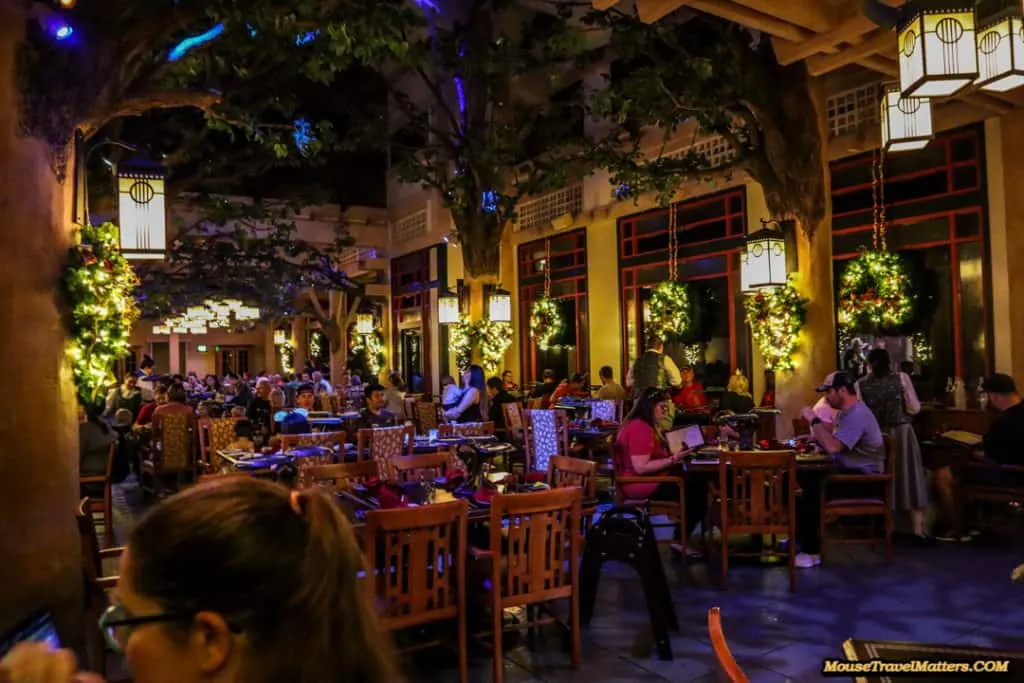 Characters and "Show"
As for the characters, you'll find Snow White, Evil Queen, Dopey, and Grumpy at Artist Point's Storybook Dining. Snow White and the Dwarfs meet guests at their tables, while Evil Queen is at a staged photo-op in the middle of the restaurant that you can do at the end of your meal (but probably shouldn't).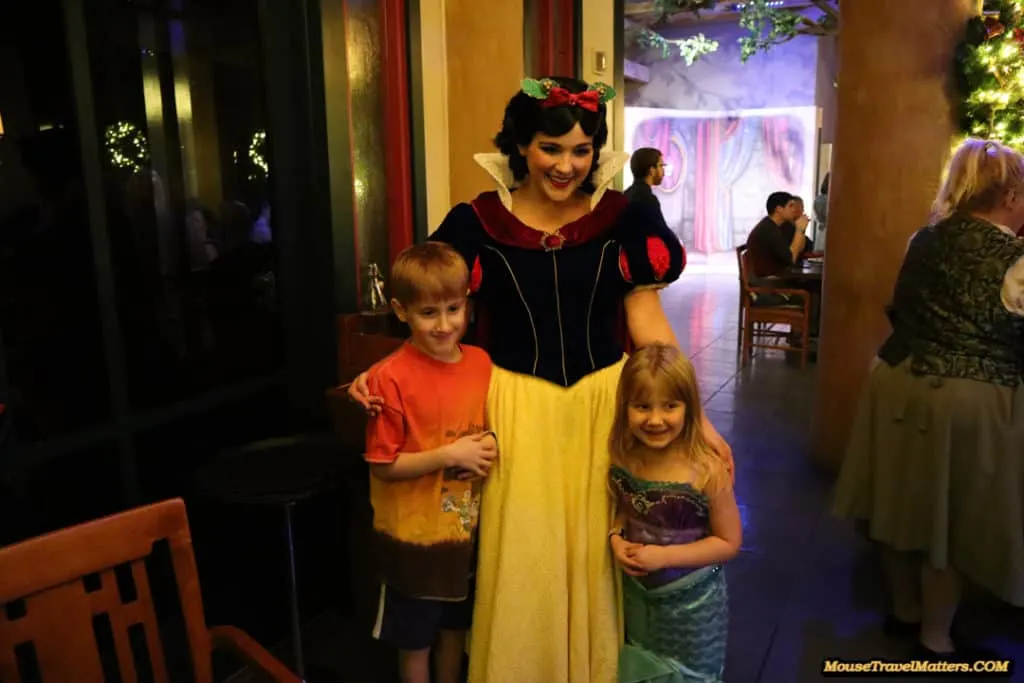 Dopey was a treat to have at our table. He was silly and made lots of exaggerated movements to show us his unique personality. The kids loved it.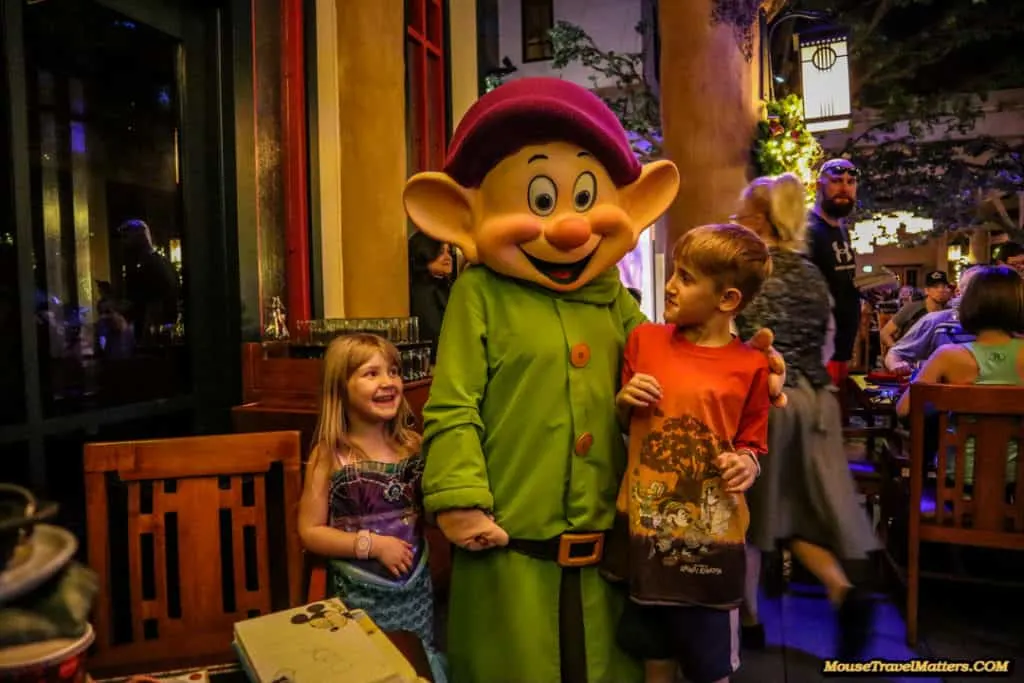 Grumpy, on the other hand, was less of a treat. Our oldest and I thought his attitude was cute and hilarious. Our youngest, on the other hand, wasn't too happy about the whole situation.
While she was giving Grumpy sass, Grumpy was giving it right back in the way he took her autograph book and waved his hands in the air. Suffice it to say, she refused to have her photo taken with her. I'm sure Grumpy felt bad and he tried to get his handler to get her a little gift, yay for pixie dust, but they were all out.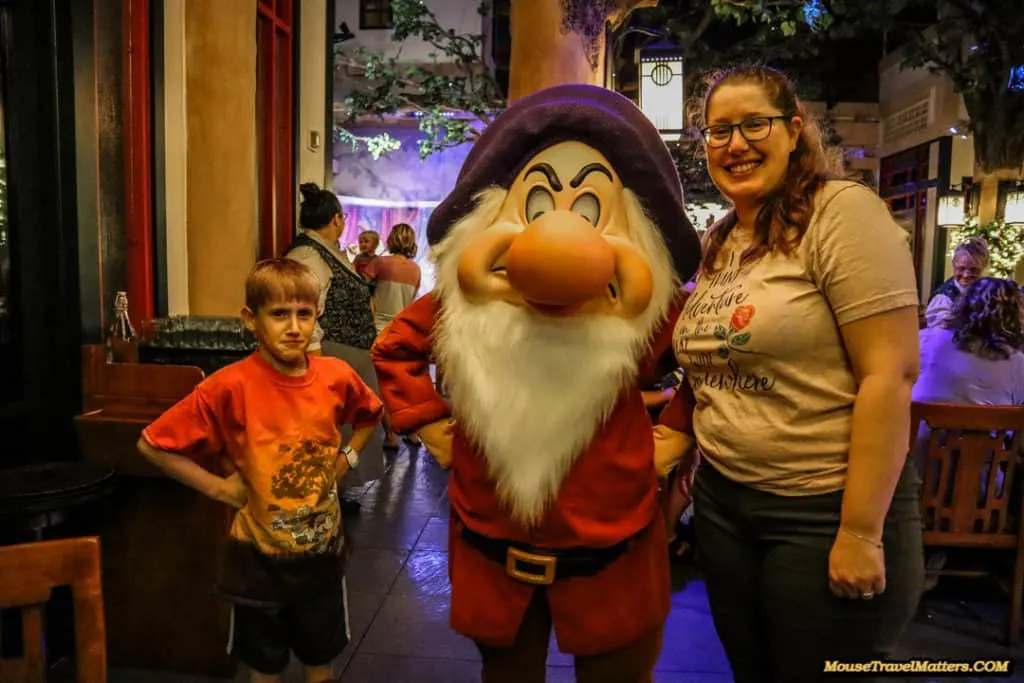 The three above will greet guests at their tables. But The Evil Queen is not exactly known for warmly approaching others, so she remains at her photo opportunity area where guests are welcome to pose with her.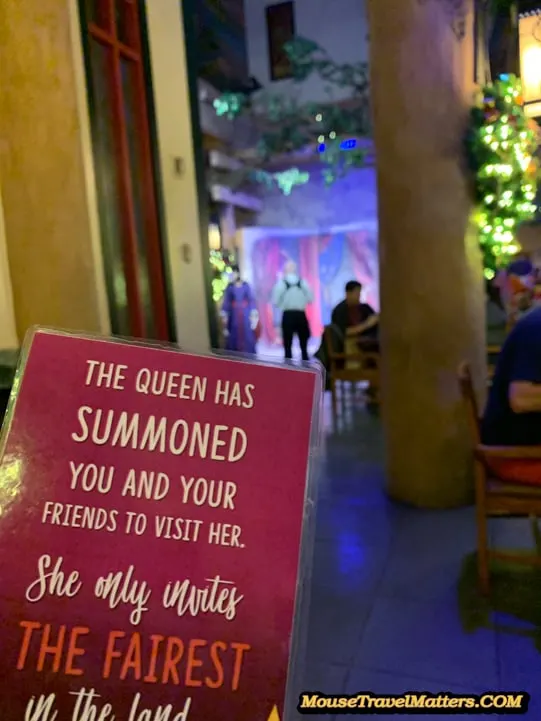 Meeting Evil Queen was the one odd component of the experience. At the end of our meal, which coincided with the end of several other tables' meals, you will be invited to get up and see the Queen. In theory, this is to reduce the amount of traffic in the very center of the restaurant. However, there were a few of us at the same time, which led to us and other parties just standing around the middle of the restaurant, waiting for her.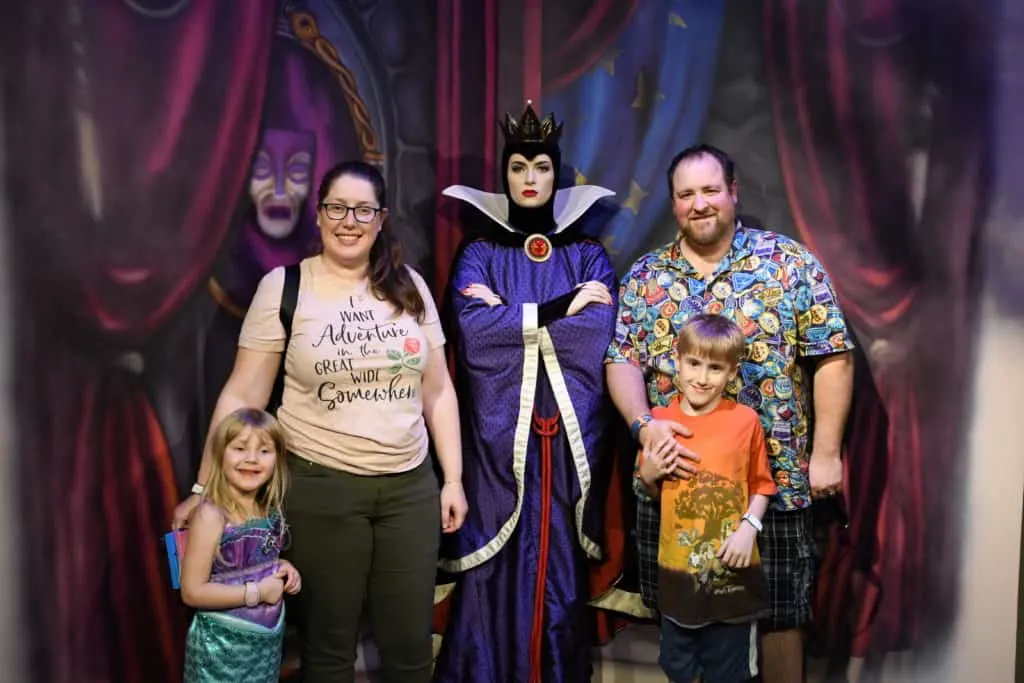 The Food
Guests will begin the storybook-themed dining experience with shared appetizers including Hunter's Terrine, Mushroom Bisque, and Wicked Shrimp Cocktail. While I didn't like all of it, I did like most of it. And hubby thought it was all incredible.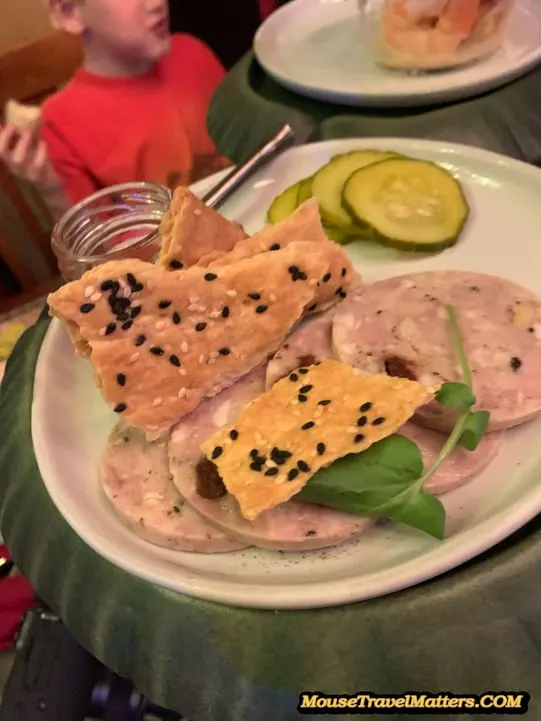 Kids will get fruit, veggies, cheese, and a "create your own butter" as their first round. As with most things Disney, it's the details that make this awesome. The child appetizers are served in what looks like a miner's bucket, which totally fits with the dwarf theme. The "dirt" in the bucket also tastes delicious, but it was the tiny roll served in a small pot that had my kids begging for seconds.
The "create your own butter" was a real treat for the kids. They had both of us shaking. The Cast Members said it would take about 2 minutes, and it won't be completely creamy like traditional butter. Keep a firm grip on the jar, though. As I was shaking, it "flew" out of my hands and cracked my plate in half.
Thankfully, I didn't have food on it at the moment and no one was hurt. A nearby Cast Member took my plate away before I was able to snap a photo; the loud crash followed by 4 bouts of laughter probably told her something was wrong.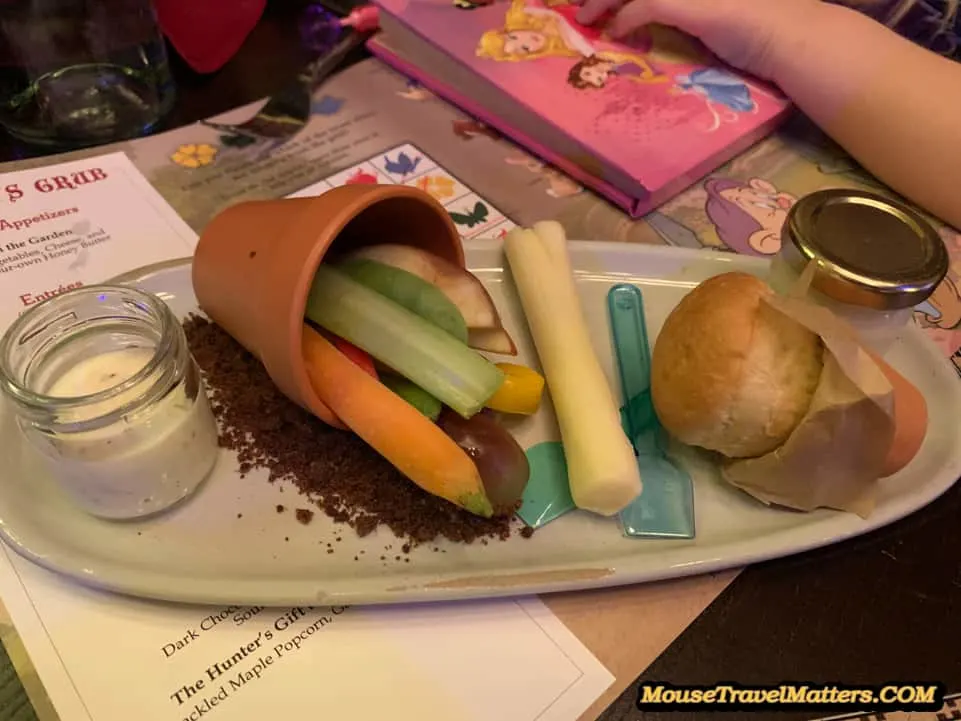 Choose your entrée from a prix fixe menu. Feast on the Royal Prime Rib Roast, Brother's Grimm Roasted Chicken, Magic Mirror Slow-braised Pork Shank, Beef Stew, and Bashful's Butter Poached Sustainable Fish. Or enjoy the vegetarian option—A Stroll Through Nature—featuring asparagus, leeks, arugula, and gnocchi.
Children can choose from a selection of kid-friendly items, including Royal Prime Rib Roast, Grilled Chicken, Princess Pasta and Vegetarian Steam Bun.
Craving a sweet finale? Top off the experience with the "Poison" Apple, a dark chocolate-apple mousse, and the Fairy Tale Gooseberry Pie. The Hunters Gift to Queen is a crackled maple popcorn with a ganache heart and Miner's Treasures include a sponge cake, chocolate gems, and berry panna cotta! Not sure which to choose? Not to worry—you get one of each!
Dessert
Once dinner was cleared, our server brought out another fixed-set of desserts for the table.
The "Poison" Apple is made up of a white chocolate-apple mousse, Miner's Treasure layers sponge cake and chocolate gems with buttercream icing, Fairy Tale Gooseberry Pie The sweet and tart gooseberry filling is topped with plentiful meringue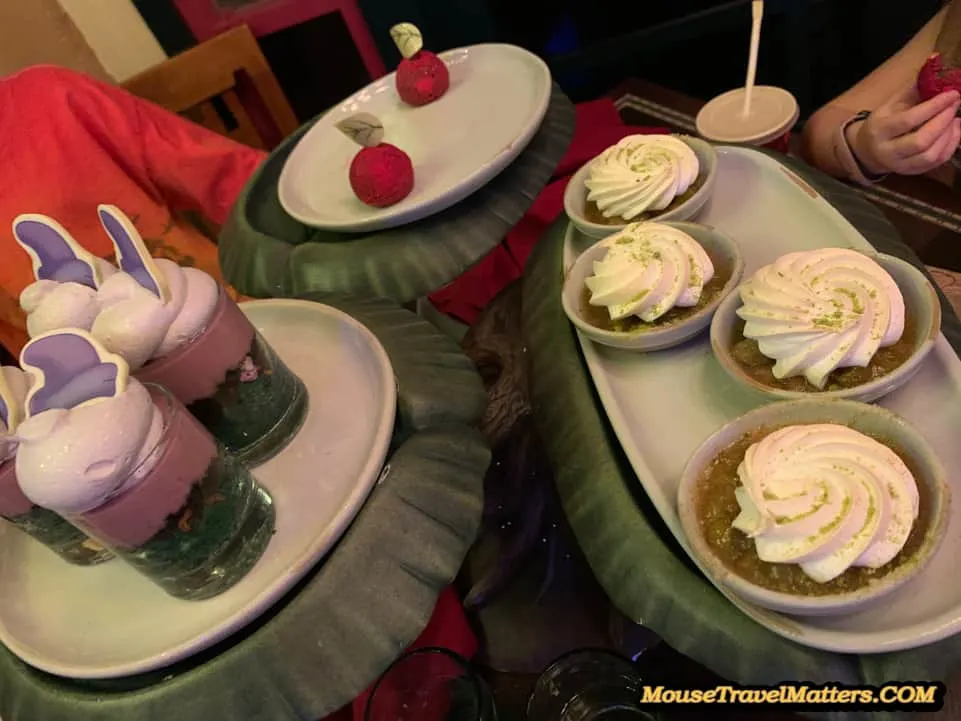 The Hunter's Gift to the Queen; Your server will appear with a smoking box filled with crackled maple popcorn and chocolate ganache hearts. The presentation is a fun and fantastical way to end the meal.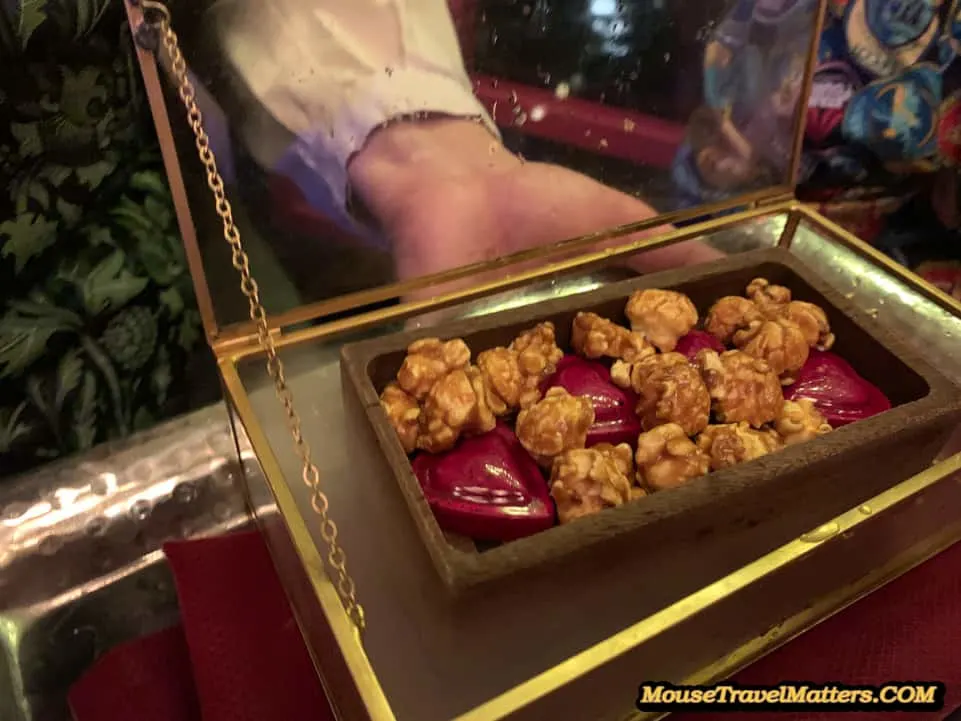 Bottom Line
Storybook Dining at Artist Point was our first character dining experience of our holiday. While we enjoyed the experience overall, to say that having Storybook Dining at Artist Point as our initial character dining for the holiday, and the first in a while for the children was a bad idea, is a gross understatement.
Storybook Dining at Artist Point is a lot fancier than the restaurants they are used to enjoying in Ottawa, and a far cry from Ohana breakfast. It would have been best to leave this experience near the end of our holiday.
{calltoaction}
You May Also Like…
Minnie's Beach Bash Breakfast at Cape May Café
Best Places for Breakfast at the Magic Kingdom
Be Our Guest Restaurant Breakfast Dining Reservations
Best Disney World Resorts for 2020 Free Dining