Last Updated on July 26, 2020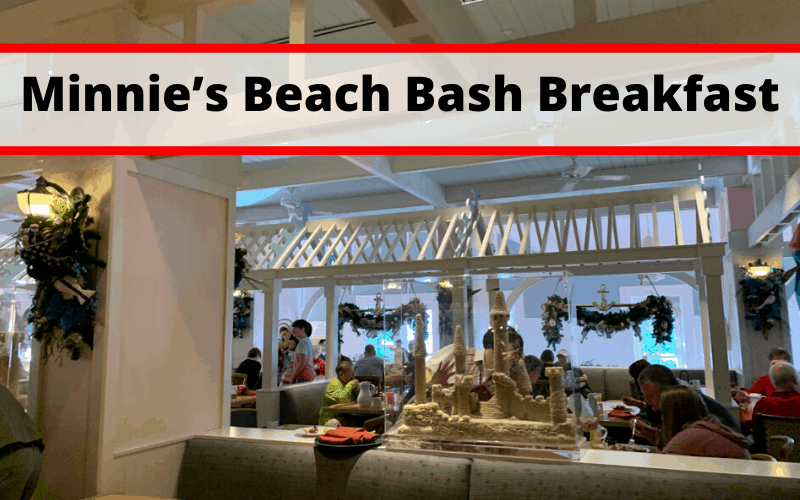 Cape May Café is located in Disney's Beach Club Resort at Walt Disney World. This post reviews the all-you-can-eat Minnie's Beach Bash Character Breakfast, which features Goofy, Donald Duck, Daisy, and of course, Minnie Mouse.
If you're looking for a character breakfast that's a little less crowded, and easier to book at the last minute, you should consider Minnie's Beach Bash Breakfast. It is a low-key, fun-filled way to begin your day and see characters sporting their fabulous beachwear!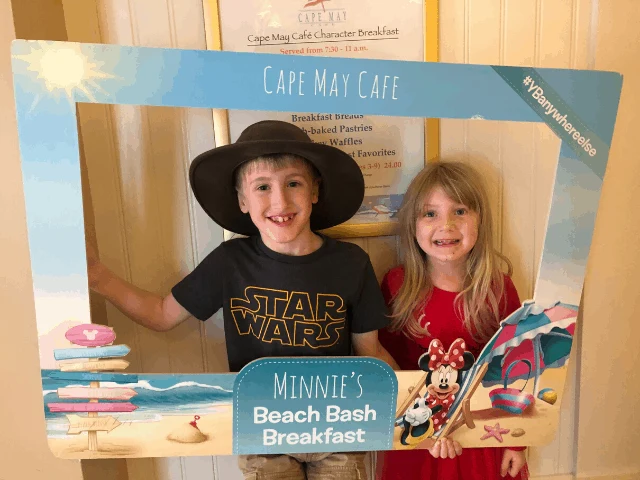 The restaurant is beautifully themed, with soft turquoise, sand, and coral colors and all kinds of "beachy" accessories – from croquet mallets and surfboards on the wall to elaborate sandcastles to the beach umbrella carpet.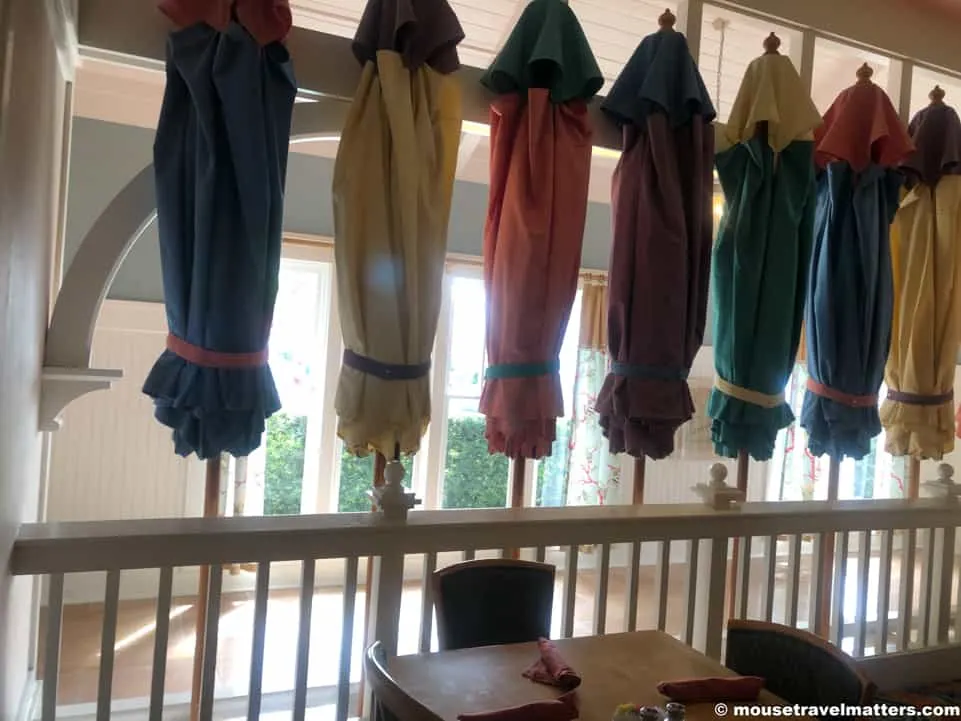 Getting to Disney's Beach Club resort wasn't nearly as difficult as we thought it was going to be. Since we were staying at the Caribbean Resort, we walked over to the Rivieria Resort Skyliner station and simply took the Skyliner to Epcot International Gateway.
From there, we were able to walk over to Beach Club and have a good view of the Boardwalk at the same time.
For those not staying at a Skyliner resort, it is easy enough to get to Hollywood Studios and take the boat to Beach Club resort.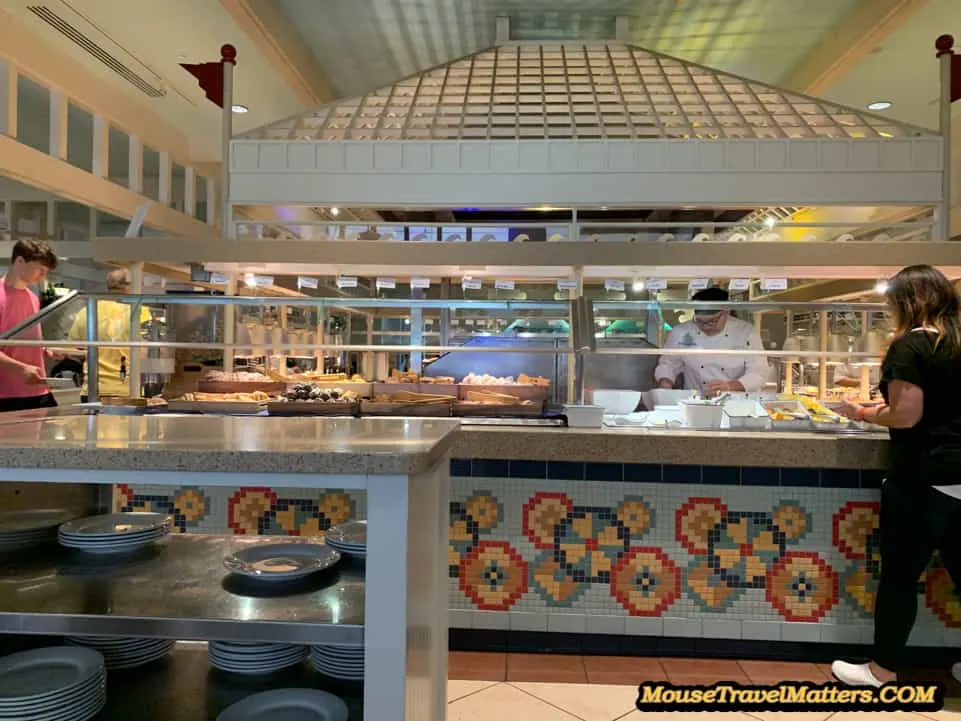 Minnie's Beach Bash Character Breakfast participates in the Disney Dining Plan. It also accepts the Tables in Wonderland card for a 20% discount.
Many would argue that Character breakfasts are not a good value for the Disney Dining Plan. While we did pay $140 plus tip for this meal, we paid $206.94 per day for the Standard Dining plan, which also provides us with a Quick-Service meal and 2 snacks per day. That leaves us with $66 left to spend, between 4 people, in a single day. Considering Disney's current price hicks, I am confident we can achieve this and more.
On a side note, I am not one to pay out of pocket for a meal when I have perfectly good dining credits on my account. I've been guilty of buying bottled water and popcorn with snack credits on this last trip and I have no regrets; we were thirsty, there were no quick-service restaurants or refill stations nearby, and the kids wanted popcorn. Character Breakfasts may not be the BEST use of your Table Service credit, it is the best use of my time and if we plan the rest of our day accordingly, we are still on top.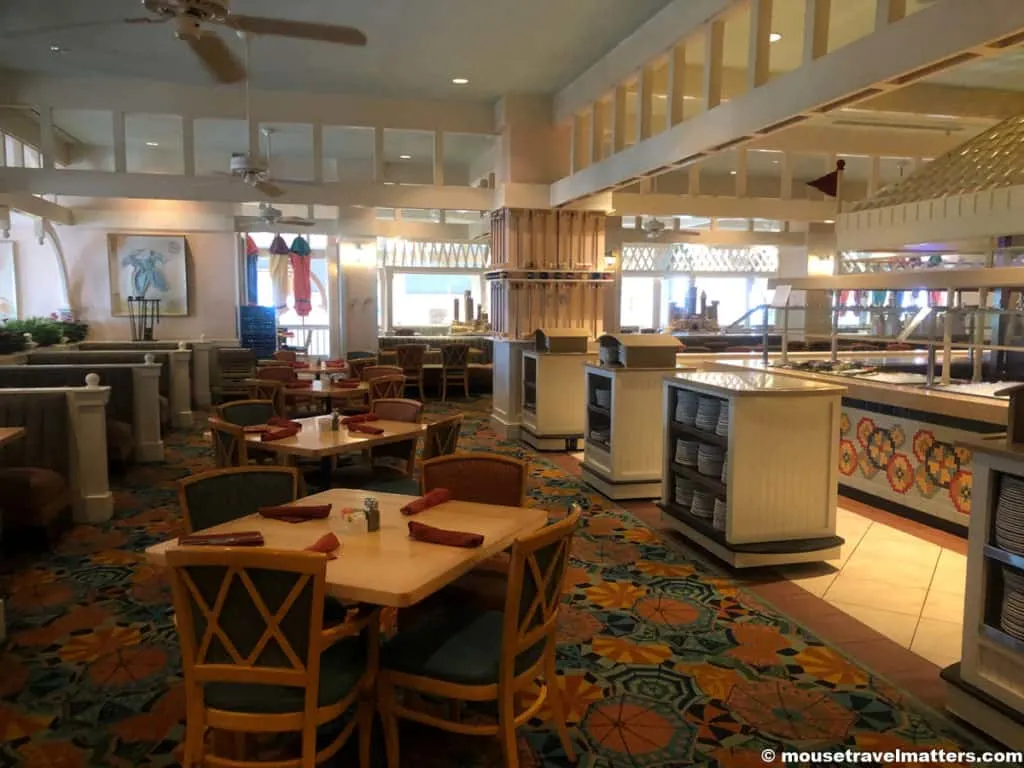 Breakfast is a buffet, and the serving area is huge, square island in the center of the restaurant. Cold offerings include sliced meats, cheeses, yogurts, fruit, breads, pastries, and cereals. Hot choices consist of eggs, frittata, breakfast potatoes, ham, sausage links, bacon, French toast, grits, biscuits and gravy, and of course Mickey waffles.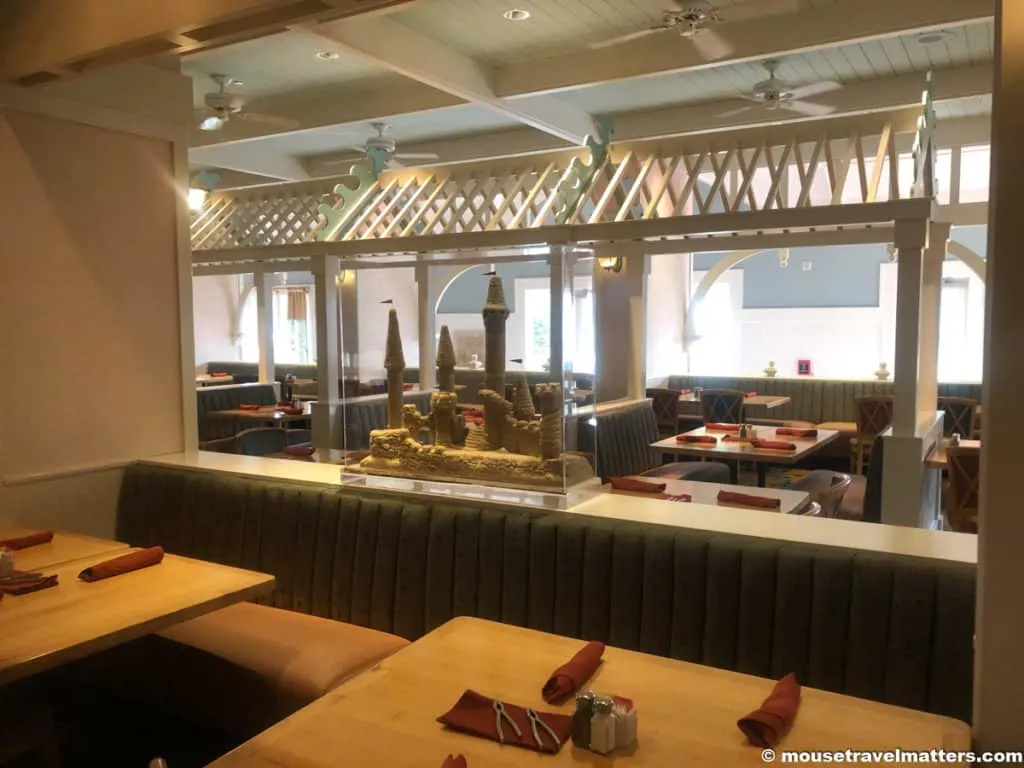 We've always been seated in a way that we experience 3 out of the 4 characters within minutes of arriving at our table, on every character meal we have been to during this holiday.
I can't decide if we are super lucky or it is designed this way but I love it. We get to meet a few characters, then have our time to select our meal and eat. The last character usually shows up as we are nearing finished our plate so they aren't "interrupting" the children.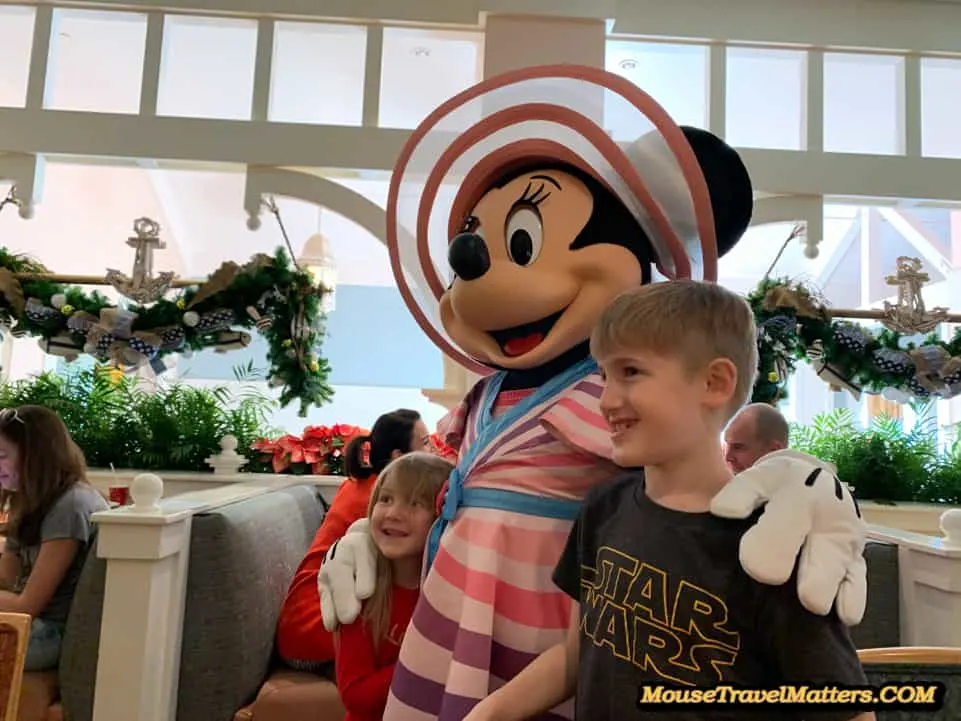 There is no specific dress-code for visiting at Minnie's Beach Bash but with all the bright, summery colours and the overall beach theme of the resort, pastel colours or light clothing would have been prefered.
We were dressed to explore Festival of the Holidays and stay out until after dark (in December) so we didn't exactly dress to impress Minnie Mouse, but we were comfortable.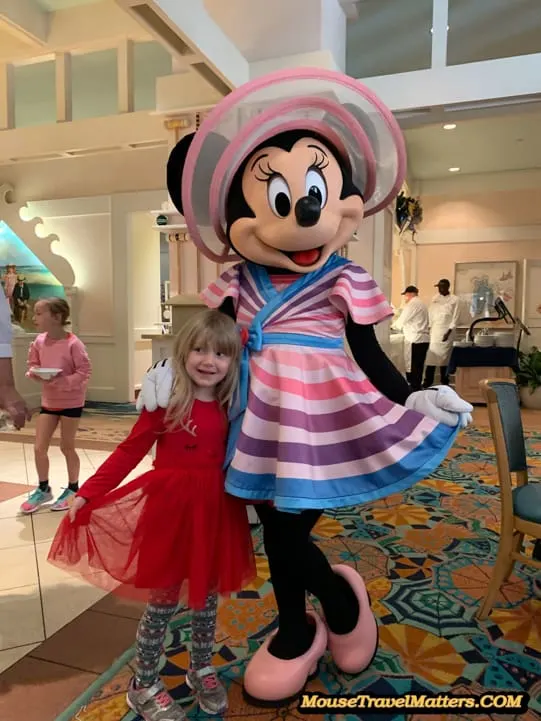 The food itself was ok. It was a standard Disney resort buffet, we didn't find anything special about it, outside of the omelette bar.
The waffles, pancakes and bacon were amazing. The eggs didn't taste like powdered eggs (whether they were or not, I didn't ask), and the fruit spread was great. We did find this to be similar to every other breakfast buffet throughout Walt Disney World, which just means we are paying for the character experience and not the unique flavours of the Beach Resort.
Honestly, this isn't even a deal-breaker for me. I'm kinda picky, the kids are super picky about their breakfasts and we all like buffets. I knew what the meal offerings were booking and we decided to visit anyway. I like the consistency of it; I know what I am going to get and if I am going to like it before I even get there. To some, this sounds boring, but I am not the adventurous type and neither are the kids, I don't want to spend my dining credits on something they refuse to eat.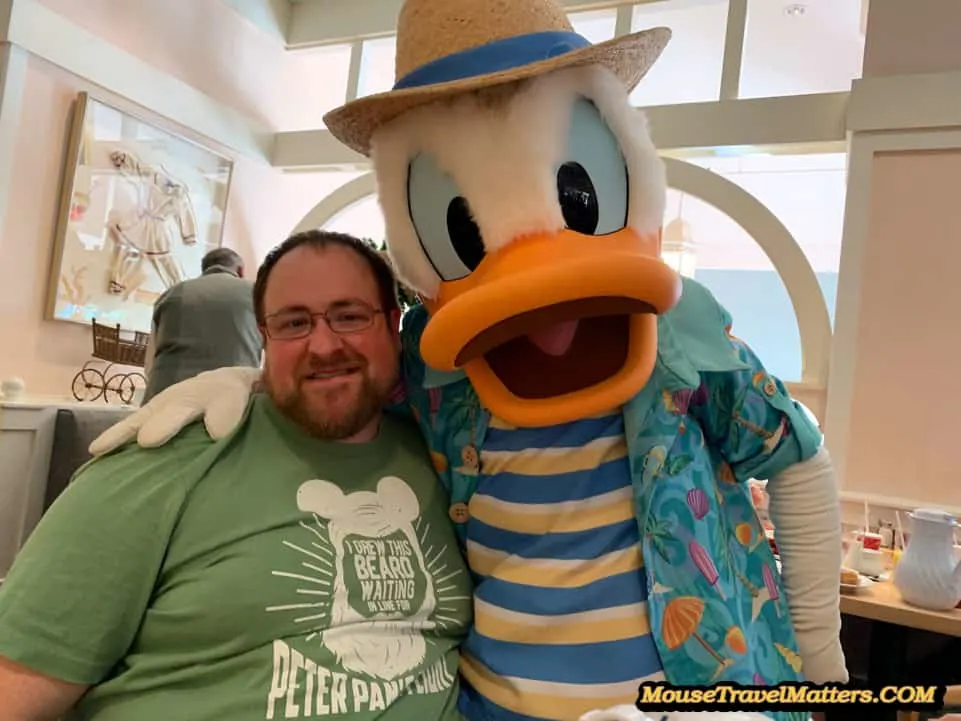 Our Biggest concern with Character dining was getting the kids to look at the camera, at the same time, with a smile on their faces. It's surprisingly harder than it sounds. Not only did we need to position the children's chairs in such a way that they would be in direct sight of the characters, but we needed to find an angle that tried to avoid other guests.
As you can see from our character pictures, we were semi-successful in that respect. The characters don't hang around too long so you need to know exactly what you want and how to articulate it quickly and accurately.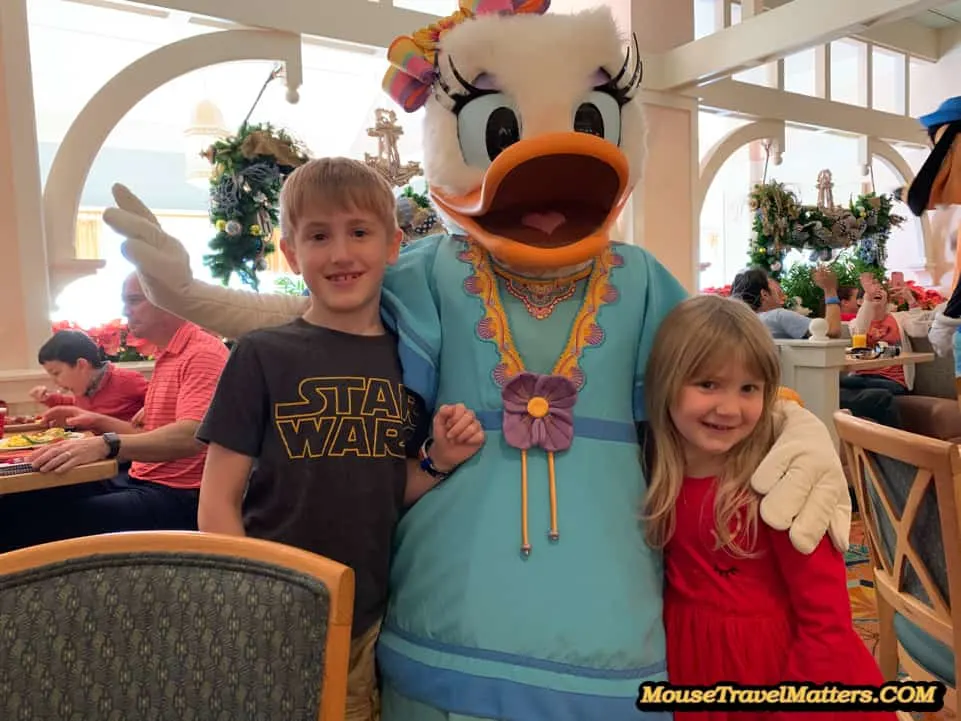 Near the middle of our meal, staff called for all the children to get up from their seats and join Minnie Mouse near the front for a Dance Party. This didn't last long but our kids loved interacting with other children and the characters in this unique way. We weren't expecting this and loved being able to watch the party from the comfort of our seats – I was knee-deep in Mickey Waffles and bacon.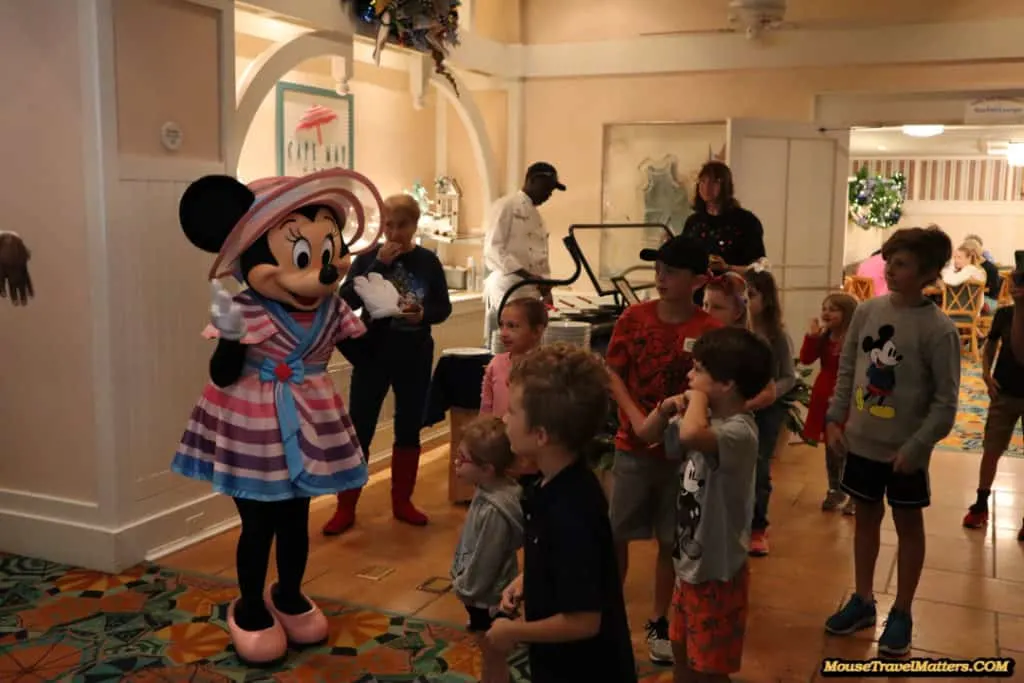 I was a little concerned, though, that the kids wouldn't find this experience as much fun since they had already met Minnie and Mickey at Hollywood and Vine a few days before. While they didn't want to have the characters sign their autograph books a second time, they did love being able to see them in a new location, with a new outfit.
I honestly can't tell if I booked these character meals for me or for them because I was happy as a clam to visit the characters without having to wait in lines outside – especially on those two days of straight rain without end. But they had a great time and still talk about the beach party months later so I guess I did good.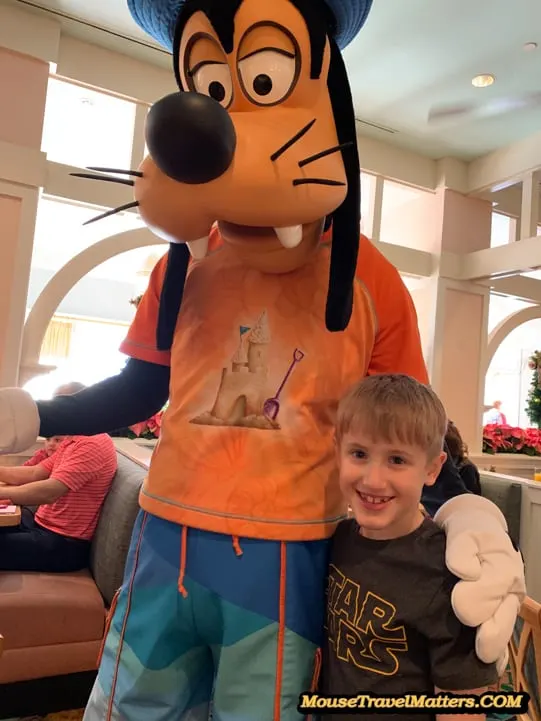 You May Also Like…