Last Updated on February 27, 2020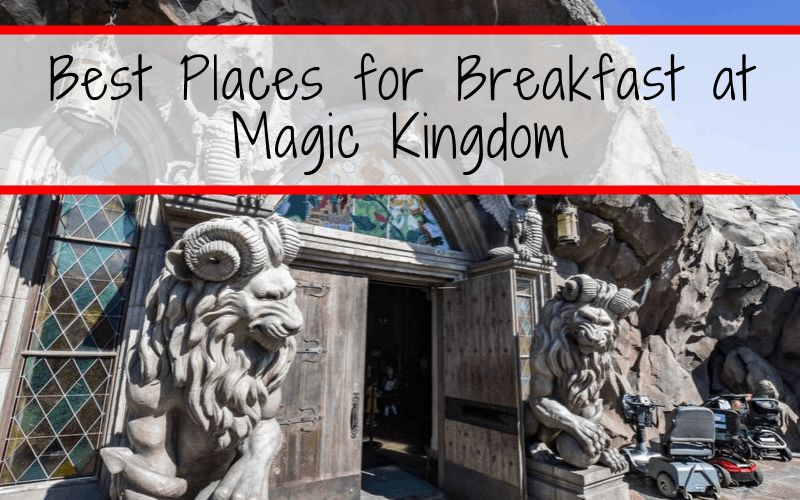 At Walt Disney World, nearly everything qualifies as a breakfast. There are no rules, we all stand together. But sitting down to a full Table Service meal is a catch 22; either loose on precious Park Time that could be used to experience a myriad of attractions before the heat and crowds start pouring in, or have a sub-par meal at the beginning of your day and risk running out of energy before you are done.
There is a third option; find a quality restaurant that both appeals to your Disney bucket list and your need for nutrition. Today, we dive into where to grab breakfast at the Magic Kingdom.
This post may contain affiliate links.
To which I earn a small commission, at zero cost to you!
Find more info in our
Privacy Policy
.
6 of Our Favorite Places to Grab Breakfast at Magic Kingdom
Main Street Bakery
Main Street Bakery (Menu) has been converted into a Starbucks but that isn't the end of the world. There are still plenty of great snacks that double as breakfast, saving those calories and meal credits for later on in the day. I prefer the lemon loaf myself.
Crystal Palace
Crystal Palace (Menu) is a Buffet/Family Style, Character Dining experience but is great for breakfast reservations. If you can get a reservation for 8/8:30 am, you will be among the first in the park and be able to take pictures along Main St USA without another soul in the way. Winnie the Pooh and friends often find themselves wandering the halls of Crystal Palace, leaving you 4/5 fewer Character meet and greets to queue for later.
Gaston's Tavern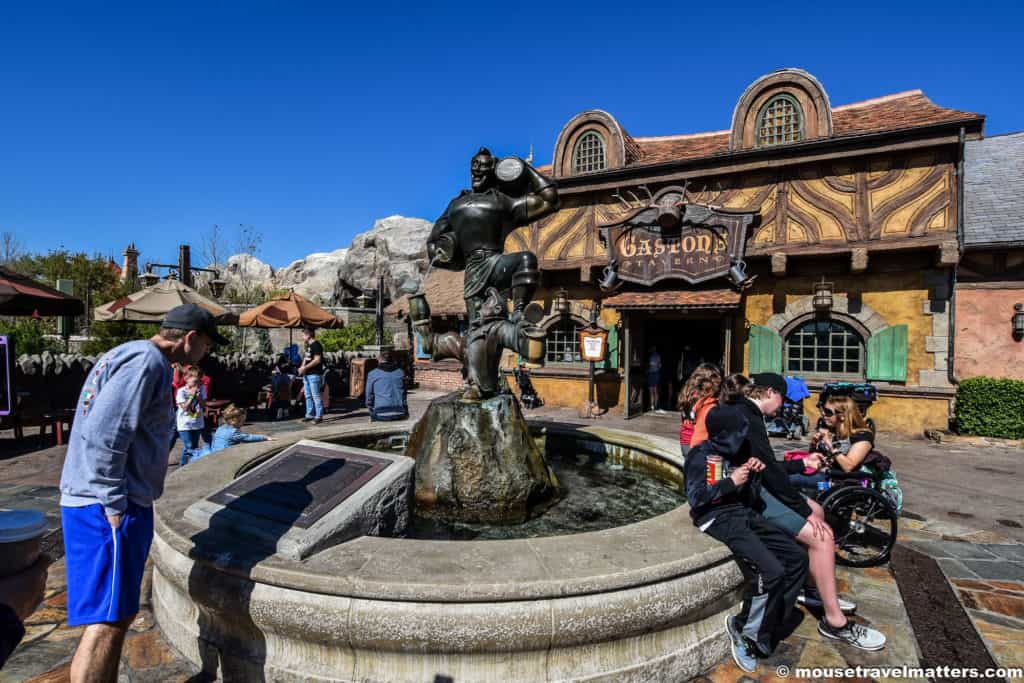 Gaston's Tavern (Menu) offers sandwiches (for a counter service credit) and cinnamon rolls or chocolate croissants (for a snack credit). This is a great little counter-service restaurant to check out when you just can't decide what to eat, but you know fast-food style burgers and fries are not an option.
Sleepy Hollow Refreshments
Sleepy Hollow Refreshments (Menu) has a few snack credit options available and they are totally worth the price; over $5! The funnel cakes for sure and a few of the loaded waffles fall under the snack credit option and they are incredible for a morning pick-me-up. Only at Disney can you have a Nutella and fruit loaded waffle for breakfast without someone judging you.

Cinderella's Royal Table
Cinderella's Royal Table (Menu) is arguably the most expensive character dining experience on the entire property, and one of the hardest reservations to get, it is worth it! Especially if you are on the dining plan. The characters differ from breakfast and the fest of the day but unless you have your sights on Princess Jasmine (who can easily be seen at Morocco Pavilion), making a CRT breakfast reservation will get you the most character interactions, the best breakfast money can buy, and a great experience that the children will be talking abut for years.
Characters
At Breakfast Ariel, Cinderella, Princess Aurora, Snow White.
At Lunch Cinderella, Princess Jasmine, Snow White.
At Dinner Cinderella, Princess Jasmine, Snow White.
Be Our Guest
Be Our Guest (Menu) is a bit of a strange restaurant. Breakfast and Lunch are Counter Service, so it's cheaper than a Table Service restaurant, but you still need a reservation and the service isn't exactly quick. There aren't any characters to be met during the day, and you are able to make Advanced Meal Selections, not the same as Mobile Ordering, but you will have a guaranteed table to eat your rather lavish breakfast in peace.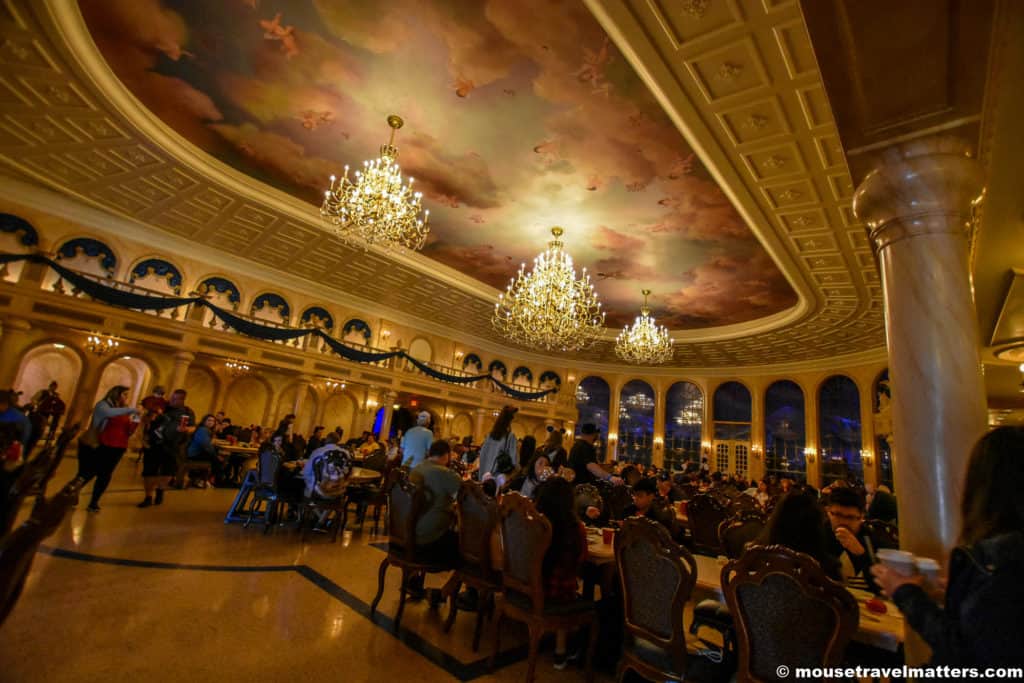 Mobile Order
When visiting a Quick Service location around Walt Disney World, don't forget to use the Mobile Ordering function. Guests can choose their meals while waiting in line for an attraction, then notify the restaurant when you are ready to eat. You will receive a push notification when your order is ready.
Please join the conversation in my free private Facebook group for readers and listeners here – we'd love to have you!
You May Also Like