Last Updated on February 23, 2022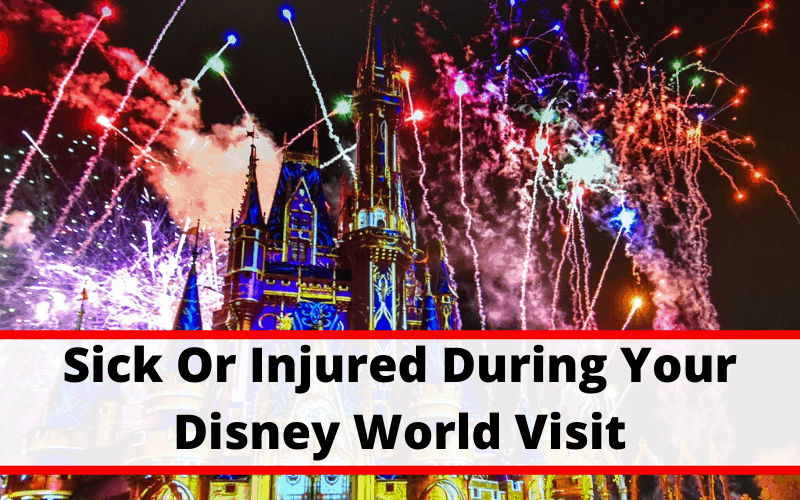 The only thing worst than being sick just before heading to Disney and considering canceling your vacation is getting sick or injured during your vacation. We've compiled a helpful guide on what to do should you get sick or injured at Walt Disney World Resort.
We've had our fair share of sniffles on holiday but being sick or injured at Disney World seems to come with another layer of misery.
Disney World is just like visiting a major international city there are so many guests flying in from out of state, if not out of Country. It can be overwhelming to navigate the wonderful world of health care while also trying to keep the Disney magic alive for the rest of your group.
Remember to follow us on Instagram and join our Facebook group Disney World and Universal Studios Orlando
This post may contain affiliate links.
To which I earn a small commission, at zero cost to you!
Find more info in our
Privacy Policy
.
Getting Sick at Walt Disney World Theme Parks. What you can do about it.
Walt Disney World First Aid Stations
Whether you have a pounding headache, suffer from motion sickness or injure yourself while getting on or off a ride, each of Disney's four theme parks and two water parks have a first aid center. You'll find them in the following locations:
Magic Kingdom – Near Crystal Palace and Casey's Corner.
Epcot –Odyssey Center between Test Track and the Mexico Pavilion.
Hollywood Studios – Near the Main Entrance on the left by Guest Services
Animal Kingdom –Discovery Island near Creature Comforts
Typhoon Lagoon – Near Leaning Palms
Blizzard Beach – Near Lottawatta Lodge
Cast Members throughout the Parks are forbidden from providing medical attention. You will always be directed to seek help at a First Aid Station. Each location has a team of triage nurses who can help you with basic medical care.
First Air Stations are also able to hold on to your refrigerated medication and needle disposal. Most guests never realize that Disney First Aid offers a full variety of over-the-counter medications for free. First Aid Stations also offer a full range of sewing kits, eyeglass repair, wax for braces, and contact lens solution. While they are only going to provide a single dose, you are able to purchase a full package at most Disney stores or the Baby Care centre.
Feeling Ill While at Your Walt Disney World Resort
With all the excitement of Walt Disney World, when someone in your group starts to feel ill, it is important to step back and figure out what is wrong.
Is someone tired from jet lag, drank the water they shouldn't have, caught a germ licking the railings (true story), or something more serious. Have an idea of what is wrong, treat what you know and make contingency plans in case it gets worst.
Triage Nurses at the First Aid Stations are allowed to help with minor illnesses and injuries. They will let you know if you require additional services. Should you require additional medical intervention, know that you have options.
Doctors On Call
If you need more involved medical care from a doctor, there are three companies that offer "house" calls to your hotel.
There also is an urgent care facility close to Downtown Disney: Centra Care, +1-407-934-2273 or http://centracare.org. It offers free transportation to and from Disney hotels and is open Mon-Fri, 8 a.m.-Midnight, and Sat-Sun, 8 a.m.-8 p.m.
Prescription Medication While in Orlando
If you need prescription medication while in Orlando, Turner Drugs will deliver to the front desks of Disney World hotels. They also deliver over-the-counter medications, as well as baby formula, diapers, and medical equipment (for rent or purchase).
You can reach Turner Drugs by phone at +1-407-828-8125 or online at http://turnerdrug.com. If you have a car and are staying at Disney World, you can find a Walgreens drug store and a Winn-Dixie supermarket (with a pharmacy) in Lake Buena Vista, near Downtown Disney. Other drug stores and pharmacies are abundant on US 192 or on and around International Drive.
Tips For Keeping Healthy at Walt Disney World
Don't be afraid to stay behind if you aren't feeling well
Don't be stubborn. Just because you paid out the nose for this vacation, doesn't mean you are incapable of becoming sick or injured. Know when to call it quits and ask for help. Missing one day in the Parks to attend to your medical needs will mean the rest of your vacation can go mostly as planned.
Take a Rest Day
If told to rest, we follow the doctor's orders. Resting today could mean you are back in the Parks tomorrow. Albeit at a slightly slower and modified pace but you aren't stuck in your room the whole time.
And even if you are, the rest of your family will be having fun, and have peace of mind knowing that you are being taken care of.
This goes the same for preventing sickness or injury. Having a rest day in the middle of your vacation ensures that you are getting plenty of sleep, eating right, and have time for your body to recover. A Disney vacation isn't the same as a regular holiday and you will be walking more in these few days than you have ever walked before.
Know what your insurance does and doesn't cover, and be sure to purchase the right package for your family and holiday destination.
Remember Stay Hydrated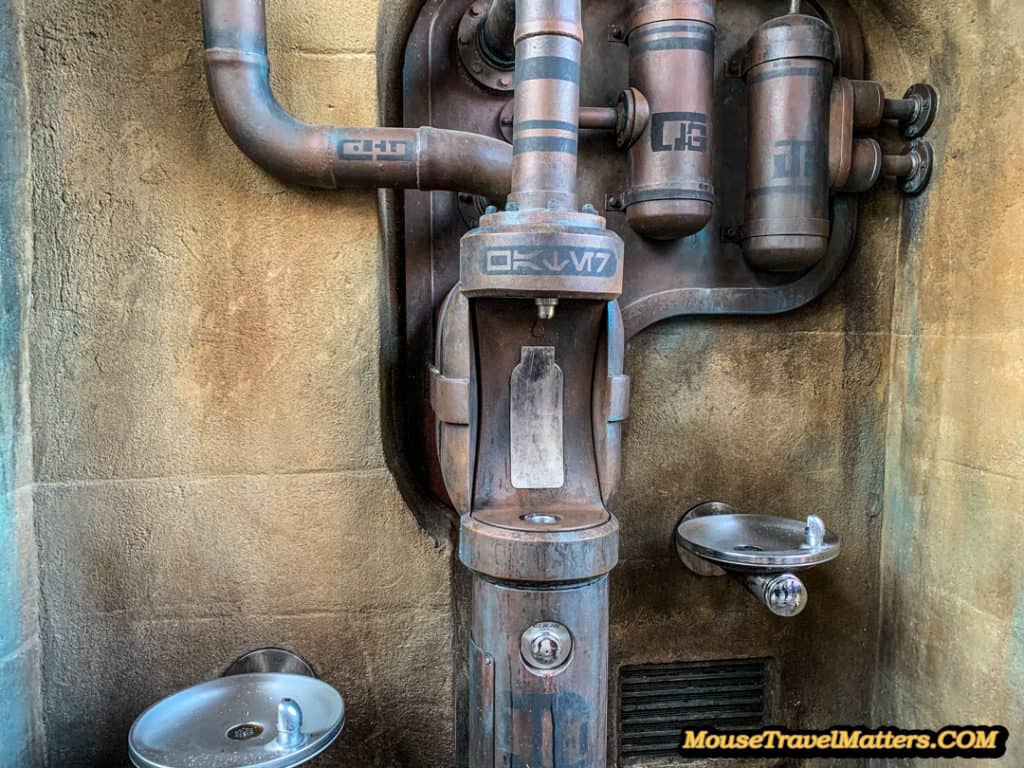 The best way to avoid being sick at Disney World is to stay hydrated. Dehydration can manifest itself in a myriad of unknown and mysterious ways. Disney Quick-Service restaurants offer free ice water to anyone that asks, all you have to do is bring your refillable water bottle.
Disney is also adding new water bottle refill stations next to its most popular drinking fountains to help guests help themselves.
Avoid Dehydration and heatstroke on your Disney Holiday
Pack a First Aid Kit in Your Theme Park Bag
While many Disney fans like to travel bag-less, we have 2 energetic children and know this isn't possible. Since I am forced to bring a Disney Park Bag anyway, it might as well have a few helpful supplies. Carry a few of the most popular items you will need and this will save you from visiting the First Aid Station 3-4 times per day (no joke, they are that clumsy).
Wash Your Hands Often
If Covid-19 has taught us anything, it's that germs can lay dormant on anything and everything. After each ride, using the restroom, touching merchandise, be sure to wash your hands.
Keep your hands away from your face and wash all clothing before wearing them. I can't tell you how many times I have seen people wearing clothes around town with the tags still on them, just in case they don't like it… and we all know the stores don't wash them before putting it back on the shelf.
Maintain a balanced diet
While Disney is never the place to start a diet, it's also not the place to break it entirely. Be mindful that you are eating 3 square meals a day, plenty of roughage and keep the salt to a minimum.
Try to avoid too much sugar later in the evening if you plan on getting a good nights sleep, as well as caffeine or anything else that might keep you up at night. Just because your body is exhausted doesn't mean your brain is ready to shut off.
Rent a Personal Mobility Device
If you have injured yourself to the point where your mobility is limited, know that you can rent scooters and wheelchairs from Walt Disney World. Most ride queues are wide enough to be accessible to mobility devices so you will not need to make extra arrangements when getting in line for a ride.
There are some rides that require guests to transfer from their mobility device to the ride, or be able to walk a short distance in case the ride gets stuck and needs to be evacuated. Check out Disney's Website for a full list of rides that require a transfer and which can accommodate the mobility device.
Please note that the Disability Pass, DAS, is not eligible for guests with strictly mobility issues since the queue and rides themselves are accessible to such guests.
When it all Goes Wrong
Travel Insurance
Travel insurance is more than just covering the cost of your meals when your flight is delayed. Your insurance can cover the cost of your unused Disney Park tickets, excess medical bills, the early return flight home, and everything in between.
Our Park Experience
During our Christmas vacation, we were at Disney for 2 days when I hurt my ankle. The day was great; I wasn't running, it wasn't too hot, we didn't stand around too much, and I didn't eat that much sugar.
After Fantasmic, I went back to the room with my daughter to do some laundry while the boys went back to Galaxy's Edge just before close. I took off my sneakers and replaced them with flip flops, and went about my business. Not 30 minutes later, both ankles were more swollen, red, and tender than they had been during both my pregnancies. I couldn't manipulate my ankles too much without intense pain. Again, within 30 minutes.
It was a combination of the food, heat, all the walking, and not enough hydration that caused my feet and ankles to swell, but it wouldn't be as easy, or quick, to get rid of. The pain, swelling, and redness lasted for the remainder of our trip but the next day was the worse. So what was I forced to do… take it easy.
No, I didn't spend the day in the hotel room. That would be torture for both myself and my husband who would have been forced to take the kids to the Animal Kingdom on his own. I went with them, but walked very slowly, leaning on the stroller, and resting as often as I could. This included missing out on both Jungle Treks and a tour of Rafiki's Planet Watch.
We considered visiting the First Aid Station if my legs didn't feel better by the next day but with rest, ice, and a low salt diet, the swelling started to go down. We have International Health Insurance through work so visiting a Doctor at Disney wasn't a problem, I just didn't want to.
Your Thoughts...
Please share your thoughts in the comments or reach out on social media...We would love to hear from you.
Follow Mouse Travel Matters for Disney Parks news, the latest info and park insights, follow MTM on Twitter, Facebook, and Instagram.
You May Also Like…
Disney World; Staying Onsite or Offsite?
16 Things You Absolutely Cannot Take Into a Disney Park
Everything you need to know about Disney Park Hopper tickets
How the Disney Dining Plan Saved Us Over $600!