Last Updated on July 26, 2020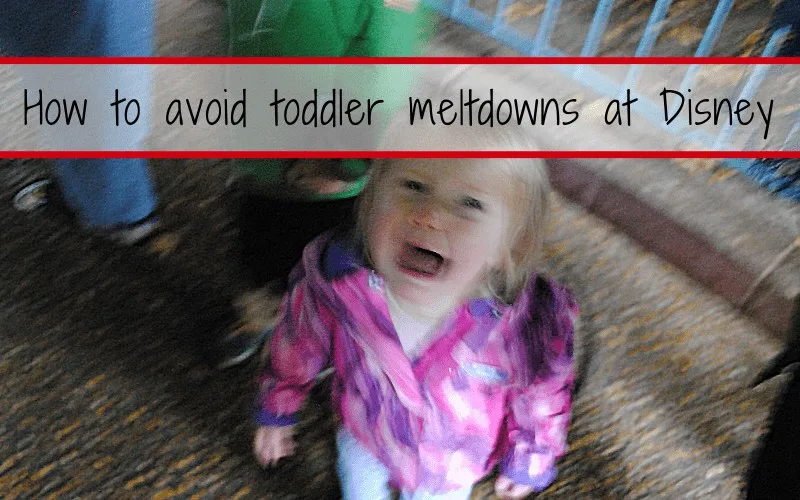 Disney can be overwhelming and lead to a toddler meltdown if not manage well. Here is how we attempt to avoid toddler meltdowns at Disney.
Take that iconic photo in front of the castle at the Magic Kingdom when you first walk through the gate while everyone is still happy.
Before anything else gets in the way, or something triggers a pre-lunch tantrum, grab that iconic photo and any other photo op along the way. You may think you want a picture during Golden Hour or after the parks are empty but there is no reason you can't have both.
Meet Characters in the Morning
Just like those iconic pictures, Character meet and greets can take a lot out of a child. Making sure they are their max happiness level will go a long way to ensuring a smooth queue and interaction.
One FastPass+ for Pictures with Your Favourite Characters.
When available, use at least one of your Fast Pass selections for their absolute favourite character greeting. If the queues are too long elsewhere, at least you know you got the bucket list of Character interactions.
Toddler Activities to Manage Long Lines
A line may not look long, but a crying toddler is bound to make it 10 x longer for everyone within earshot. There are a handful of inline activities that can keep toddlers entertained and not dwell on the length of time they are standing in the same spot.
Bringing a soft carrier can help if the child wants to be held, or needs to be immobilized (run around to much and causing trouble), but this may have the happy accident of making them too comfortable and falling asleep early.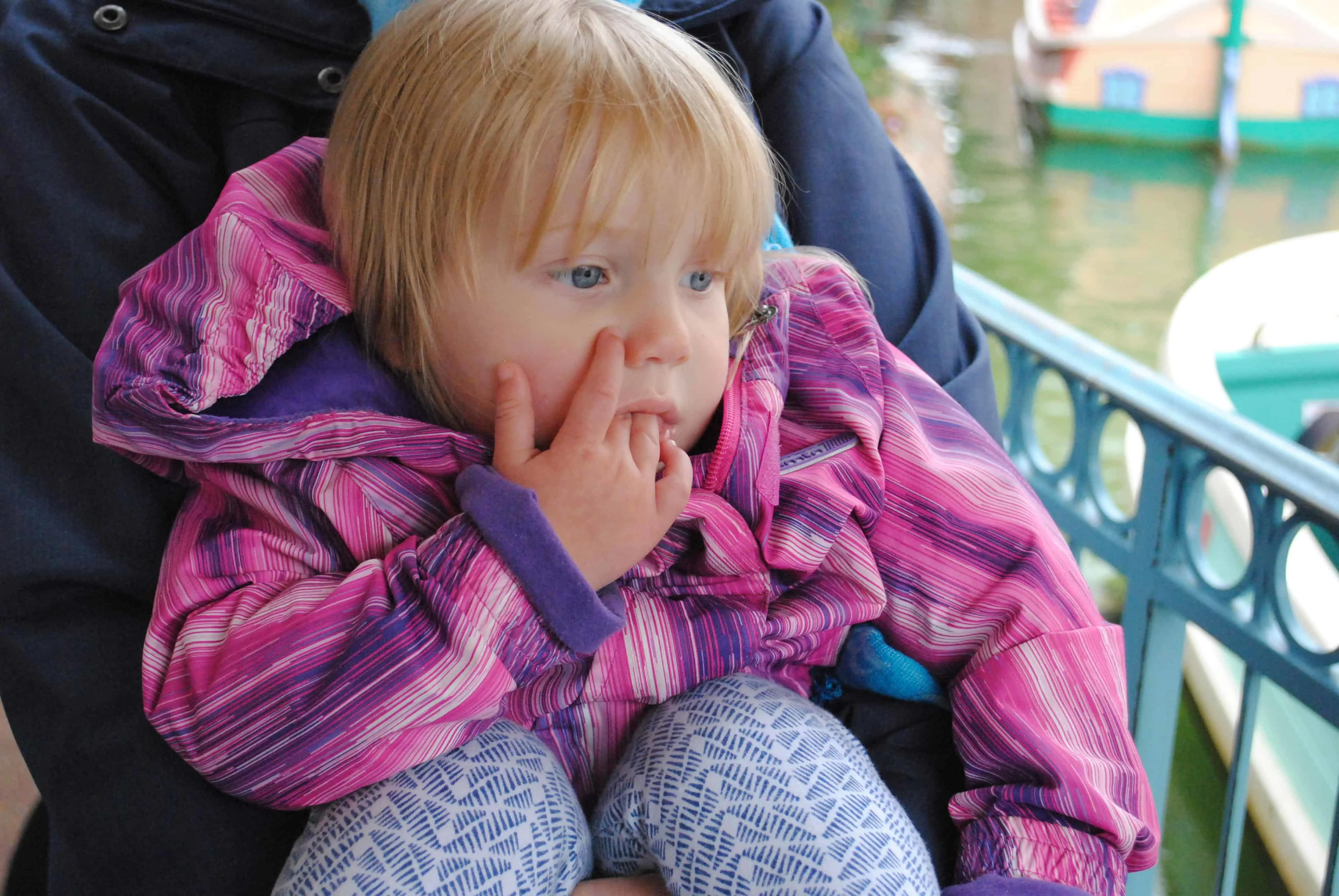 The Magic Kingdom Morning Mission
Tomorrowland and Fantasyland
This also happens to be the area that is open during Early Magic Hours. Get the most out of your day, since they will probably wake at the crack of dawn anyway, and explore Fantasyland while it's the least crowded. Once the gates open to the general public, they will head for Fantasyland just as you are leaving.
In the afternoon, head to Liberty Square, hit up Frontierland and Adventureland and then you'll have seen it all.
2 Days for Toddlers at the Magic Kingdom
The Magic Kingdom is the hub of all things Toddler. Between meal breaks, potty breaks, character meetings and nap time, it can take a while to accomplish everything on the list. If there are any attractions missing from your first day, characters or just do a few rides again, this is when day 2 comes into play.
Normal Nap Schedule for Nighttime Shows
Especially since they are using up so much more energy than on a normal day at home, children require routines. Tired children may end up behaving in challenging ways. If children usually nap around 11 am, make sure nothing is scheduled for around 11 am and be prepared for someone crashing a little earlier or a tad later. Making them sleep while there is still touring to do, either in the parks or back at the hotel, can be tough. Know your child and what works best for them Here are our suggestions on how to nap your toddler at Disney World.
If you are going to be looser with your routine let them know this. They can stay up a little later in the evening to experience a nighttime show, but you expect them to cooperate in the morning when it is time to nap. Without a nap, they may not make it to the evening show. Depending on their age, they may or may not understand this concept but it's worth a try.
Make Dining Reservations for Each Day.
It doesn't have to be fancy, but knowing you won't have to search for a table large enough to fit your family or decide what they will be eating in the middle of the pre-meltdown test zone (one miss-step could spell disaster, without warning). With meals lasting longer than 30 minutes, this is a great time to relax and possibly rest. Strollers aren't allowed in the dining area but that rarely stops children from falling asleep at their chair or on mum's lap.
Enjoy Character Dining Opportunities
After you've made FastPass+ selections for the absolute must-have Character interactions, instead of waiting in line for more – make character meal reservations
Fed and hydrated Not to Much Sugar
Plan for snacks ahead of time and have regular water breaks. Bring your own refillable water bottle and request free ice water from any quick-service restaurant in the Parks. Check out our suggestions for the Best Water Bottles for Disney
Pack a TON of snacks, and make sure not at least some of them are on the healthier side. These are our Favourite Snacks to Pack for Disney Parks. Keeping children fed and hydrated is a great way to keep them occupied, happy and healthy. Especially during the warmer seasons why dehydration is a real risk.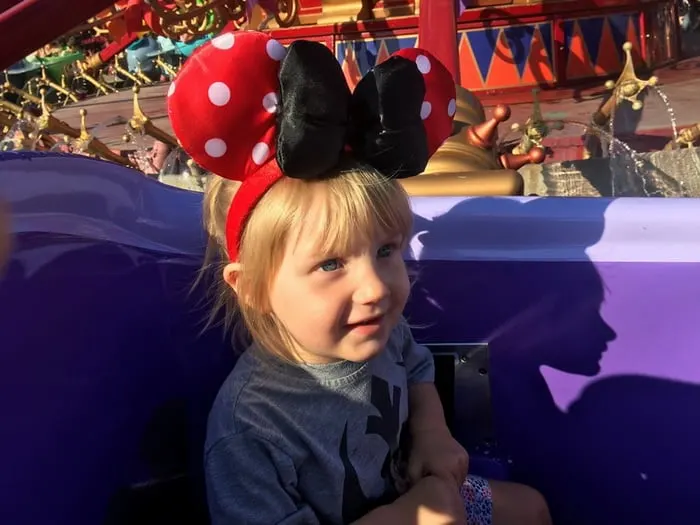 Pre-Buy Souvenirs
If the kids know that their favourite toy is waiting for them in the hotel room, they will be less likely to demand things when entering a souvenir shop. Because we all know that most rides end in a souvenir shop. Clever little buggers, those Disney Imagineers.
Get Ahead of "I want to buy it!" Tantrums
Sometimes knowing they have something waiting for them isn't enough. They want that toy, plus the one on the shelf. This is when conversations need to happen. Here are a few options;
They can pick one item per day and need to look around at all the shops before making a final choice
Give them money (cash or gift card) and this is all they are allowed to spend. Even little ones eventually get the idea of the value of money and start thinking harder about what they will spend it on.
Shopping is reserved for the evenings. Daytime is for attractions and character interactions. Since they can't tell time, maybe something like 'after dinner' or after a specific attraction.
Strollers at Disney for the Win
It doesn't matter how much they protest, what they think of strollers or how much they walk while at home, toddlers need a stroller. Big kids need a stroller. Heck, I need a stroller after exploring Disney. It's huge!
Your Thoughts...
Please share your thoughts in the comments or reach out on social media...We would love to hear from you.
Follow Mouse Travel Matters for Disney Parks news, the latest info and park insights, follow MTM on Twitter, Facebook, and Instagram.
You May Also Like…
How to Avoid Exhaustion at Walt Disney World
10 Ridiculously Beautiful Disney Prints From ETSY
Survival Guide: Visiting Disney World As A Group
How to Pack the Perfect Disney Park Bag Ever!