Last Updated on April 1, 2020
7. Garden Grill Restaurant
We found Garden Grill to be among the best gender-neutral Disney World sit down restaurants for kids!
Everything is Farm-Fresh Food themed, as well as family-style dining so you get a giant skillet of food and serve your family from it. The restaurant also rotates so you can see every part of the "Living with the Land" attraction from up high.
Chip 'n' Dale's Harvest Feast is the name for the character meals for all 3 meals, where you will meet Chip, Dale, Mickey and Pluto in their farmer outfits.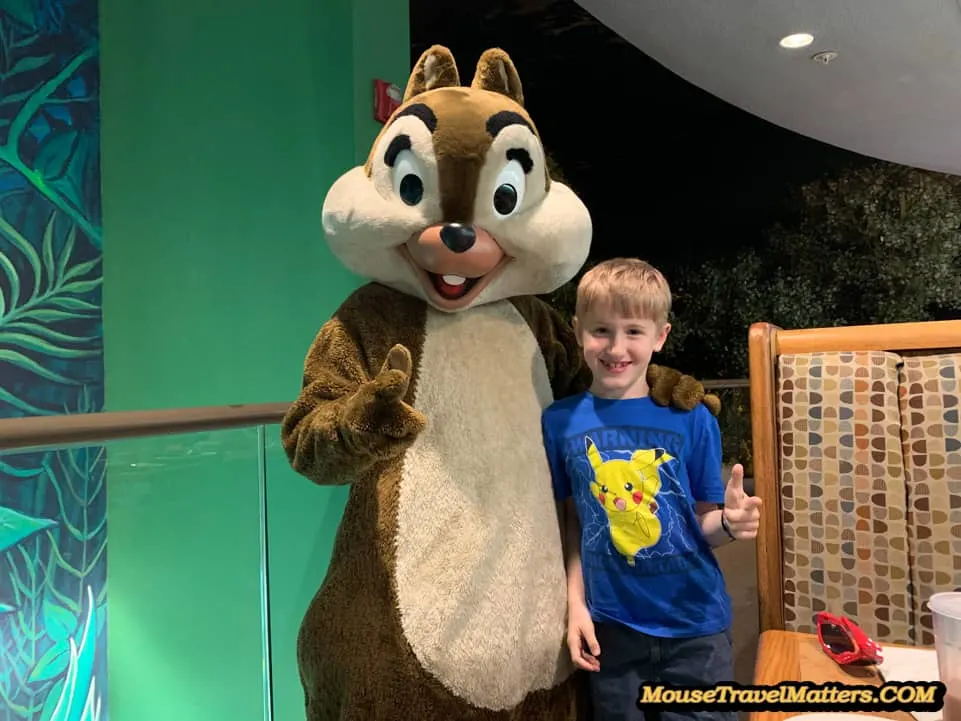 6. Sci-Fi Dine-In Theater Restaurant
An all-American menu drive-in theatre style restaurant! While the kids may or may not be interested in the movie that is playing, think 1950's, they will enjoy sitting in a car and eating in front of the tv. That in and of itself is a real treat for them.
5. Trattoria al Forno – Bon Voyage Adventure Breakfast
This is a fairly new character meal and characters are only present at breakfast so it is very hard to get reservations here but it is very worth it. You will have the pleasure of meeting Ariel, Prince Eric, Rapunzel, and Flynn Rider.
I don't know a single person that doesn't like Flynn Rider; he's clever, charming, adventurous, hilarious. And his interactions with Pascal and Max are enough to make the movie interesting to those that hate princess movies.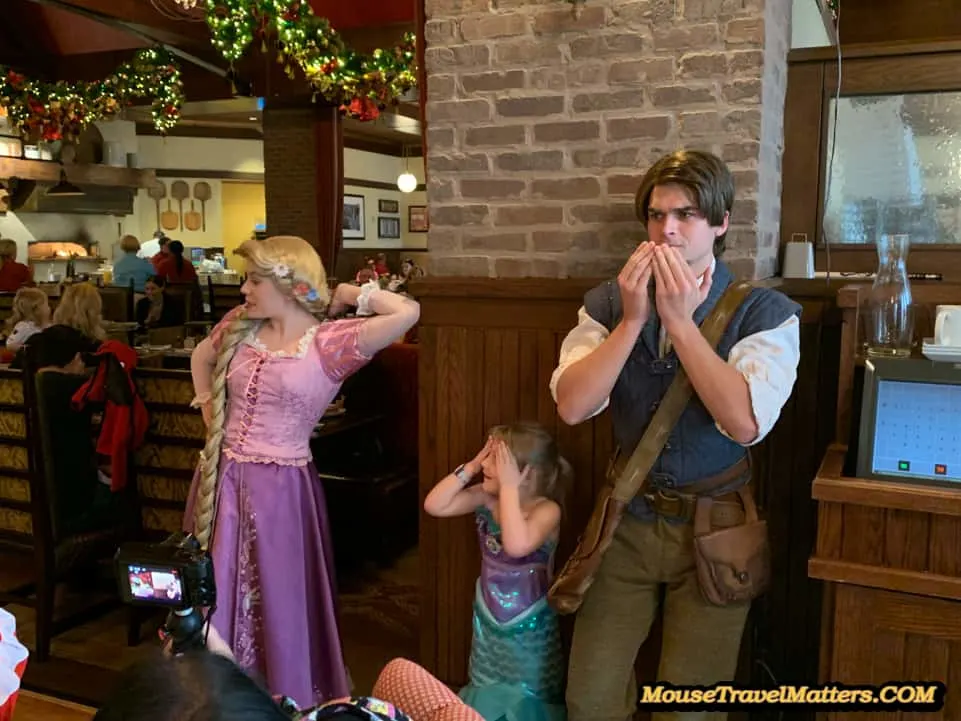 The menu itself is a little more adventurous than Hollywood and Vine but there are still the standard offerings for those little ones that have no interest in adventurous. I'm ordering the Tower of Pancakes!
This is also a great choice for dining on your non-Park day; either resting, arriving or departing, you won't need a theme park ticket to experience this restaurant.
4. Tusker House Restaurant
Tusker House is high on our list of the best kid-friendly restaurants at Disney. I love character dining, and this one also has a Rivers of Light dining package.
Granted, the standby queue for Rivers of Light isn't nearly as long as it used to be, and there are FastPasses available Rivers of Light that can be reserved later on in the day (after you have made your initial 3 selections – we don't suggest making ROL part of your initial FP+ reservations), we like the idea of getting the dining package if we already had plans to eat at this restaurant anyway.
And we did have plans to eat here because Mickey and Friends are in their Safari costumes. It's totally different than meeting them in their normal outfits. Obviously. The theming here is pretty amazing as well, African Safari, on a more family-friendly level, as opposed to the Animal Kingdom Lodge restaurants where they are much fancier and not really something I can see my own children appreciating.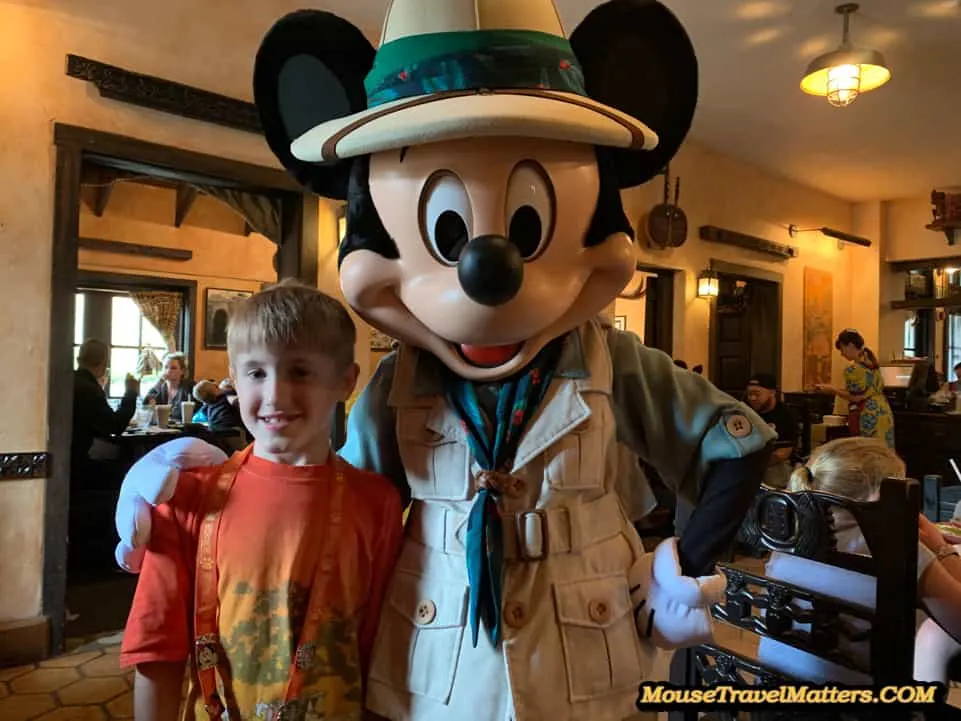 The menu for both breakfast and lunch, the only meals where the characters are available, are pretty standard. Nothing crazy and yet nothing too boring. A nice mix of predictable (chicken, salad, and pita) and fun (Hummus and Peri Peri Salmon).
We suggest having a late breakfast, early lunch reservation, around 10:30 am. This way, you will get a little bit of both buffets available for the same price, and if you are paying out of pocket – you are charged for the meal you sat down to, not what you left at. Neat!
3. Chef Mickey's
Unless you have already booked the previous 7 restaurants, and even then, you may not have had your fill of Mickey and friends yet. The menu offerings, again, aren't anything crazy. It's your standard family-friendly buffet with lots of treats. You are really paying for the character experience.
This is also another resort restaurant, which means you don't have to purchase theme park tickets to experience.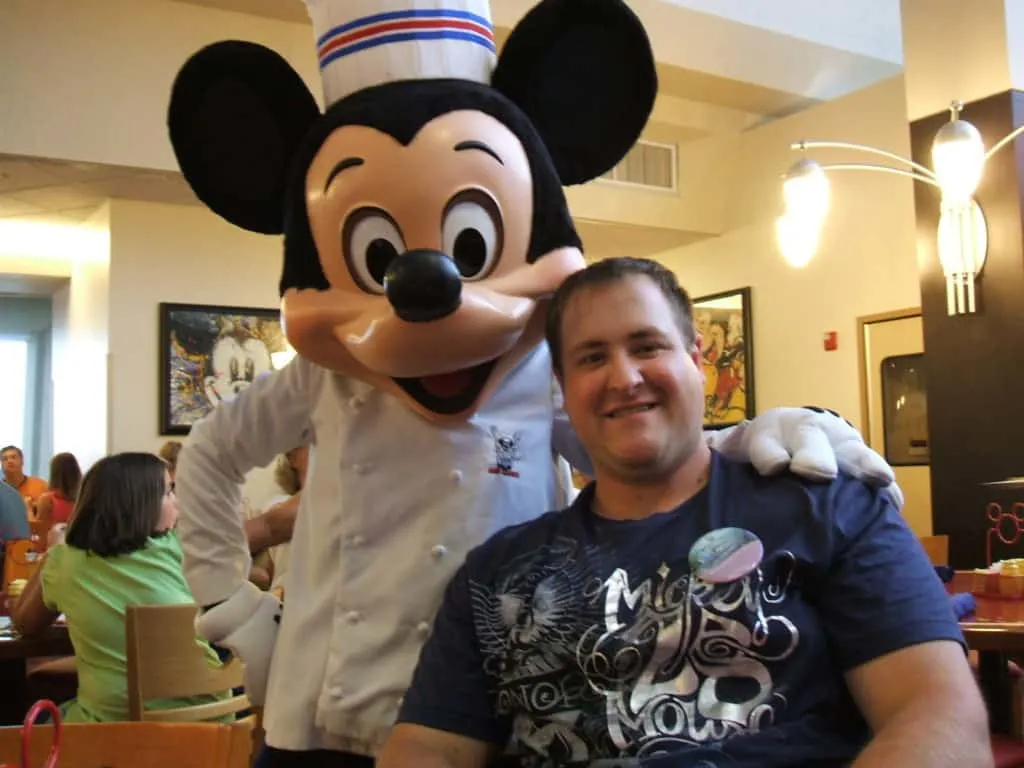 2. Epcot's Space-Themed Restaurant
It hasn't even opened yet and everyone already wants a reservation for it. Twitter joked that it's full until 2036… which, to be honest, I wouldn't put it past anyone.
What little we know about this restaurant can be found on the Disney Parks Blog; it doesn't even have a name yet and already I don't care, I want to eat there. It doesn't get more gender-neutral than outer space!
1. 'Ohana
'Ohana is another fun, family-style all-you-care-to-eat character meal. The menu includes scrambled eggs, Island-style fried potatoes, Hawaiian pork sausages, Hawaiian-style ham topped with pineapple compote, a variety of fresh fruits and assorted bread. Most importantly, there are Mickey-shaped Waffles!
Hosted at Disney's Polynesian Village Resort, there is so much to do here that you might as well stay for a meal. Check out the resort, munch on some treats at the cafe and maybe take a stroll near the beach. Please beware of the potential dangers of the waters of Seven Seas Lagoon, Disney has erected signs warning of alligators and snakes.
There is a pre-Ohana Breakfast Character Photo-op off to the side where you can actually meet a character in their Polynesian costume and unique backdrop. After you have been seated, more characters will come flooding to your table. This is similar to most character dinners; Akershus, Storybook and Chef Mickey's (albeit Chef Mickey's is a statue but still, it's a photo-op).
At one point in the meal, there will be a parade of characters running through the dining hall, singing, and dancing. This is incredibly entertaining and unique to 'Ohana. We feel this restaurant, the characters and themes, is extremely gender-neutral and will have everyone in your party in stitches (pun not intended but I don't regret it).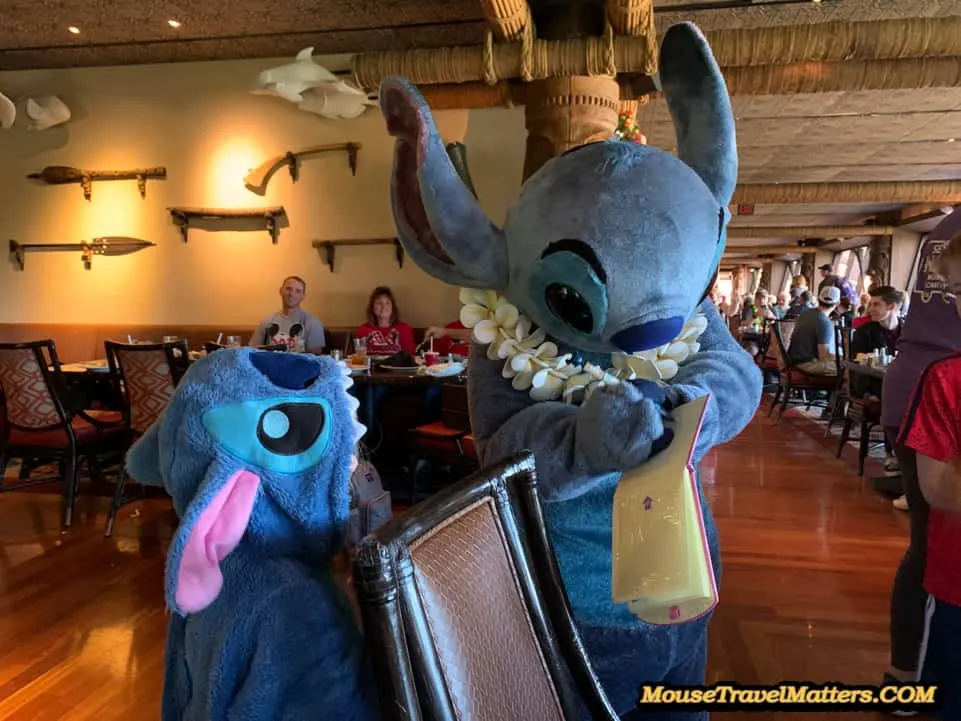 Best Picks for Disney Dining for Families
Cinderella's Royal Table
The Crystal Palace
Akershus Royal Banquet Hall
Be Our Guest
These 4 restaurants are amazing, don't get us wrong. They have an incredible character lineup, amazing menu offerings that are both adult and kid-friendly, and they are centrally located within the Parks so you don't have to leave the Park in order to experience them.
The only negative that we can come up with as to why they didn't make the cut in our top 10, they are a tad on the over-rated side.
Cinderella's Royal Table
This is a 2 credit per person Disney Dining credit meal, and therefore extremely expensive. If your child doesn't LOVE Cinderella, it's a waste of a meal because she can easily be seen elsewhere, like Akershus. It also happens to be one of the most popular restaurants at Disney World, thus making a reservation is nearly impossible.
The Crystal Palace
is Victorian Winnie the Pooh themed. My kids aren't super into Winnie the Pooh, despite trying to get them to watch the movies. They like the characters, sure. But they don't LOVE them. And like I mentioned before, I would rather spend my time and money on something that everyone LOVES.
Akershus Royal Banquet Hall
Great menu, we loved visiting on our honeymoon, but it is very princess. And I can't see a 7-year-old boy admitting to liking this many princesses without a little something extra for him. We tried in Disneyland Paris, Auberge de Cendrillon, and he was OK with it. But I don't think he would appreciate being put in that situation again. It's all about compromise.
Be Our Guest
To end our over-rated roundup Be Our Guest is another 2 credit Disney Dining experience for dinner and the Beast may or may not show up, there is no guarantee. If you really want to experience the Beast's castle, make reservations for breakfast – it's quick service.
Your Thoughts...
Please share your thoughts in the comments or reach out on social media...We would love to hear from you.
Follow Mouse Travel Matters for Disney Parks news, the latest info and park insights, follow MTM on Twitter, Facebook, and Instagram.
You May Also Like…
How to Eat Gluten-Free at Disney World
Disney's Hollywood Studios Restaurants(Opens in a new browser tab)
10 Reasons for leftover dining credits