Last Updated on May 11, 2022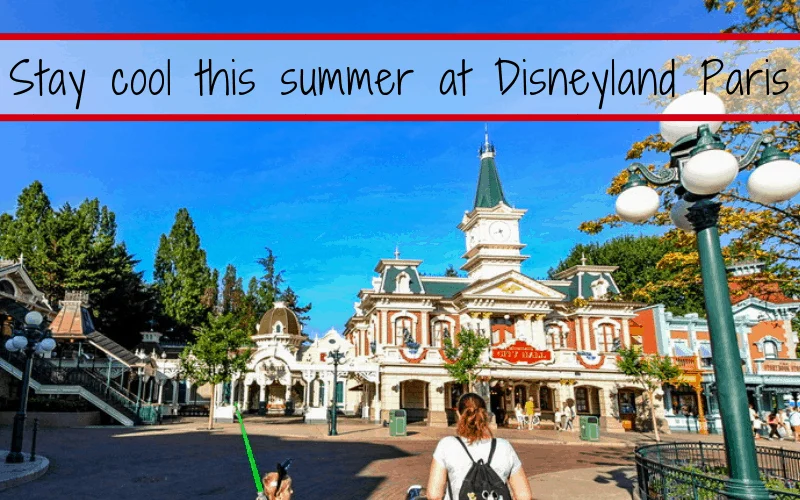 Surviving the heat at Disneyland Paris is not particularly difficult and numerous ways are provided to cool down.

Here are my top tips for surviving the summer at Disneyland Paris!
This post may contain affiliate links.
To which I earn a small commission, at zero cost to you!
Find more info in our
Privacy Policy
.
Dress Appropriately
Leave the long sleeves and trousers at home because it's going to be a hot one. Make sure your clothes are breathable, quick to dry, and lightweight. While they aren't the greatest of designs, Underarmour is famous for its light and water-repelling fabrics.
Don't bust out the tank tops and short shorts either. That hot European sun is going to make any and all surfaces too hot to touch directly with your sensitive bare behind and your shoulders are going to burn faster than you can reapply sunscreen. Try a capped sleeve and something that protects the back of your legs while sitting.
Use Personal Cooling Gear
There are many contraptions out there that will help you beat the heat at Disneyland Paris. A misting fan, stroller fan, and cooling towel are high on the list of magical devices that do exactly what they are promising. A gentle spritz of water from your refillable water bottle can make all the difference when waiting in weather-exposed queues.
Hotel Pool
Not all of the hotels have pools so be mindful of where you book during the warmer months. Sequoia Lodge, Hotel New York, Newport Bay Club, Disneyland Hotel, and Davy Crockett Ranch all have swimming pools and a select few of the offsite hotels also have swimming pools too.
Since you require a room key to gain entrance to the pool area, it is unlikely that you will be able to pool hop if you are staying at a resort without a pool. However, if your resort typically has a pool but it is temporarily out of order ( repairs, for example), there are rumors that you are allowed access to another hotel's pool.
Since these are hotels and not resorts like Walt Disney World, you aren't missing by being refused pool hopping privileges. It's just a pool, and they aren't even that big.
Explore The Caves Around Adventure Isle
The Caves of Adventure Isle is essentially Skull Rock. And within Skull Rock is a waterfall. The whole area is cool and calming and sleep-inducing for the little ones.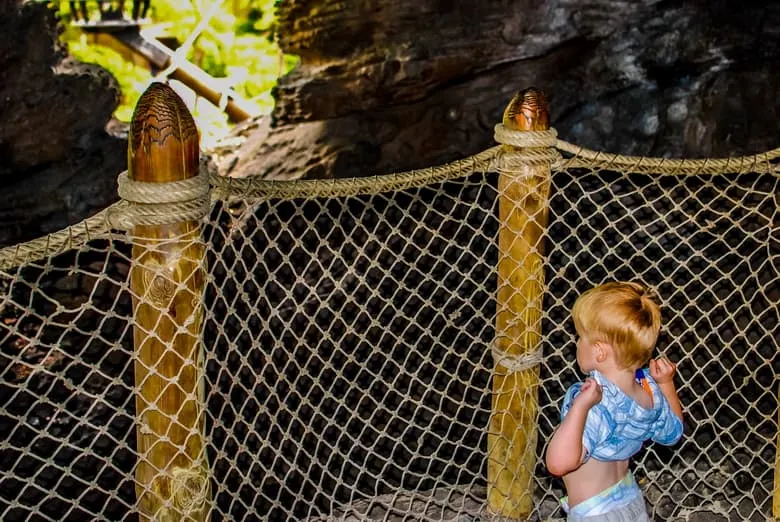 Carrying Water
If your hotel has a fridge, try freezing a few bottles of water and bringing them into the parks. You may not be able to bring a large cooler, but a small thermal lunch bag has more than enough room to store frozen water bottles and keep other bottles chilled until needed.
When ordering at a restaurant, ask for cold drinks and avoid hard liquor with your meal. Heat and alcohol do not mix, and truth be told your sunburn will be worse. Save the booze fest for evenings after the sun goes down. Be sure to hydrate well for the next day's activities.
Lastly, purchase a reusable water bottle and refill using the free water fountains scattered around the parks.

Find Air Conditioning
Oh, sweet Air Conditioning. Most buildings will have A/C, or as the Europeans call it, Air Con. This is when you will purposefully walk through the hoards of guests in the shops just to experience a moment of cool air.
You can also try attractions such as Pirates of the Caribbean or The Twilight Zone Tower of Terror where you will spend a significant amount of time indoors. The queues are infamously long, yet indoors. Yay for long lines! There is also Star Tours – L'Aventure Continue and Buzz Lightyear Laser Blast.
Alternatively, why not book yourself into that sit-down meal that you always wanted to do – its both the perfect way to cool down and take a break during the long summer days.
Watch a show
Why not cool off and experience Disney at the same time. Sit down, relax and enjoy the Air Con while watching a unique Disneyland Paris show. Your options include Buffalo Bills Wild West Show (in the evening), Marvel Super Heroes Unite, and Mickey and The Magician.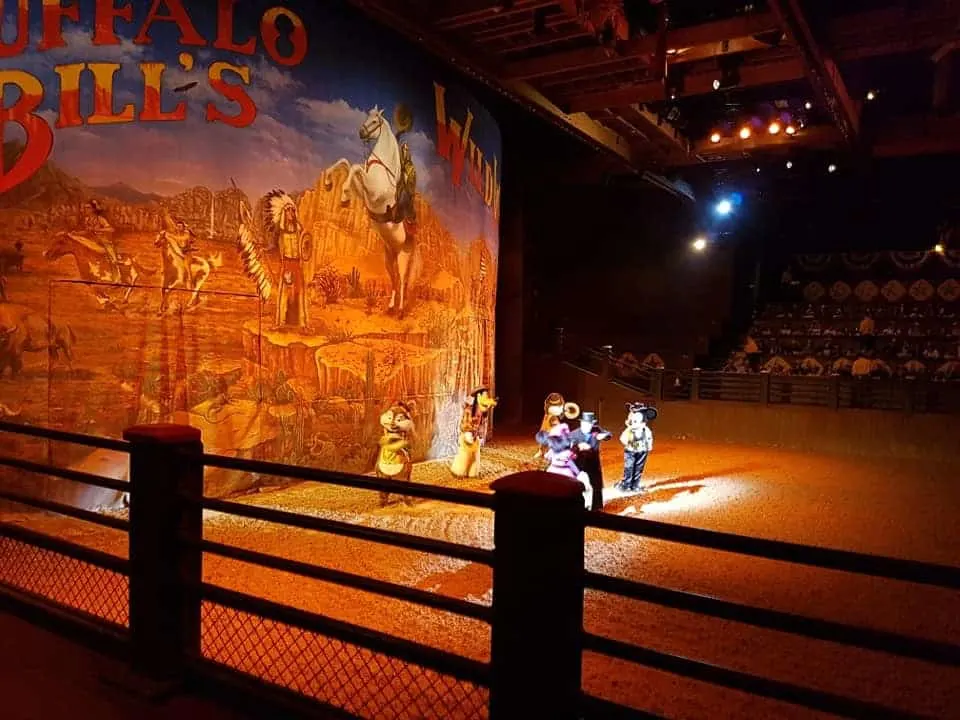 Visit the Parks in the Morning and Evening.
While this isn't our favorite piece of advice, it is the most practical. Use your EMH to tour the Parks bright and early in the morning, then return to the hotel for a mid-day break. Plan to be indoors between 12 and 3 pm when it is hottest.
This can include anything from a quiet lunch break in the cafeteria to a nap in the hotel room, or a small shopping spree nearby. Anything to get out of the shadeless parks and into some less crowded Air Conditioned buildings.
Do Some Shopping
Be it in the parks or at Disney Village, there is plenty of shopping to be done at Disneyland Paris and they are all indoors, with quality Air Conditioning. The doors are left open for safety and security, sadly, but this also means the general front door area will be chillier than the main sidewalk so you don't technically have to go inside if it's too busy, your pushchair doesn't fit or you don't want to be tempted into spending more money.
Where there is a will, there is a way.
Visit the walkthrough attractions
There are more walk-through attractions than one might think. After you've finished with the arcade, the endless shopping, and the shows, check out something you can explore at your own pace. Le Passage Enchanté d'Aladdin and Les Mystères du Nautilus, La Taniere du Dragon underneath Le Château de la Belle au Bois Dormant, and the Castle itself are all great self-guided walk-through attractions that are sure to help you beat the heat. Except for Nautilus, all of these experiences are stroller friendly as well.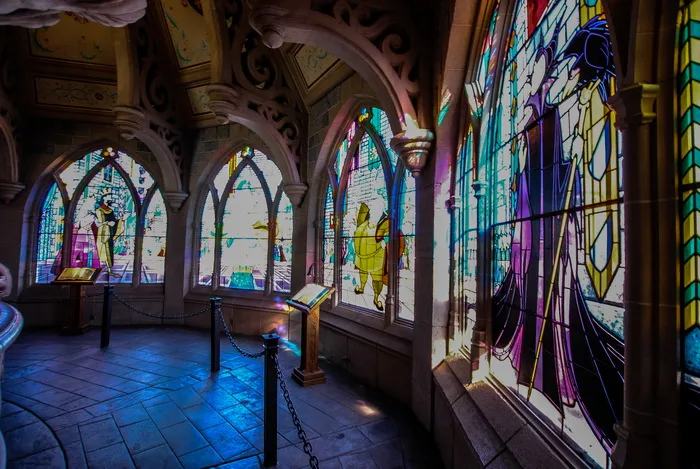 Take a Break
If you are staying on-site then this one is nice and easy for you; take a break during the day. An hour or two back at the hotel room (in the pool if your hotel has one) is a perfect way to freshen up and relax at the same time.
Your Thoughts...
Please share your thoughts in the comments or reach out on social media...We would love to hear from you.
Follow Mouse Travel Matters for Disney Parks news, the latest info and park insights, follow MTM on Twitter, Facebook, and Instagram.
You May Also Like…