Last Updated on August 23, 2020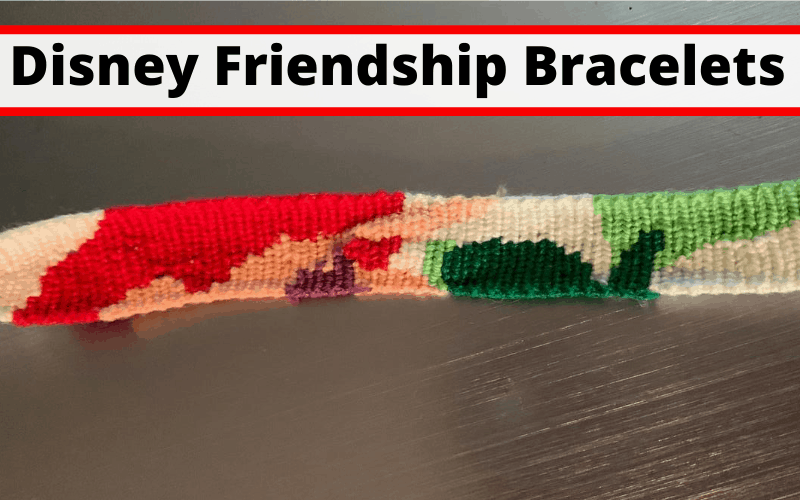 Over the course of the last 5 months, I have found many hidden talents. I have taken up painting, cooking, and now bracelet making. While none of these talents have any real-world application, other than making my house look and smell good, they are great at keeping the mind sharp and the hands busy.
Disney Friendship Bracelets
Making a friendship bracelet is the cornerstone of every middle school child. I remember making these for myself and selling them out of my locker to my classmates at $1 each.
Thus far, my favourite to make are the chevron, the double chevron and the diamond bracelet. I tried my hand at a double chevron and diamond bracelet. It is a work in progress.
Disney Themed Friendship Bracelet
Make a friendship bracelet themed to your favorite Disney character!
Just like Disney-bounding is dressing up in the idea, or with the inspiration of, your favourite Disney character, so is Disney Themed friendship bracelet. You don't have to create a full character, just make a simple pattern with the colours of your favourite character.
Red, White, Yellow and Black chevron bracelet is a great way to show one's love for Mickey Mouse without fretting over creating an actual image of him from thread.
Disney friendship bracelets patterns
Bracelet Book is pretty much the mecca of all bracelet patterns. Most Instagrammers and Youtubers that publish their creations will note which pattern number they have used so you can easily recreate it yourself. Many of the Etsy patterns can be found here as well, but not all. The site is free to use, you just need to create a login.
There are a variety of different styles of Friendship bracelets available, not just patterns. The Ariel pattern shown above is called an Alpha bracelet. Their patterns are a little trickier to read. I have recently become a big fan of the Youtube Masha Knots and Craftanatic. I love the way she explains the simpler patterns and this particular video on how to read Alpha Patterns.
Although, having tried and failed ( miserably) at making this Solar system pattern, I don't suggest this be your first Alpha bracelet. The more colour changes and smaller the changes are, tend to be a much harder bracelet to create. I also don't suggest you make your Base Strings and Main Strings the same colour.. many mistakes have been made due to mixing up my strings.
Supplies:
Embroidery Thread
Scissors
Tape
Needle
Patience
You will an abundance of patience, especially if the children are waiting for you to finish a creation. A needle is to pull out a thread that you have made in error.
You May Also Like…