Last Updated on July 26, 2020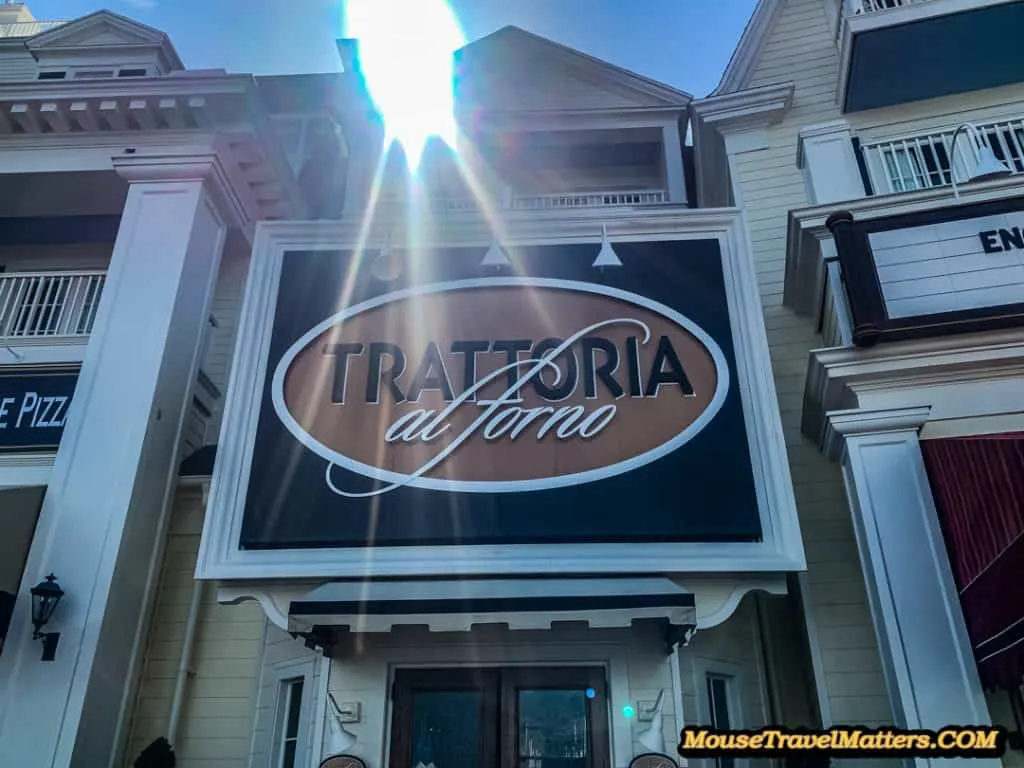 One of the newest character dining experiences at Walt Disney World is also one of the best breakfasts in the resort restaurants. For this WDW meal review, we set sail to the BoardWalk for Bon Voyage Adventure Breakfast at Trattoria al Forno.
This post may contain affiliate links.
To which I earn a small commission, at zero cost to you!
Find more info in our
Privacy Policy
.
Starting with the basics, Bon Voyage Character Breakfast participates in the Disney Dining Plan as a 1-credit table service restaurant, and also accepts the Tables in Wonderland card for a 20% discount.
Bon Voyage Adventure Breakfast is only available between 7:30 am – 12:05 pm. Trattoria al Forno does not serve lunch and dinner is not a character experience.
Bon Voyage Adventure Breakfast Gift Shop
As soon as you walk in, to the right there is a small area that has a few things you can purchase. There is a variety of things you buy, like pirate swords, Prince Philip's foam shield and sword, Tangled themed items and The Little Mermaid themed items.
Should you decide at the last minute that you want a tiara or Pascal you could buy it. If you forgot to bring an autograph book or a pen you could buy it there too.
I did not expect to see a small gift shop and my first thought was that it was nice. It is a small space so there are a few options of each item.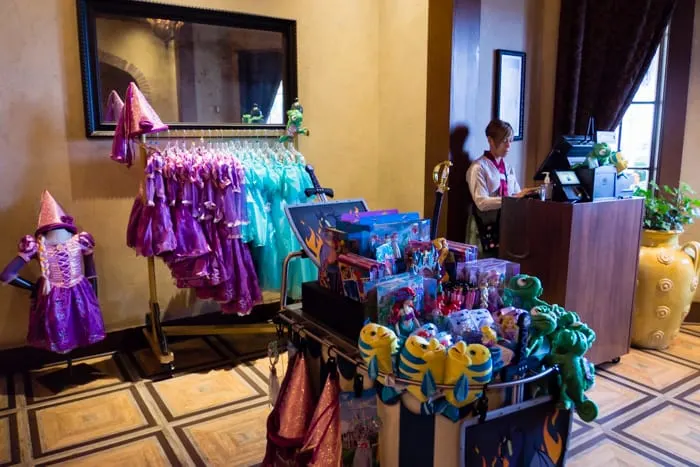 We checked in about 10-15 minutes before our scheduled reservation had a chance to freshen up in the next room. It had been raining that morning so we wanted time to take off our ponchos and get our selves ready before being whisked away to our table.
We weren't waiting long before they called us in. It's important to stay in the gift shop and not in the lounge area next to the restrooms. It is very difficult to hear them call your name.
Note – many restaurants don't use the buzzer system anymore. They have switched to texting you when your table is ready and simply shouting your name if you have an out-of-country phone like us. Their system isn't capable of texting international numbers.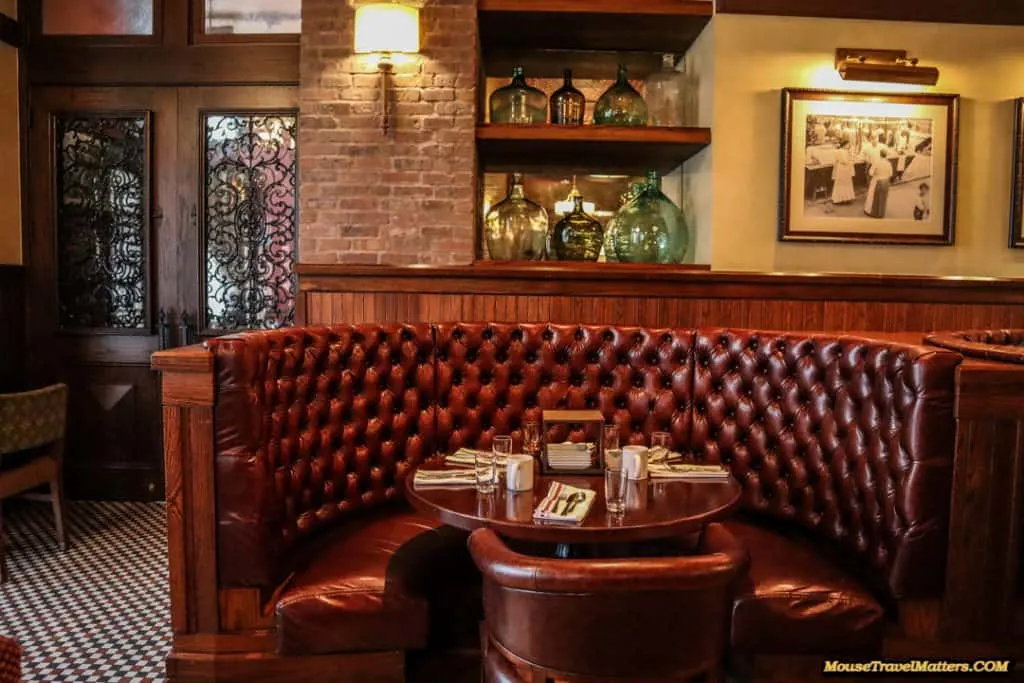 Menu
Choose from a variety of plated breakfast entrées, which may include:
Frittata with roasted red peppers, prosciutto, onions, potatoes and Pecorino Romano cheese
Fluffy buttermilk pancakes with bacon or sausage
Breakfast calzone with scrambled eggs, cured meat and a blend of cheeses stuffed in an oven-baked dough and served with Sunday gravy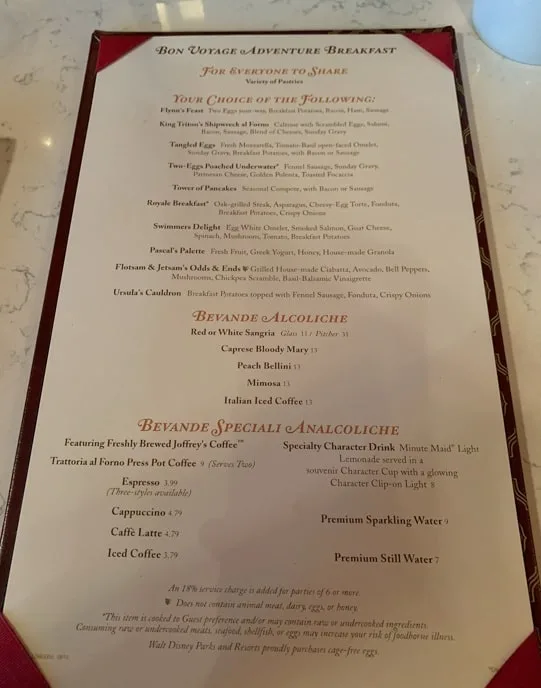 Bon Voyage Adventure Breakfast already comes with a drink included in the price, so since we were on the dining plan, we were allowed a second drink for our credits. We decided to have a signature cocktail first thing in the morning – it's a holiday, it doesn't count. We definitely were not the only ones enjoying a morning mimosa.
Kids menu
Little Royal Grilled Steak
Flounder's Flapjacks
Lil' Swimmers Egg White Omelet
Character Waffle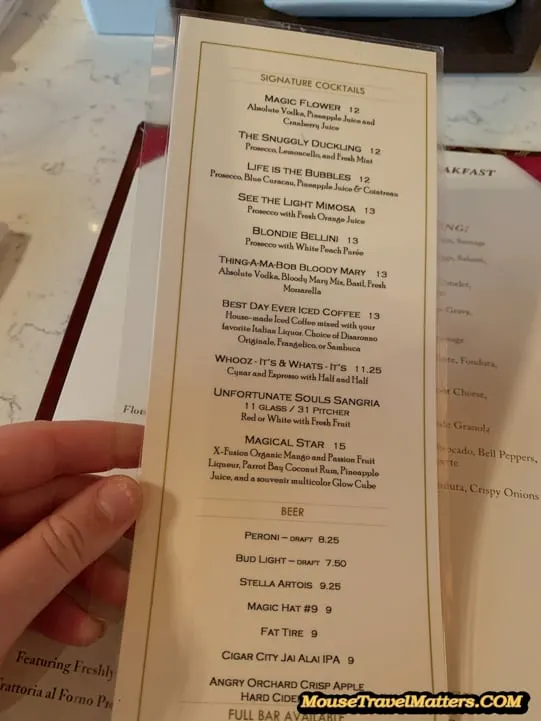 Your meal also includes freshly baked pastries for the table. The pastries come in a cute, little frying pan (à la Tangled) and the pastries have fun Disney touches like the sun from Tangled and a shell with a pearl from The Little Mermaid. The chocolate croissant twists were definitely our favorite.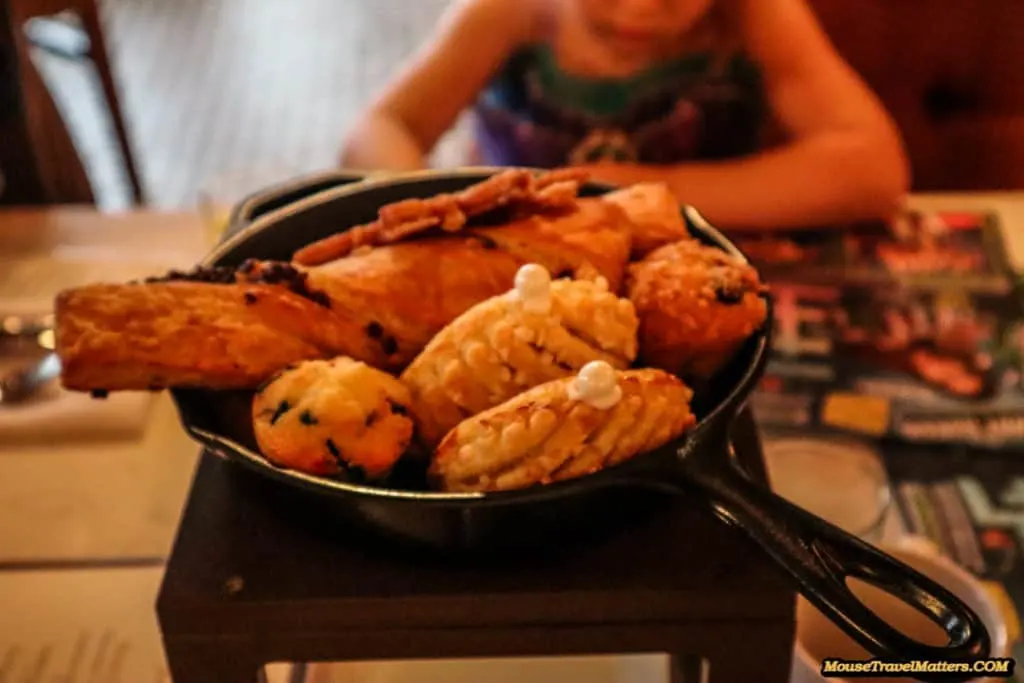 The eggs and bacon were great. The food was brought to use fairly quickly after the characters left – which is great because I didn't want to have to constantly get up and down to see characters with food on our plates.
I was disappointed with the waffles and pancakes though. As someone that makes pancakes every Saturday for breakfast, I found these to be dry. They were warm but still tasted like they were not made fresh for me.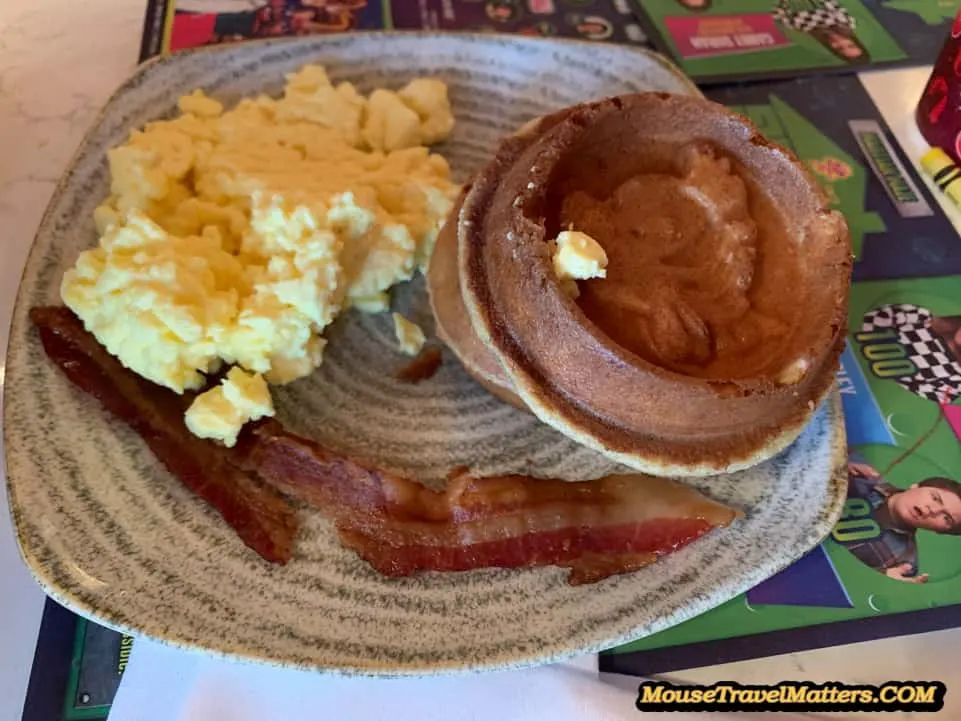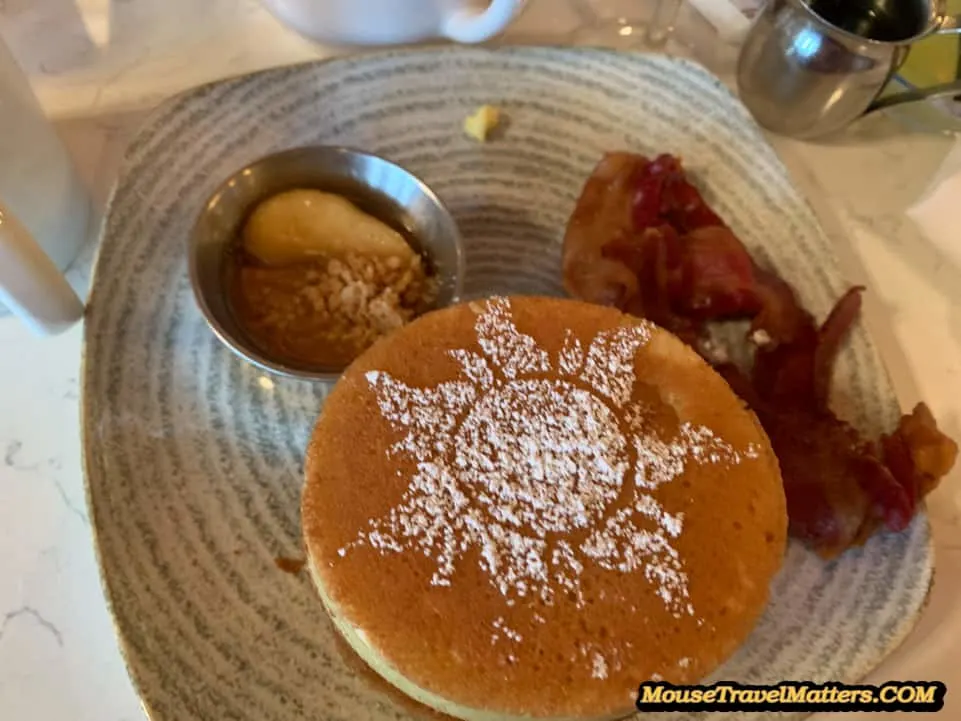 How long does bon voyage breakfast take?
We were in and out in under 1 hour. I know we always suggest scheduling 1-1.5hrs for a character meal, but this is just to be on the safe side and not over-schedule yourself. We have yet to remain at a restaurant past the 1-hour mark.
The Characters always seem to come out shortly after we have been seated, but before our meals arrive, and they all come out one after another. We are rarely eating our meal when the characters are at our table.
How much is the Bon Voyage Breakfast?
Bon Voyage Breakfast costs $45 plus tax and gratuity for adults; $29 plus tax and gratuity for children ages 3-9.
At $148 per a family of 4, breakfast – even character breakfast – isn't the best way to maximize your table service credits but at $206.85/day dining plan, $58 (total) left for 1 QS meal and 2 snacks (per person) for the rest of the day in order to simply break even is still winning in my book.
For more fun math on how the Disney Dining Plan saved our family $600 on our last vacation – click here.
What characters are at bon voyage breakfast?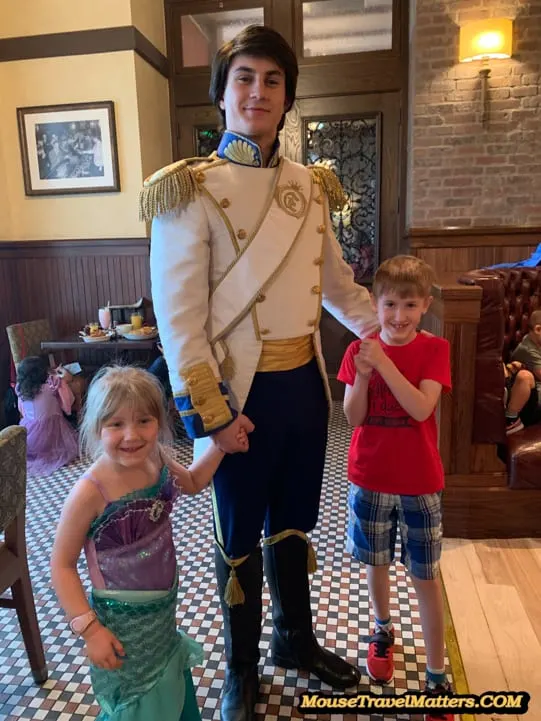 You may encounter such Characters as:
Ariel
Prince Eric
Rapunzel
Flynn Rider
Bon Voyage Adventure Breakfast has proven incredibly popular since debuting because it features two of Disney's most beloved couples: Rapunzel & Flynn Rider from Tangled as well as Ariel & Prince Eric from The Little Mermaid.
Each character is announced as they enter the room with a bit of fanfare and interact with one another before meeting guests individually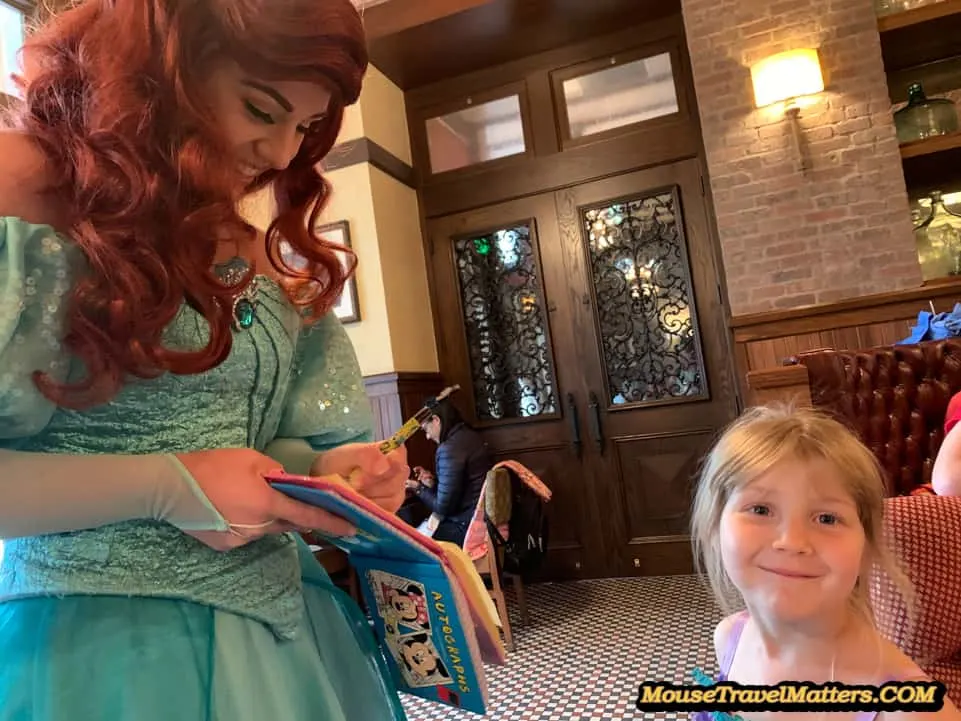 Once you are seated, know who is going to be taking the photos and where you want them to stand. Set the children up in where they can easily access the characters and place their autograph books between them.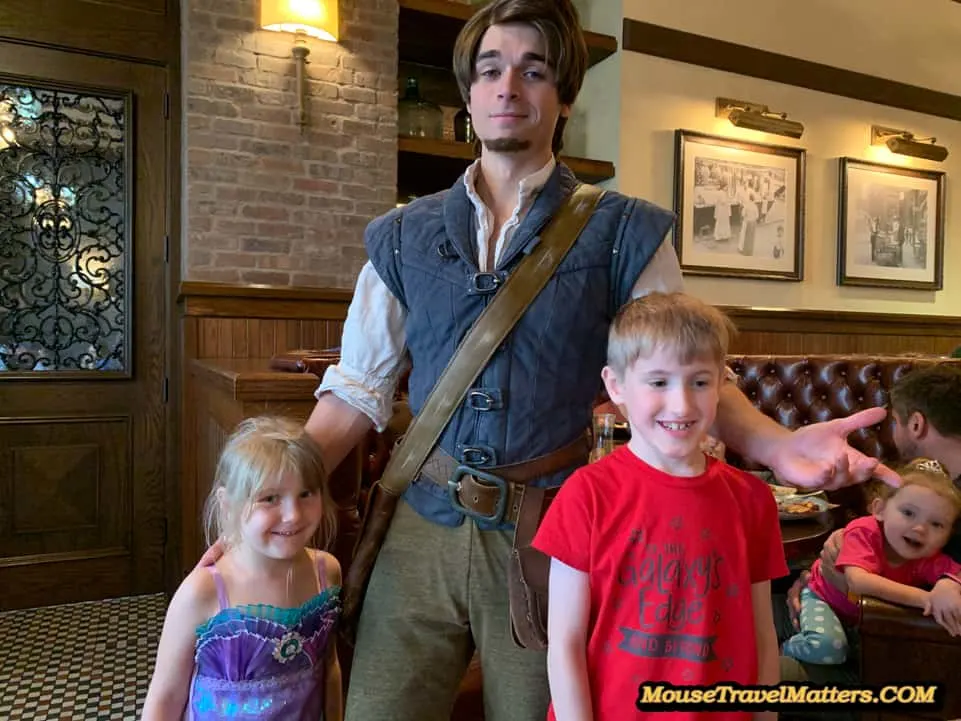 Every once in a while, you will get a little pixie dust sprinkled on your adventure and be asked to interact with the characters a little more than the usual.
Here, Rapunzel was being introduced as Eugene was at our table, so he invited the kids to play a little trick on Rapunzel. They hide behind this wall and covered their eyes while Rapunzel looked around for her beloved Eugene and his new friend.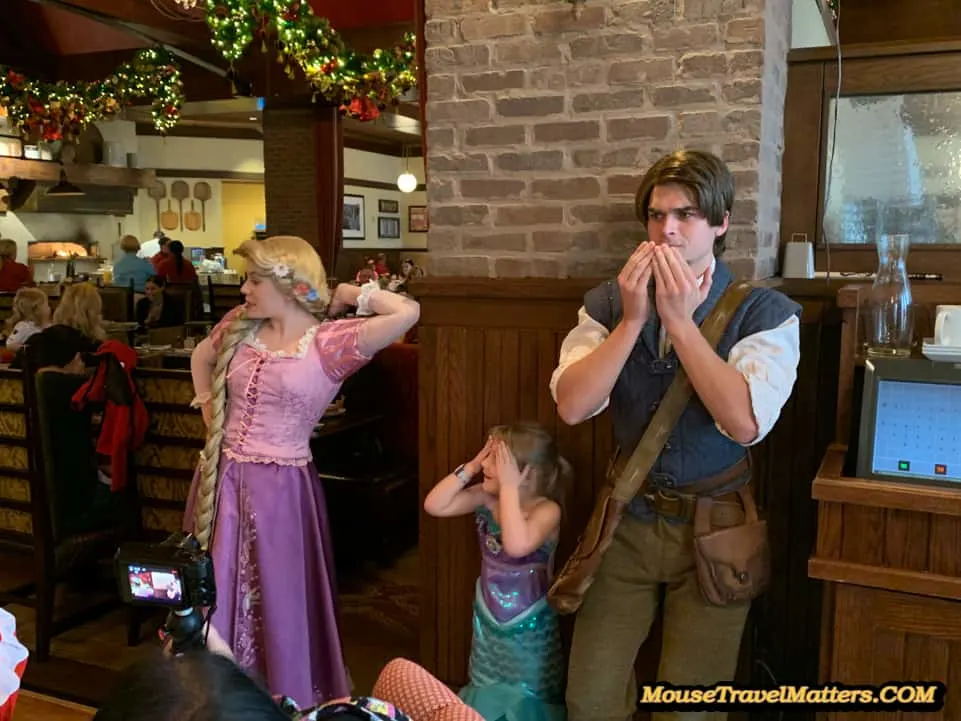 Baby girl had a tough choice to make that morning; to wear Ariel or Rapunzel costume to the Ariel and Rapunzel breakfast. Of course, she owns both costumes and they are both her favorite princess but she ended up going with the Ariel mermaid costume at the last moment. What a girl.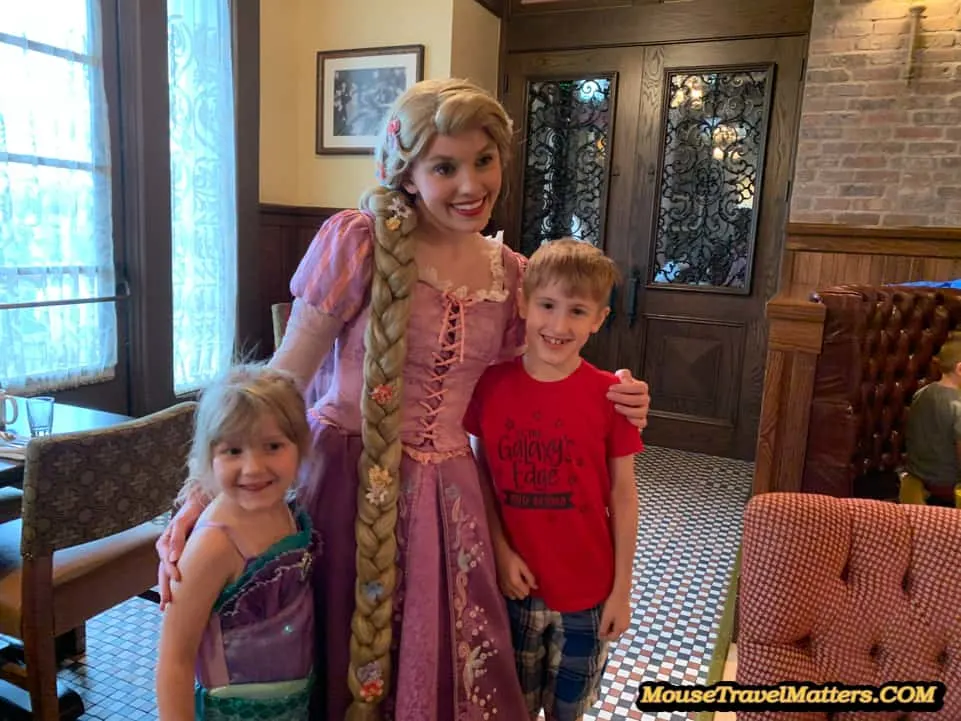 How to get to Bon Voyage Adventure Breakfast
Seeing as Trattoria al Forno is in Disney's Boardwalk, there aren't too many options for reaching this "isolated" venue.
If you are staying at one of Disney's Skyliner resorts, you will disembark at the International Gateway and can easily walk to Boardwalk from here. Otherwise, your best bet is to take the bus to Hollywood Studios and subsequently walk 15-20 minutes or take the ferry. It leaves every 20 minutes.
The boat is located off to the right before you approach the security tables.
Meeting Ariel and Rapunzel outside of Bon Voyage Adventure Breakfast
If you don't want to spend 1 hour at breakfast or pay $150 for a single meal, there are other ways to meet Rapunzel and Ariel.
Rapunzel Meet-and-Greet at Princess Fairytale Hall in the Magic Kingdom: Have your photo taken with Rapunzel and get her autograph at the Princess Fairytale Hall in the Fantasyland area of the Magic Kingdom. FASTPASS + is available for this experience. PhotoPass photographers are on hand to take photos either with your camera or as part of the Memory Maker service.
Meet Ariel at Her Grotto in the Magic Kingdom – The only guaranteed place to meet Ariel is at Ariel's Grotto, a permanent Meet-and-Greet location, in Fantasyland at the Magic Kingdom. PhotoPass photographers are on hand to take pictures with their cameras or your own, and you can get Ariel's autograph. You can make a FASTPASS+ reservation for this experience or use the standby entrance.
Unfortunately, there is no other way to meet Prince Eric and Eugene aka Flynn Rider outside of Bon Voyage Adventure Breakfast. The boys do make an appearance during the Magic Kingdom parades but you won't be able to meet and chat with them, simply taking their pictures from afar. Flynn has also been known to pop in and greet Guests with Rapunzel at Mickey's Very Merry Christmas Party.
Overall, if Bon Voyage Adventure Breakfast at Trattoria al Forno checks the right boxes for you, it's hard to beat. Some of the characters are impossible to find elsewhere, there are a couple of dishes that are of exceptional quality, and the experience, as a whole, feels 'elevated' as compared to normal character dining.
Planning a Walt Disney World trip? Learn about hotels on our Walt Disney World Hotels Reviews page. For where to eat, read our Walt Disney World Restaurant Reviews. Our What to Pack for Disney Trips post takes a unique look at winter items to take.
You May Also Like…