Last Updated on September 19, 2019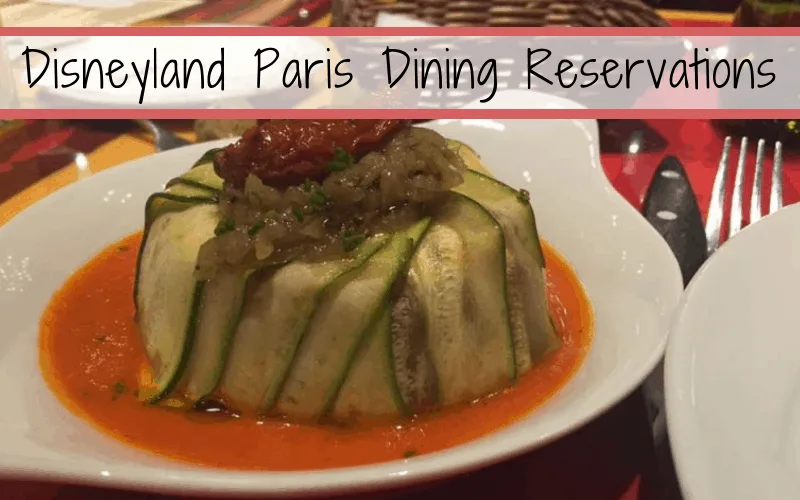 Disneyland Paris has a straight forward Restaurant Reservations service covering all 22 table and buffet service restaurants. Most of the table service restaurants accept reservations. This includes the restaurants in both parks and in the Disney Village. You can also make reservations for eating with characters or the Buffalo Bill's Wild West Show.
There are several ways to make a reservation.
This post may contain affiliate links.
To which I earn a small commission, at zero cost to you!
Find more info in our
Privacy Policy
.
Dining in Disneyland Paris: a guide to booking
It is important to book a table before you go, guarantee your Disney dining. Disneyland Paris Dining Reservations can be made up to 60 days in advance.
First off, here are the basics:
Restaurants that accept reservations in Disneyland Paris can be booked 60 days in advance by telephone (+33 1 60 30 40 50 )
Except for breakfast. That you can book once you are on-site – unless you pre-pay for a breakfast with characters when booking a room
Many restaurants are only open for lunch or are open hours that are quite different than park operating hours
Many restaurants have a menu where it is a set price for the meal, or for appetizer + main course(some also with dessert)
Disneyland Paris DOES offer a meal plan (1/2 board or full, at a number of "levels")
There aren't penalties for canceling reservations last minute
On the website you'll see some photos, find a full menu, and be able to see where the restaurant is but you can not book online, nor will you see future operating hours.
We recommend getting reservations for Character Dinners because the meet and greets in the park can have extremely long lines, cutting into your attraction times.
In our experience Disneyland Paris Dining Reservations are strongly recommended for:
Bistrot Chez Rémy, the restaurant inspired by the Disney film Ratatouille,
Buffalo Bill's Wild West Show in Disney Village,
Auberge de Cendrillon in Disneyland Paris,
Disneyland Paris Hotels Inventions Buffet,
Plaza Gardens character breakfast
Café Mickey
Walt's – An American Restaurant
Blue Lagoon Restaurant
Restaurant des Stars
How to book dining at Disneyland Paris
There are several ways to book your dining at Disneyland Paris;
Over the phone – Simply call +33 (0) 1 60 30 40 50 (this is easiest when calling via Skype).
In Person
Any Disney Hotel information desk
City Hall or Studio Services
At your chosen restaurant

Service Restaurants in Disneyland Paris
A list of all service restaurants in Disneyland Paris. Watch reviews of other visitors and leave your own review about your dining experience in one of the Disney Village restaurants! Table service, Counter service and Buffet.
Table Service
Annette's Diner
Auberge de Cendrillon
Beaver Creek Tavern
Billy Bob's Saloon
Blue Lagoon Restaurant
Buffalo Bill's Wild West Show
California Grill
Cape Cod
Hunter's Grill
Cafe Mickey
King Ludwig's Castle
The Lucky Nugget Saloon
Manhattan Restaurant
New York Style Sandwiches
Parkside Diner
Planet Hollywood
Rainforest Cafe
Silver Spur Steakhouse
L'Etoile
The Steakhouse
Walt's – An American Restaurant
Yacht Club
Counter Service
Agrabah Cafe
Au Chalet de Marionette
Backlot Express Restaurant
Boardwalk Candy Palace
Buzz Lightyear's Pizza Planet
Cable Car Bake Shop
Cafe des Cascadeurs
Cafe la Brousse
Cafe Hyperion
Captain Hook's Galley
Coffee Grinder
Casey's Corner
Colonel Hathi's Pizza Outpost
Cookie Kitchen
Coolpost
Cowboy Cookout Barbecue
En Coulisse Restaurant
Fantasia Gelati
Fuente del Oro
The Gibson Girl Ice Cream Parlor
The Ice Cream Company
Last Chance Cafe
March Hare Refreshments
Market House Deli
McDonald's
New York Style Sandwiches
The Old Mill
Pizzeria Bella Notte
Red Garter Saloon
Restaurant Hakuna Matata
Sports Bar
Studio Catering
Toad Hall Restaurant
Victoria's Home-Style
Star Bucks
Buffet
Agrabah Cafe
La Cantina
Chuck Wagon
Crockett's Tavern
Inventions
Plaza Gardens Restaurant
Rendez-Vous des Stars Restaurant
Your Thoughts...
Please share your thoughts in the comments or reach out on social media...We would love to hear from you.
Follow Mouse Travel Matters for Disney Parks news, the latest info and park insights, follow MTM on Twitter, Facebook, and Instagram.
You May Also Like…