Last Updated on April 30, 2020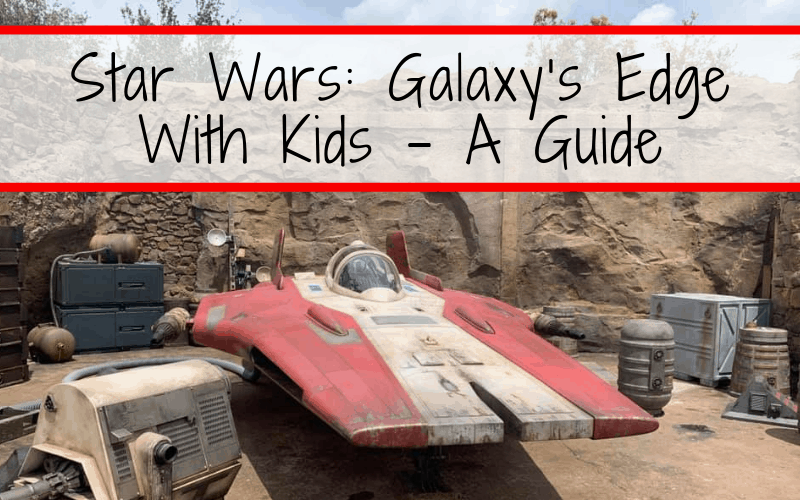 There are a few things to know before taking your kids to Star Wars: Galaxy's Edge. Some tips for enjoying Star Wars: Galaxy's Edge with kids.
Things to know before taking your kids to Star Wars: Galaxy's Edge
How to get into Star Wars: Galaxy's Edge?
Just like any other Land within a Disney Park, simply walk on over. When Disney World first opened Galaxy's Edge, there was a boarding group program installed and they limited the number of guests allowed into the land. But that lasted all of 2 days and the numbers have remained calm ever since.
How big is Galaxy's Edge?
Star Wars: Galaxy's Edge is a whopping 14 acres.
It's hot, there aren't many trees or building cover but there are a ton of fans and a fair number of umbrellas throughout the Land to keep you cool.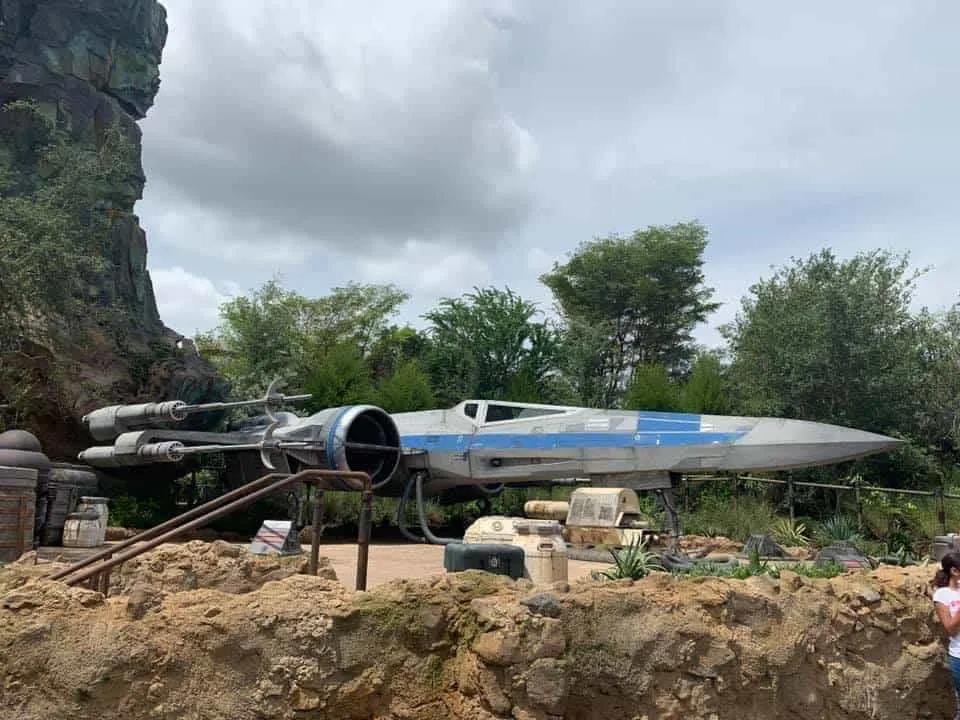 Best bathroom locations for kids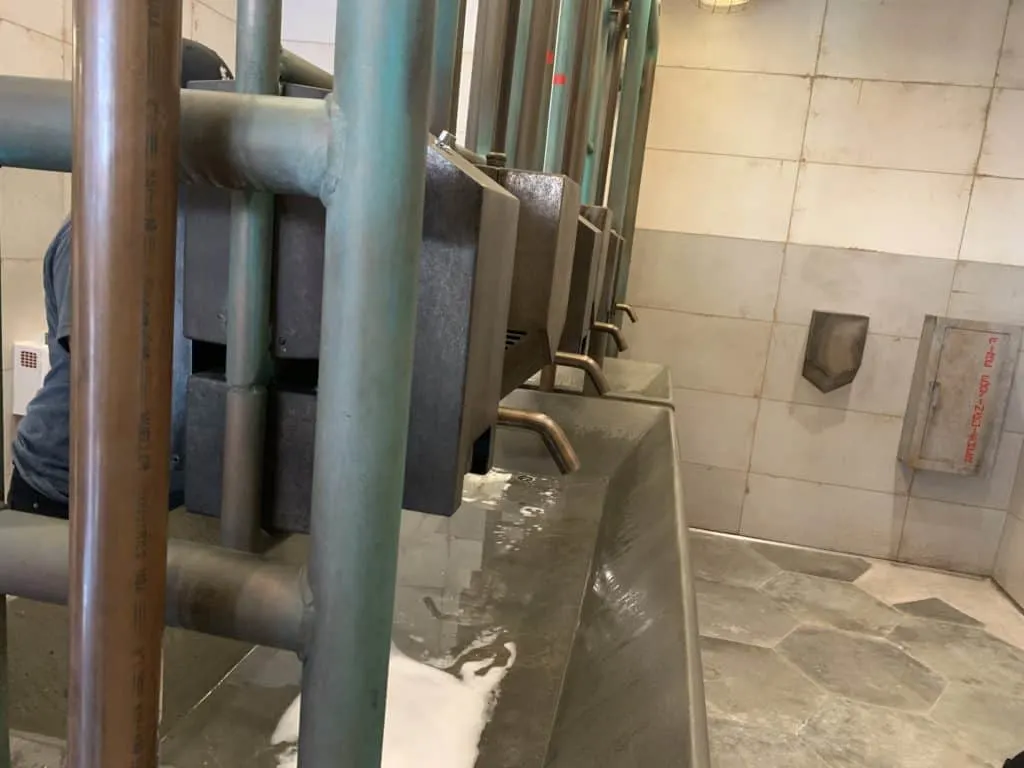 Knowing where the toilets are and how quickly one can get to them from any location within such a large land is key to keeping kids happy and healthy.
If you need to make quick diaper changes or take your preschooler to the potty there are 2 bathrooms located in Star Wars: Galaxy's Edge. One is behind First Order Cargo, beside the Droid Depot, and the other is next to Kat Saka's Kettle, behind Black Spire Outfitters. Both appear to be equidistant from Millenium Falcon; Smugglers Run.
Star Wars Land Bathrooms for Diaper Changes and Potty Training
In addition to men and women's rooms, there are also "companion bathrooms" where you can bring in several children. All bathrooms have diaper-changing tables, including the men's room.
Star Wars: Galaxy's Edge Index
Breakfast at Star Wars: Galaxy's Edge
Full Menu for Every Star Wars: Galaxy's Edge restaurant
Star Wars Guided Tour
Know Before your go to Star Wars: Galaxy's Edge
Star Wars Rise of the Resistance Height Requirements
Eating at Star Wars: Galaxy's Edge with Toddlers & Preschoolers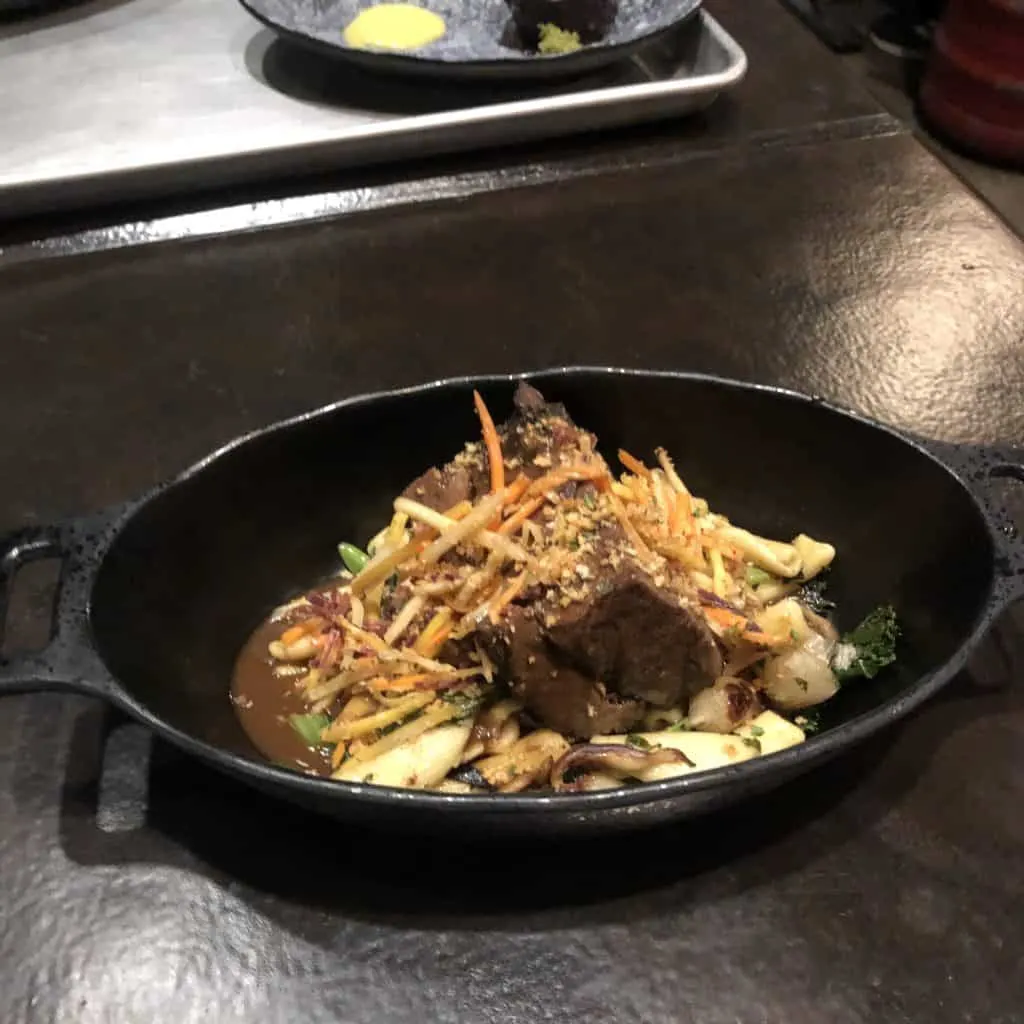 There are five locations inside Star Wars: Galaxy's Edge to find food and snacks;
Kat Saka's Kettle
Ronto Roasters
Docking Bay 7 Food and Cargo
Oga's Cantina
Milk Stand
Only Oga's Cantina in Star Wars: Galaxy's Edge requires Advance Dining Reservations (ADR) as of today. All are quick-service style and most offer Mobile Ordering (order food via the Disney app then click when you're ready to pick up).
Galaxy's Edge now accepts Disney Dining Plan for both Quick service meals at Docking Bay 7 and snack credits at Kat Saka's Kettle.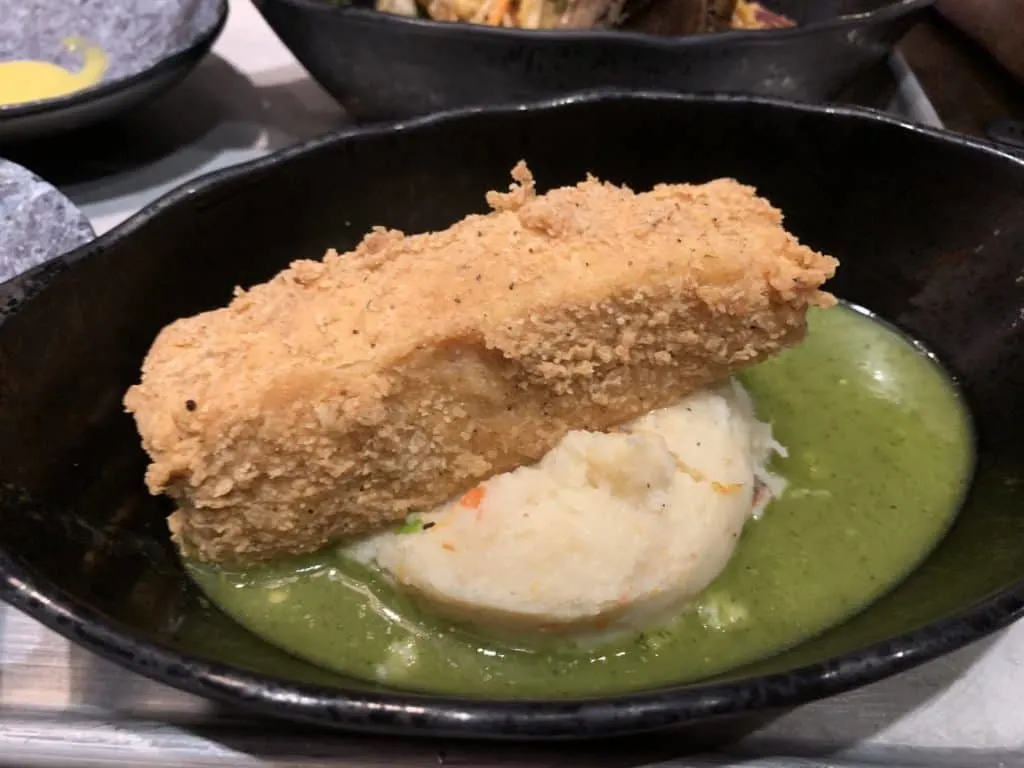 Star Wars: Galaxy's Edge for Preschoolers & Toddlers – Kid's Meals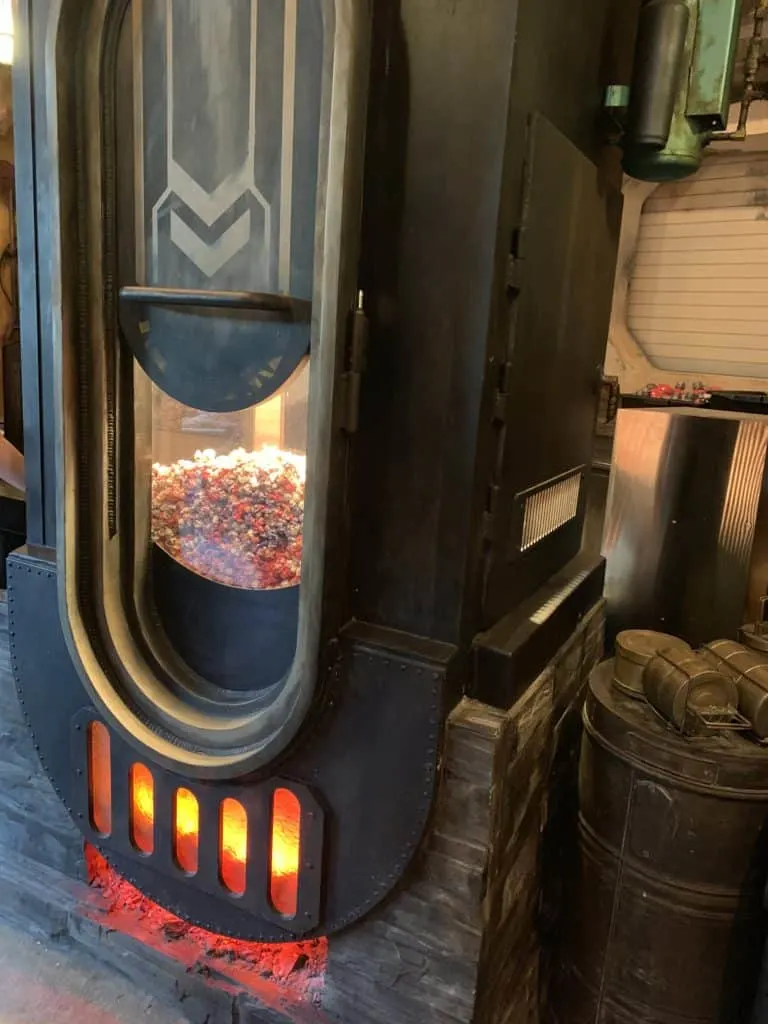 Here are the Galaxy's Edge snacks kids will love to eat when exploring the park:
Kat Saka's Kettle for sweet and savory popcorn
Green or blue milk from the Milk Stand
Ronto Roasters to share a Ronto wrap (it's large enough for two kids to enjoy together)
Docking Bay 7 for kid-friendly meals like mac and cheese with chicken, and shrimp with noodles.
Fried Endorian Tip-yip – crispy chicken served with macaroni & cheese and seasonal vegetables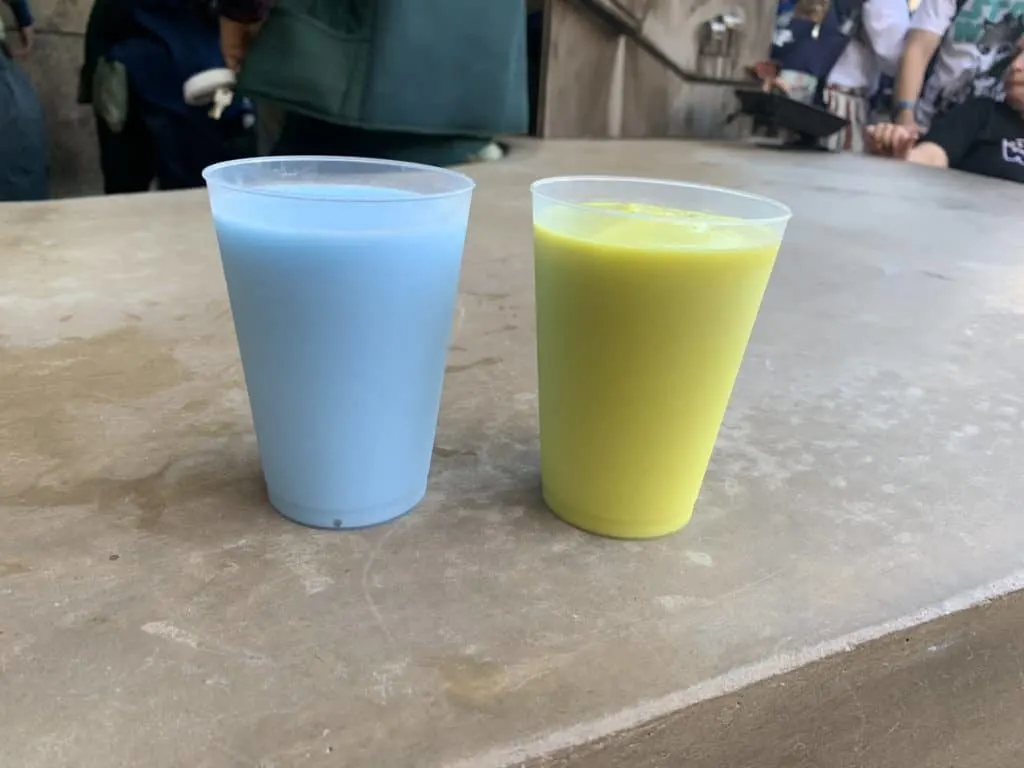 The most kid-friendly food at Galaxy's Edge is found at Docking Bay 7 Food and Cargo.
Kids ages 3-9 can enjoy kid-tailored menu items for breakfast, lunch, dinner:
Breakfast
—Bright Suns Youngling Breakfast: Scrambled eggs, purple potatoes, fresh fruit.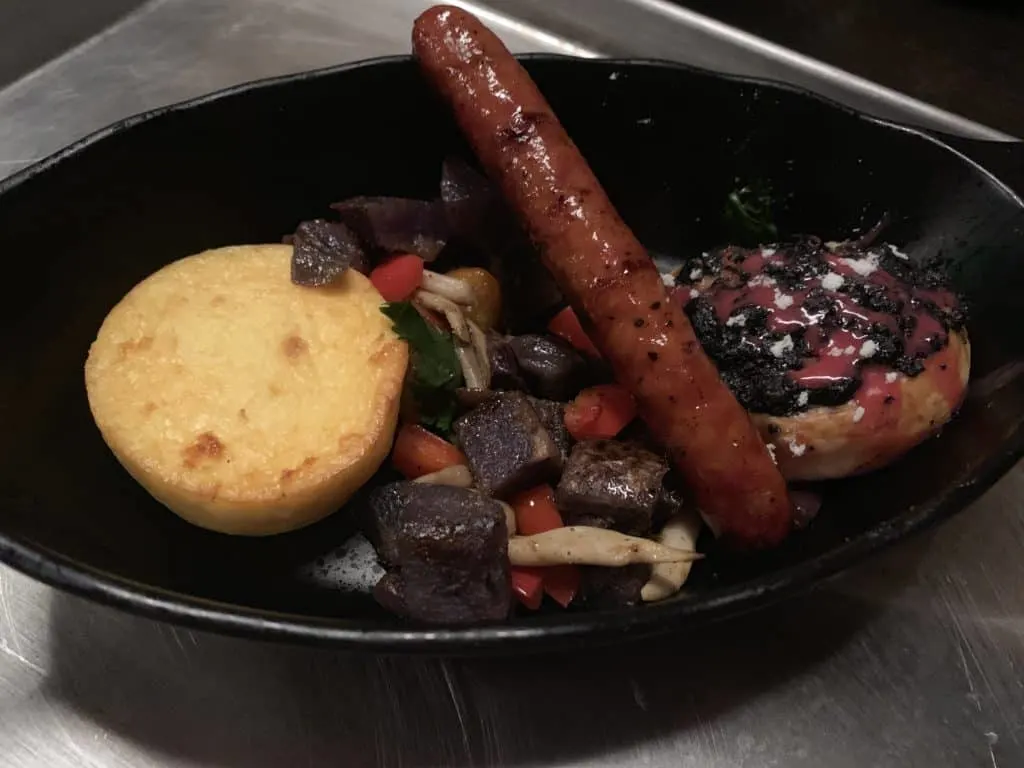 Lunch and dinner
—Yobshrimp Noodle Salad: Chilled shrimp, noodle vegetables, sweet orange dressing.
—A Taste of Takodana: Black bean hummus, edible soil with nuts, chilled dipping vegetables, multi-grain crisps.
—Fried Endorian Tip-yip: Crispy chicken, macaroni and cheese, seasonal vegetables.
Mobile order food early.
While you are waiting in line for one attraction or the next, why not occupy everyone's time by deciding what you want to eat for your next meal. Take the time to go through the menu carefully and make any modifications necessary, without feeling the pressure of the people waiting behind you – because there aren't any.
Even if you have nothing better else to do, chances are you will be served much faster by using the mobile ordering system than standing in line. At least this way, it's much less crowded.

Are Kids Allowed in Oga's Cantina?
Like any lounge, you can totally bring your kids inside. There are just a few things you need to know;
Each guest has a two alcoholic drink maximum.
All guests are required to show ID in order to be served alcohol – even if you don't think you look underage.
Time inside the Cantina is limited to 45 minutes. Not sure how the staff is actually monitoring this.
Alcoholic drinks can be taken "to go" throughout the Land
Your party is not guaranteed seating and those tables are fairly high. If you plan on making a reservation with your kids, keep this in mind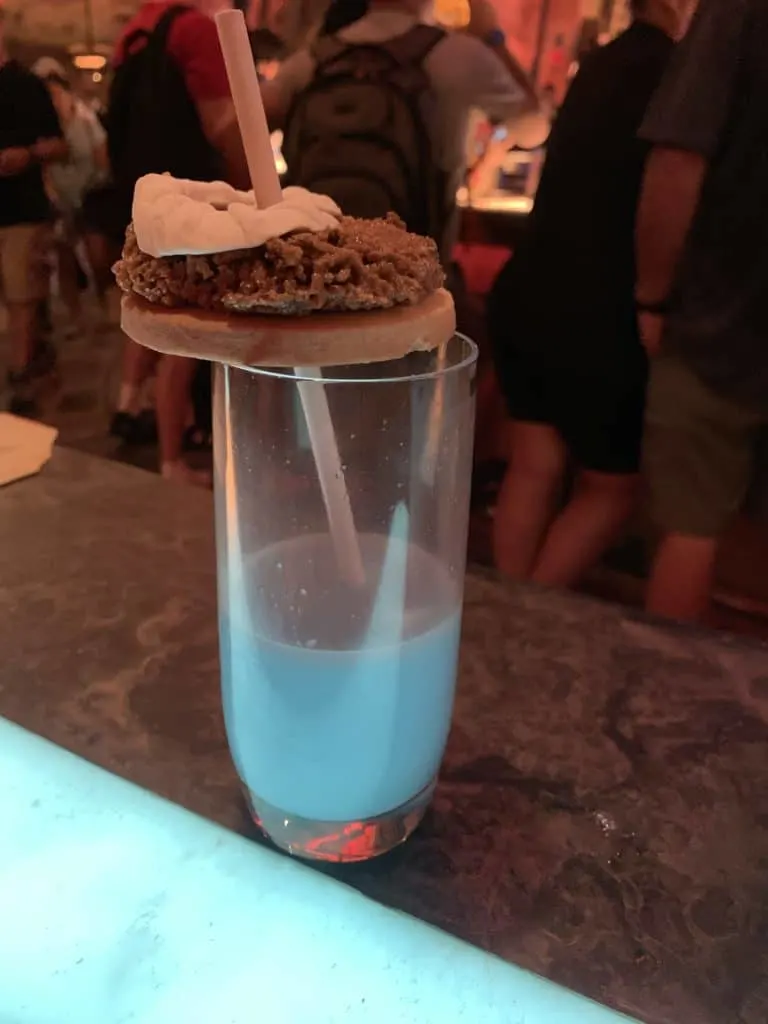 Character Encounters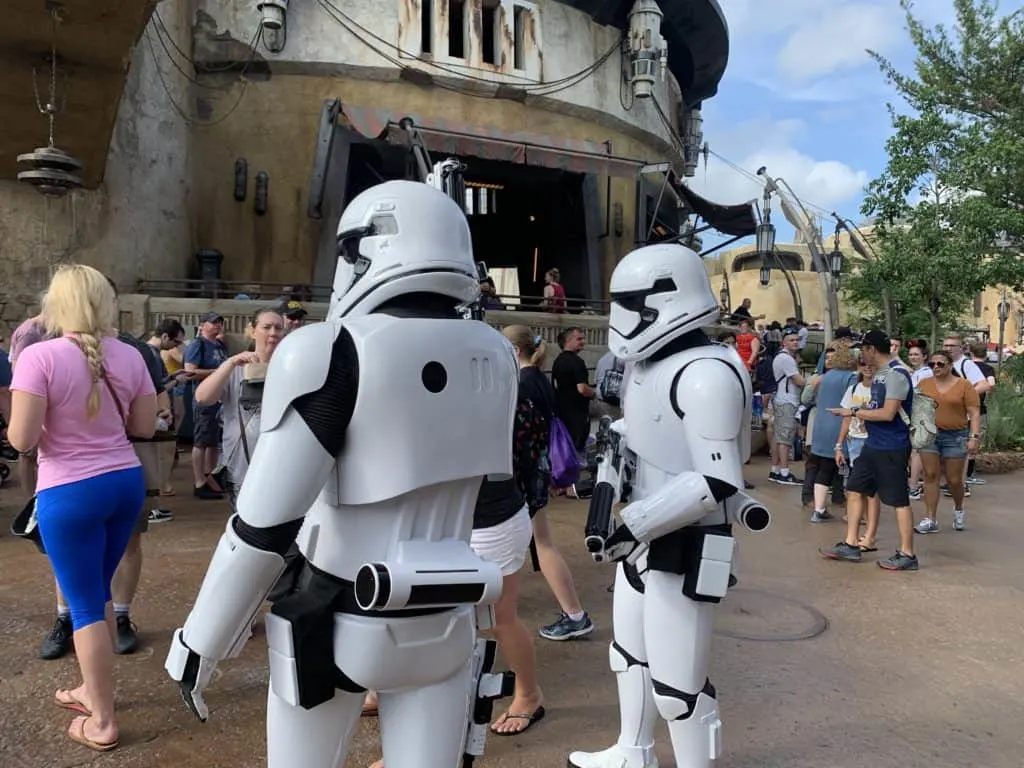 There are characters running around the parks all day. Resistance fighters, Rey, Storm Troopers, Chewbacca, and Kylo Ren.
Depending on how busy the land is, the characters are known to stop for a quick photo op but they have business to attend to so they aren't going to stand around for a queue to form. It's best to grab a picture when you can and be on your way.
Star Wars: Galaxy's Edge Attractions
Your toddlers and preschoolers may not be tall enough to experience the rides in Star Wars Land. However, there are still things in this new 14-acre Land that young Guests will be able to experience and enjoy. Keep reading to find out what preschoolers and toddlers can do in the Black Spire Outpost on the planet Batuu.
Millennium Falcon; Smugglers Run for older kids
The attraction is a combination of Star Tours, EPCOT's Mission: Space, and Animal Kingdom's Pandora: Flight of Passage, with a touch of video game action. Your gamer kids will fully love being able to fly the Falcon.
To ride, kids must be 38″ tall.
Read more about DisneyWorld height requirements.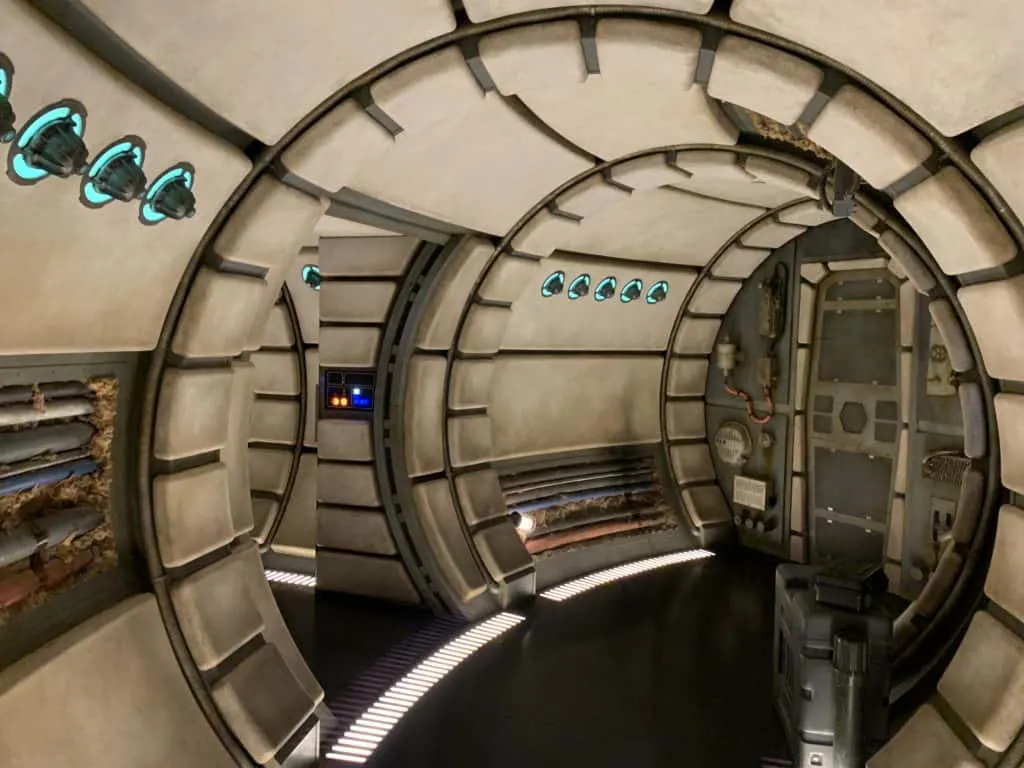 Star Wars: Rise of the Resistance
The second ride in Galaxy's Edge, Star Wars: Rise of the Resistance will not be opening until December 5, 2019. According to wdwnt there well be a minimum 40-inch height requirement for the Star Wars: Rise of the Resistance attraction. The trackless ride is slated to be a 20+ minute experience that's full of unexpected turns. However, given that it's being touted as intense, it's unlikely that this ride will be appropriate for toddlers or preschoolers.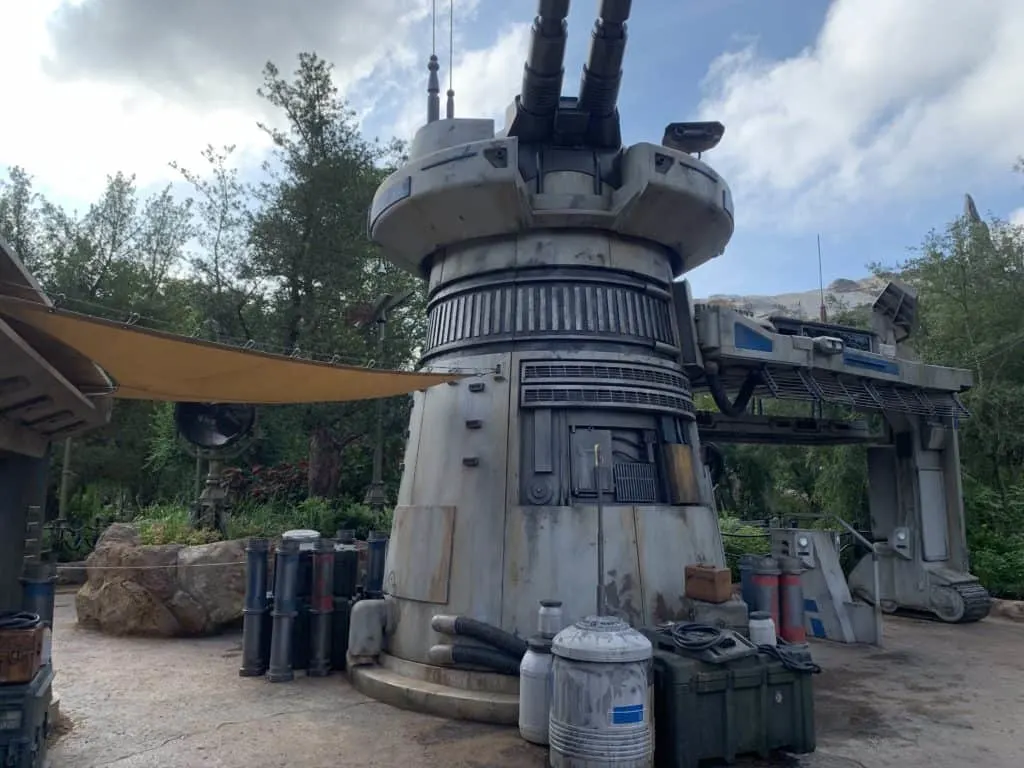 Should a Preschooler Ride Millennium Falcon: Smugglers Run?
Of these three positions, the best spot for a preschooler would be as a gunner. They are only required to press the one button over and over again, and occasionally press a second button when directed. It's a fairly easy position but also very important.
Is Rise of The Resistance at Galaxy's Edge Too Scary For Kids?
Is the new ride, Rise of the Resistance at Star Wars: Galaxy's Edge, too scary for kids? You are on a Resistance ship that gets captured by an Imperial ship. The ship gets boarded by the First Order and they YELL at you to get off. You are met with an insane amount of Storm troopers who then directed into an interrogation room where General Hux — and Kylo Ren himself — meet you. Then you are freed by the Resistance.
The ride itself isn't scarier than most, dips and rises and sharp corners. It is a dark ride and there is a lot going on around you, however. If kids aren't afraid of Millennium Falcon or Star Tours, they won't be bothered by Rise of the Resistance.
In terms of character interaction, the Storm Troopers take it easy when there are little ones around. They, too, don't want to scare the children, but they don't want the experience ruined for the adults either. It's more about the back talk, trash talk and forcefully moved from on place to another, similar to the way they speak to you out on Batuu during character interactions.
Young ones won't really understand or care about the conversation. Older children, young teens, may be startled or concerned about the interactive components of Rise of the Resistance, but only if they are the more sensitive type.
Strategically use the Single Rider Line and Rider Switch.
Millennium Falcon: Smugglers Run has a Single Rider line as well as a Rider Switch option for families with kids too small or too scared to ride.
Be aware that Single Riders miss the interactive queue completely, as with most single rider queues throughout Walt Disney World. If anything, give yourself the time to ride the standby queue at least once before resigning yourself to singe rider.
Star Wars: Galaxy's Edge Shops Your Kids Will Love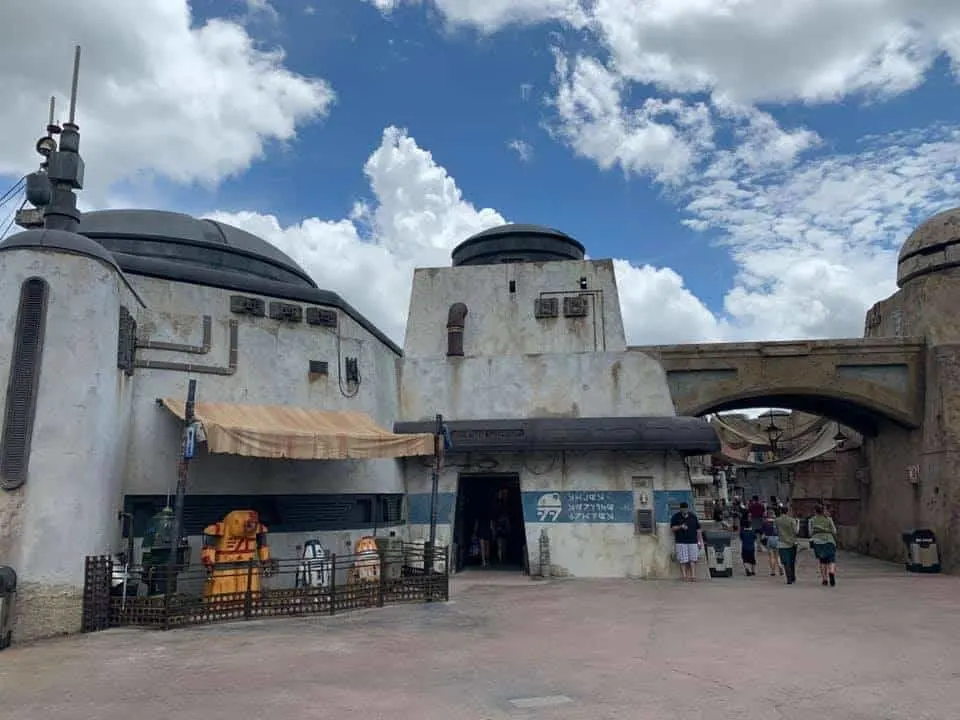 We're not going to lie, there's a lot of opportunities to shop here that are cleverly presented as activities; you can craft a custom lightsaber at Savi's Workshop ($200), build a personalized astromech droid at the Droid Depot ($100), or even adopt an intergalactic pet at the Creature Stall (an adorable Pog is $45). Even the Coke bottles look like orbs (and are a cheap souvenir for $5), but you may want to set a budget for your kids before you start exploring. One great shopping spot is Dok-Ondar's Den of Antiquities which has an amazing animatronic shopkeeper who tries to bargain for artifacts and sports a wall of space trophies and has plastic lightsabers on hand starting at just $20.
Savi's Workshop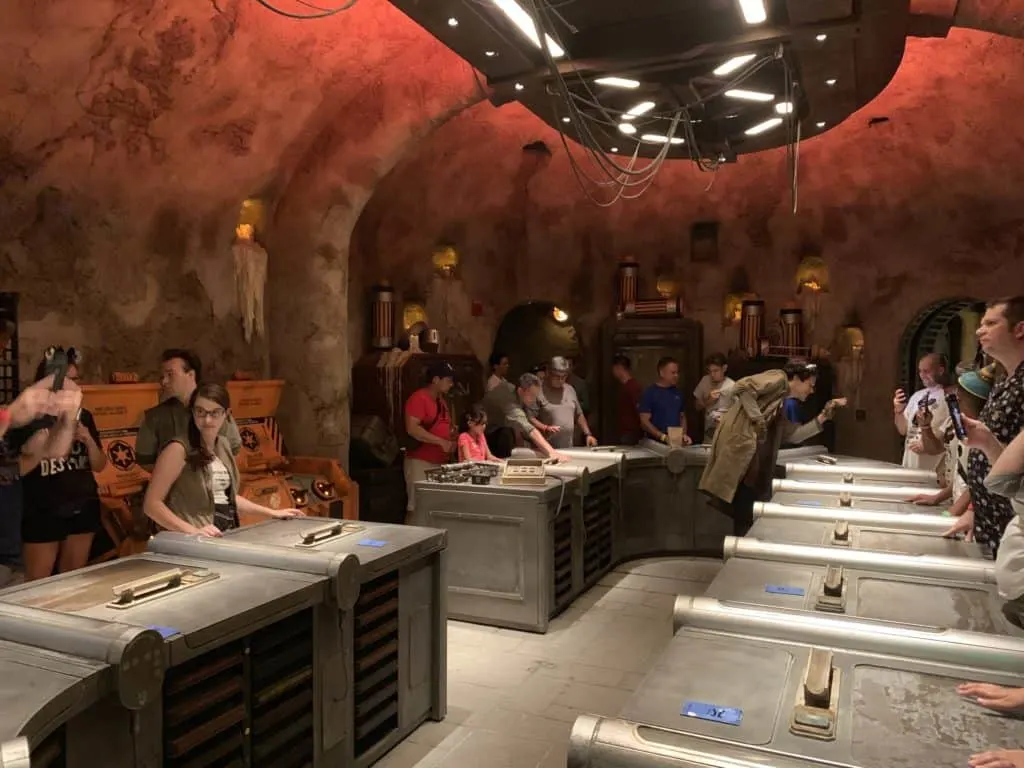 While there is no formal age or height limit to building your own lightsaber, your kids will need to be tall enough to reach the workbench itself, and strong enough to hold the hilt, as it can be quite heavy. There is a lot to do in 25 minutes, and a lot to listen to so your children should be old enough to follow instructions without much assistance or interruptions.
We saw a few kids enter the workshop and we were in a group with a young child, maybe 8-10 years old. This seems like a fairly decent age to start them off. These lightsabers are not like the toys one can build in Star Wars Launch Bay; these are serious business and cost just as much.
Droid Depot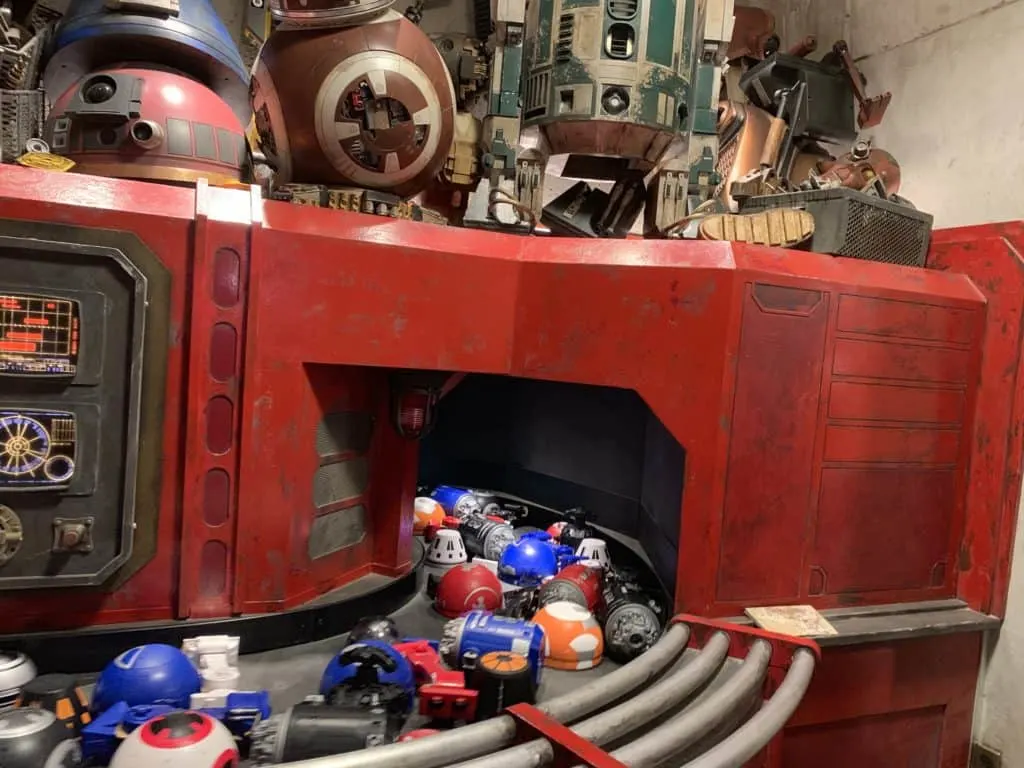 Again, there isn't a formal age or height limit but Droid Depot is a lot more relaxed than Savi's and parents are definitely encouraged to help little ones grab pieces from the conveyor belt and assemble them in the tool bay.
Milk stand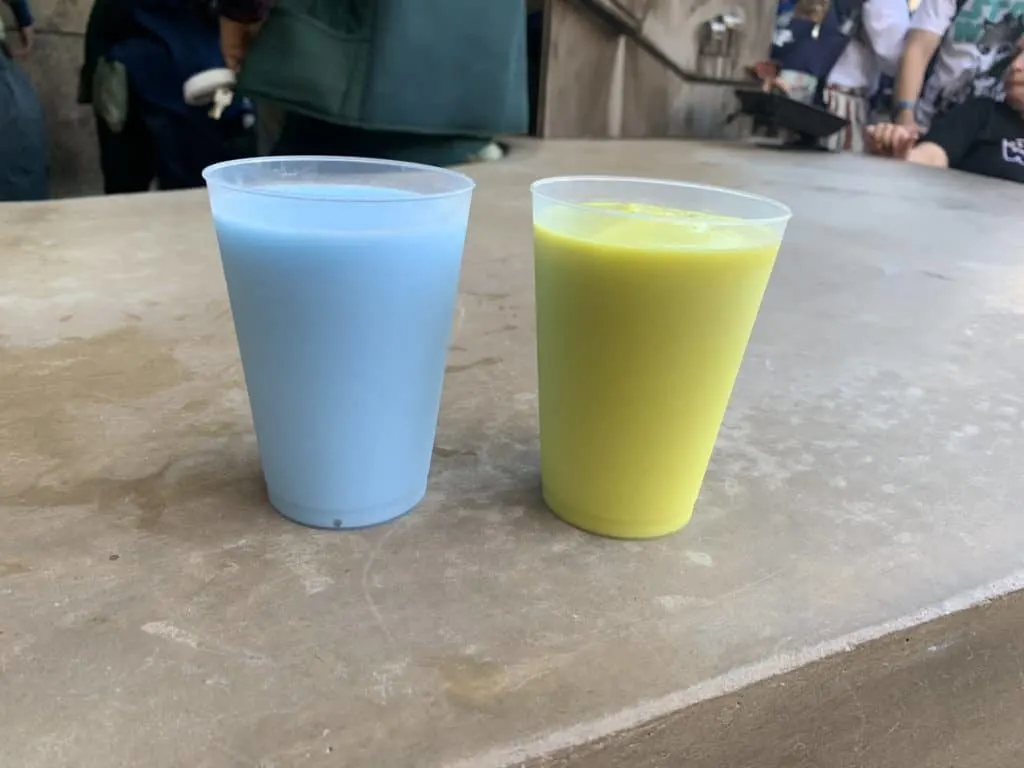 As a rice-based product, Blue or Green Milk is perfect for anyone with a food allergy, Disney truly thought of everyone here. Kids may or may not like the taste/texture, depending on how adventurous they are. I was not a fan, but hubby.
There are alcoholic and non-alcoholic versions; the alcoholic version comes in a cup that is a little more square near the top, as to not confuse the beverages when handing them out to your family.
Visit the Toymaker
The Toydarian Toymaker and The Creature Stall are where your kids will be able to grab a plush tauntaun or porg to sleep with that night. Zabaka the Toydarian has other unique items for purchase in her shop.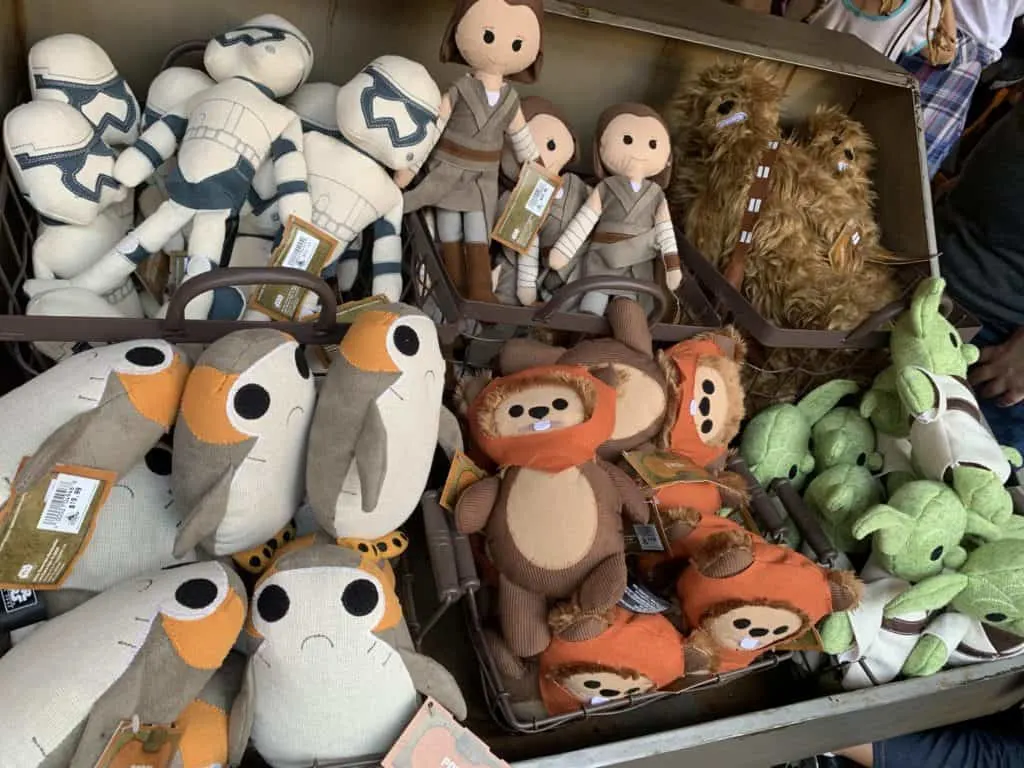 Play Disney Parks App
Guess what? There's going to be FREE entertainment your kids will love! The Play Disney Parks app will give all guests, even your children, the ability to make galactic profiles and interact with ALL THE THINGS throughout Batuu. Within the Play Disney Parks app, your kid will be able to:
translate galactic languages
see through cargo throughout the land
"eavesdrop" on secret conversations
complete tasks and missions
decipher messages from the First Order
decide which side you want to be a part of for the day — The Rebellion or First Order
The best part is this will be a great activity for your children to do while waiting in the many queues throughout the land.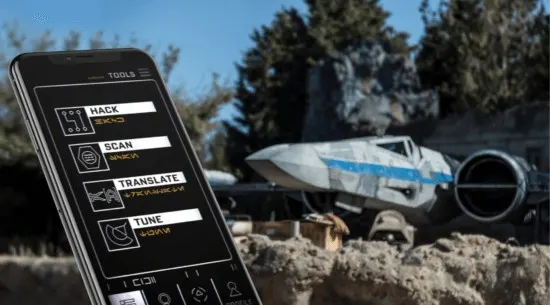 Make Reservations for Oga's Cantina and Savi's Workshop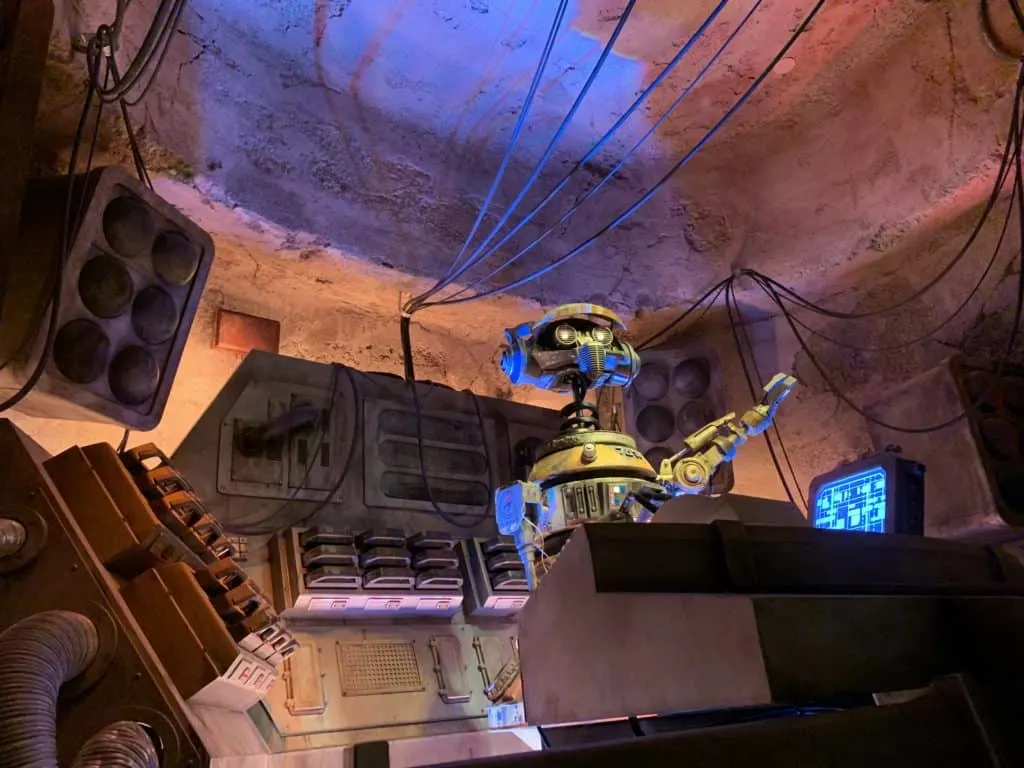 Oga's Cantina eventually started taking walk-in's. Guests are limited to 45 minutes and only 2 concoctions so if they finish early, another group is welcome to enter the lounge. We suggest making a reservation online through your MDE app or on the Disney Website just to make sure you aren't queueing longer than you have to.
Savi's on the other hand, doesn't have a stand-by queue at the moment. Because each experience has a set number of people allowed in at a time, it is not possible to "leave early".
Souvenirs at Star Wars Land for Toddlers and Preschoolers?
Robes and costumes
A variety of creatures are available
Ancient Jedi and Sith artifacts
Kyber Crystals
Affordable lightsabers (like the ones you find in Tomorrowland)
Collectible figures
Toydarian Toymaker artisan-style plush characters
Traditional Star Wars plush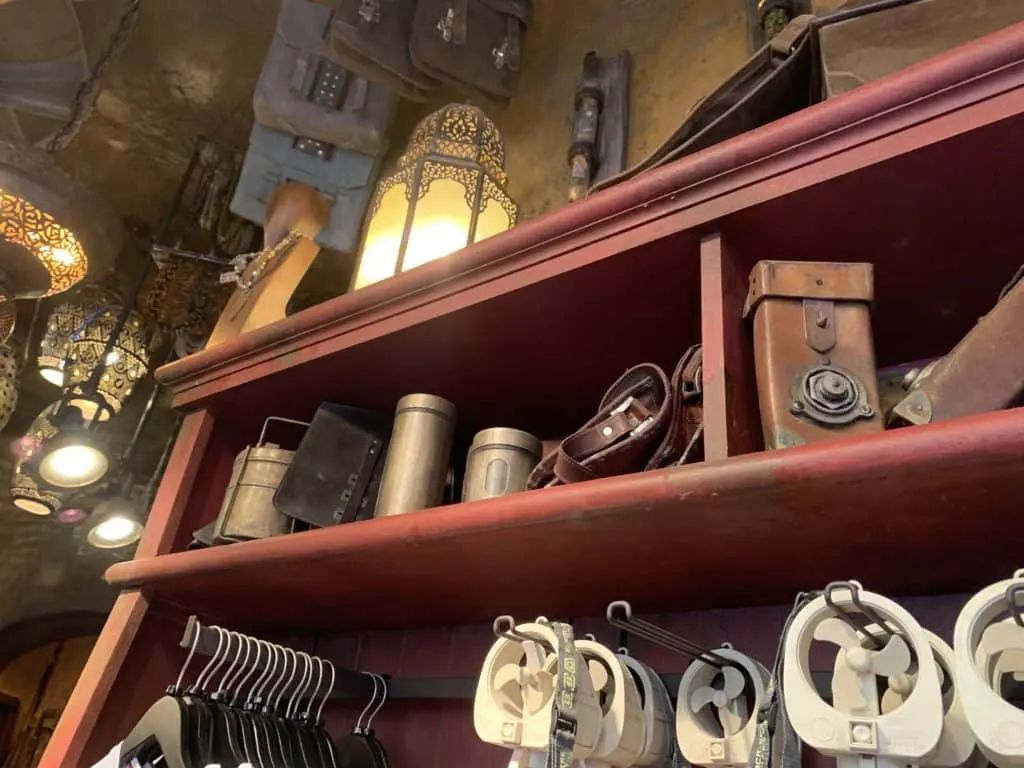 Kid's Outfit Ideas for Star Wars: Galaxy's Edge
The current Disney World costume policy is in effect at Galaxy's Edge — which means guests 13 and younger can wear costumes, so let your kids throw on their Rey and Porg costumes!
Dressing kids up for Disney trips is one of my favorite parts! I've been looking online at Star Wars outfit ideas for kids that are fun and comfortable
Should I bring a stroller into Galaxy's Edge?
Absolutely! There is so much to see and everything is so far spread out that little ones will be exhausted before they even leave the land.
The rides, eateries and merchant shops themselves can't accommodate a stroller but there is ample place to park a stroller throughout the land.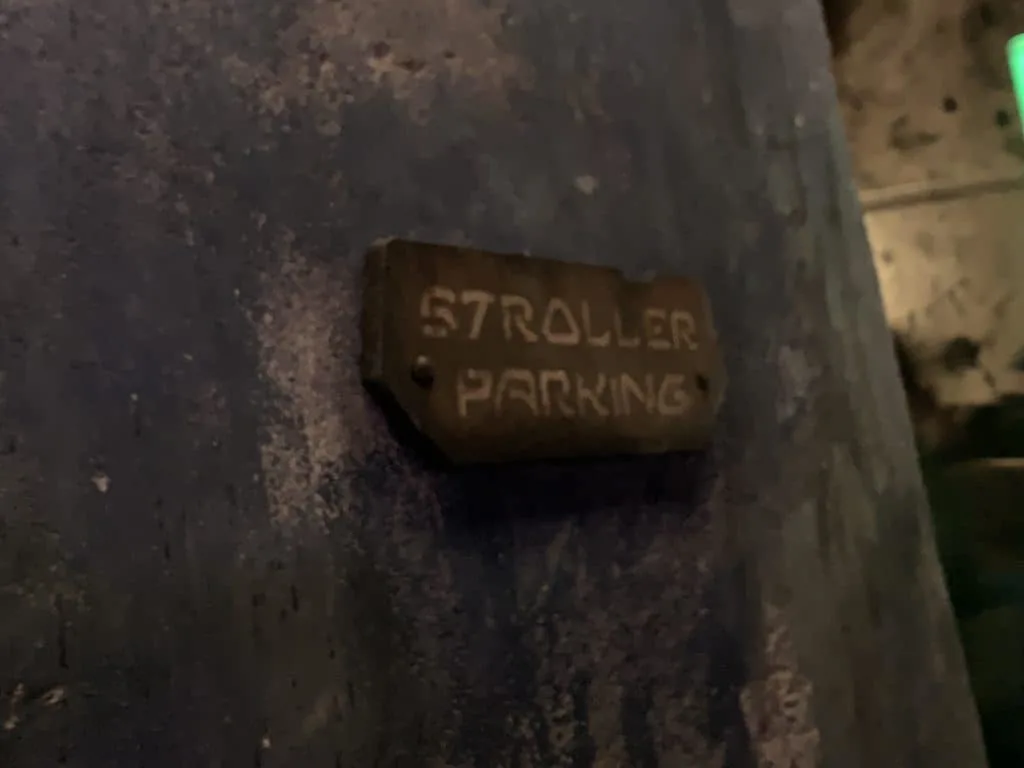 Is there a play area inside Star Wars Land?
No. There are no playgrounds or play structures in Galaxy's Edge, but that doesn't mean there isn't anything for the kids to do. Like we mentioned before, the Disney Play app has a lot to offer school-aged kids.
Are there traditional Disney snacks inside Star Wars: Galaxy's Edge?
While you can find churro, popcorn, candy, pretzels, ice cream, a Popsicle and buttered popcorn just around every corner in the rest of Hollywood Studios, you won't find any of these things inside Galaxy's Edge.
Can my kids where a costume to Galaxy's Edge?
Just like the rest of Disney World, absolutely they can where a costume. The same rules apply, however, Guests 14 or older can't wear costumes, unless for a special event and masks are prohibited unless they are for medical purposes.
Now, the masks. While a full face mask isn't technically allowed, since they impede the child's vision, we went through Security, turnstiles and 3 hours in the parks with a full Storm Trooper costume on our 7 year old (including removable helmet) without Cast Members batting an eye.
Top Places To Sit In Galaxy's Edge
With 14 acres to walk, you'll need a relaxing place to regroup.
Beside Rise of the Resistance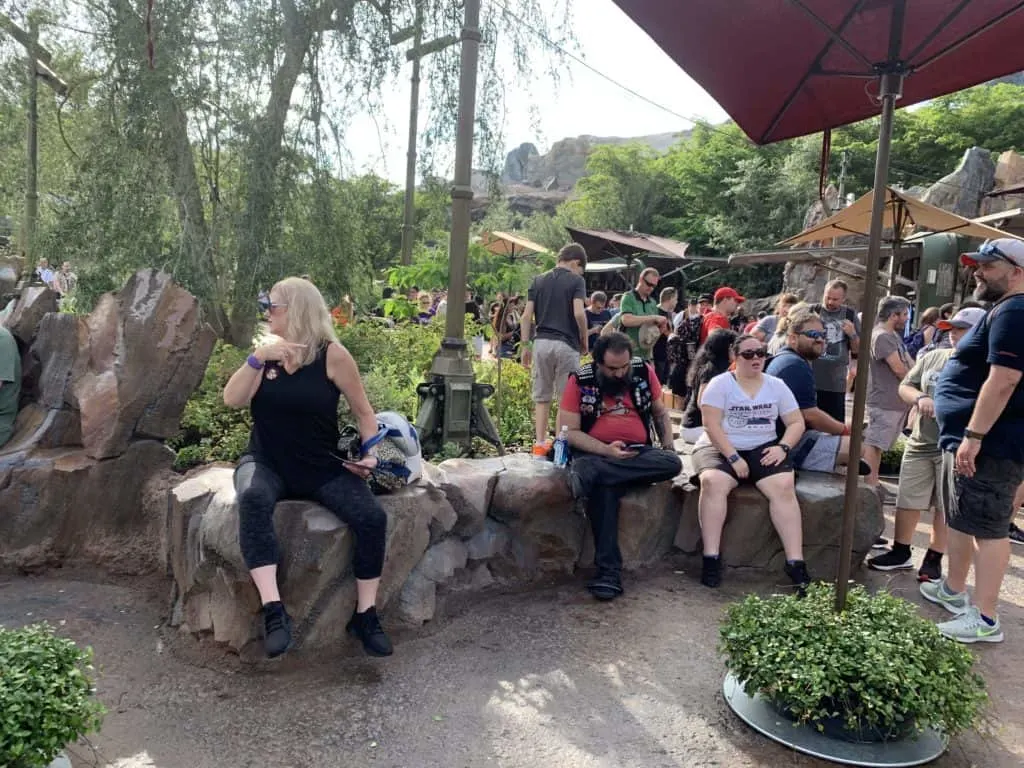 The Marketplace entrance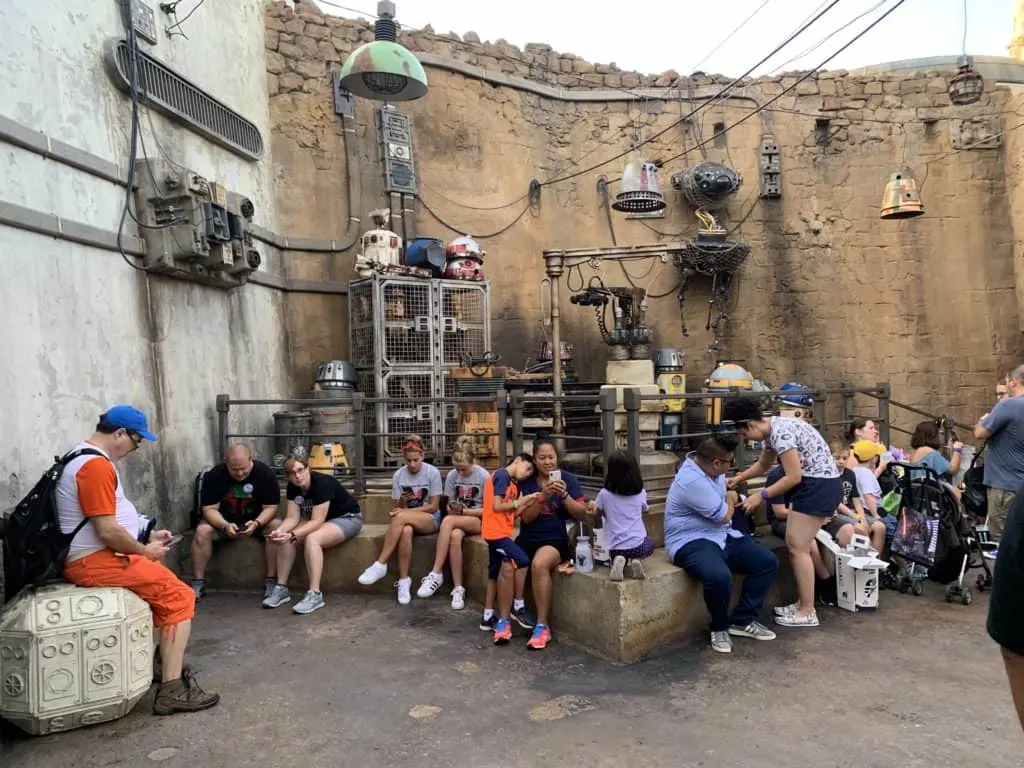 Across from Savi's workshop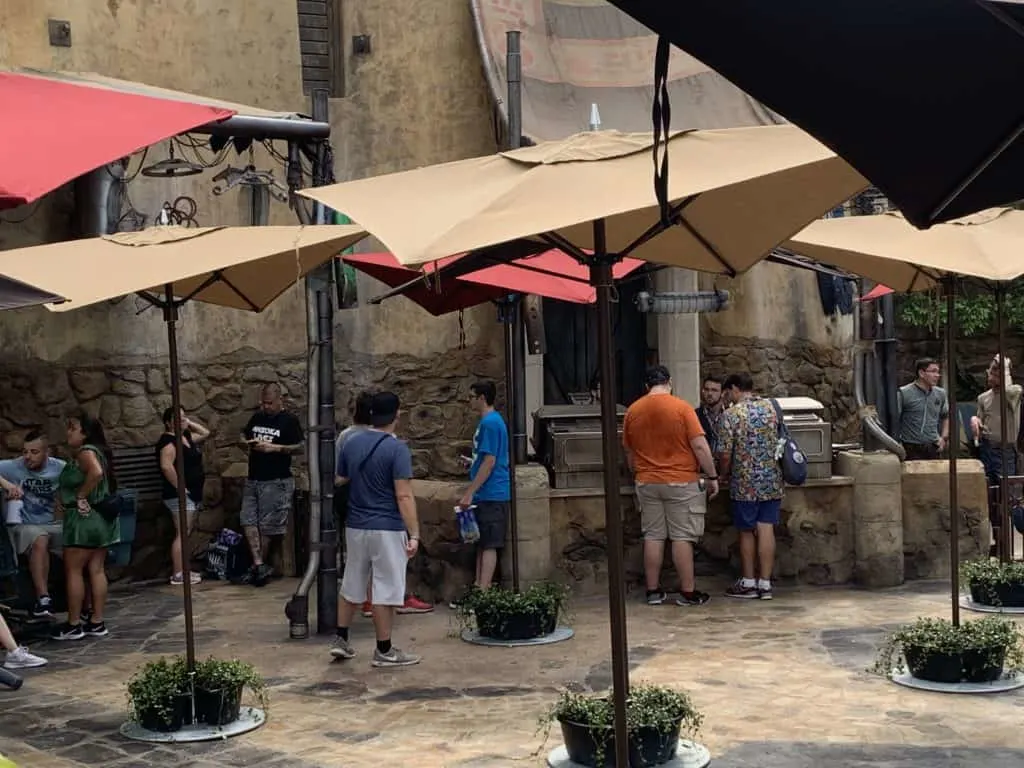 The outside area of Docking Bay 7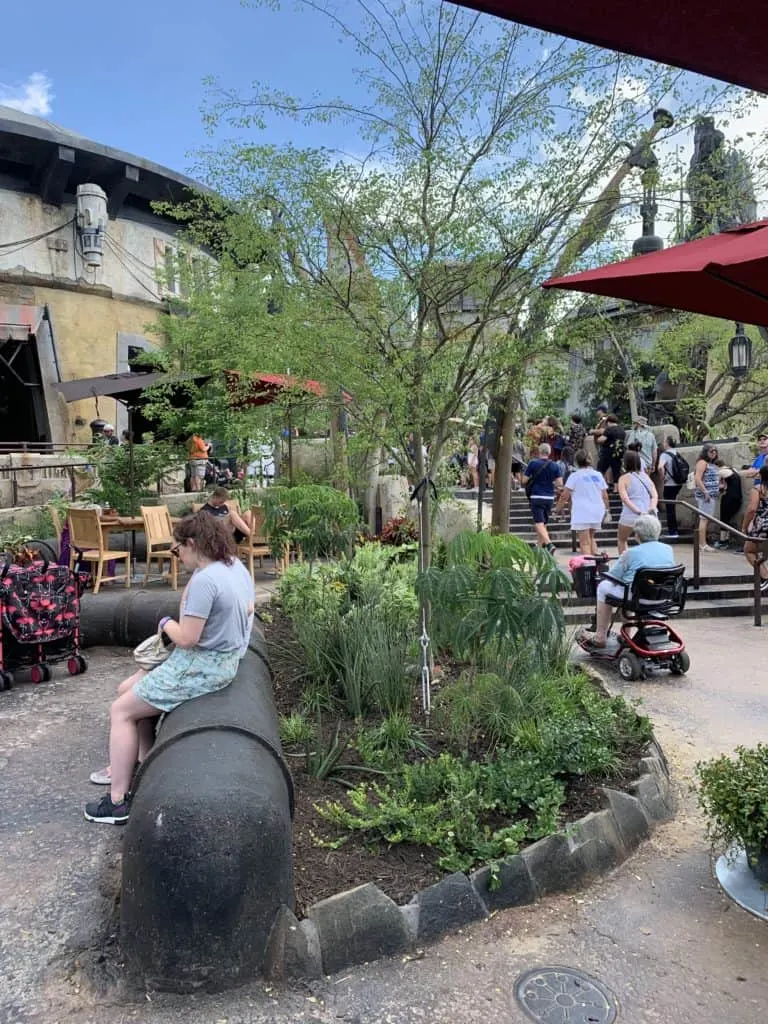 Around the corner of the milk stand
Bonus Tip: Did you bring in a reusable water bottle? There's a water refill station located right next to this place to sit.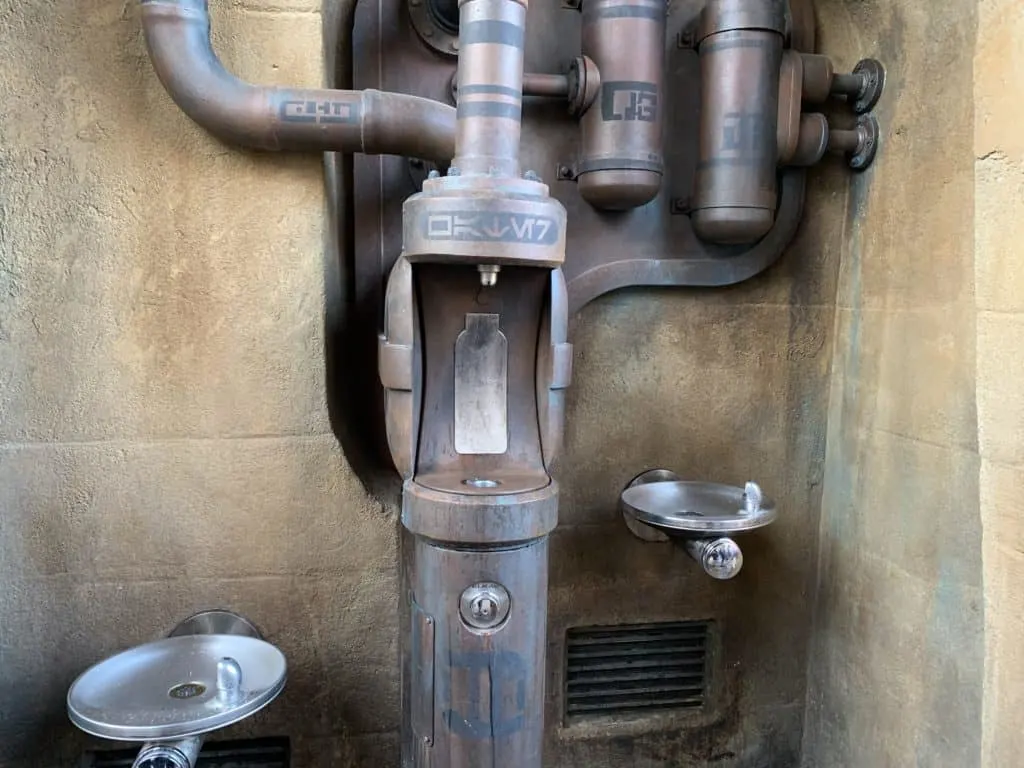 You May Also Like
When are you taking your kids to Star Wars: Galaxy's Edge? Let us know in the comments below!