Last Updated on June 22, 2021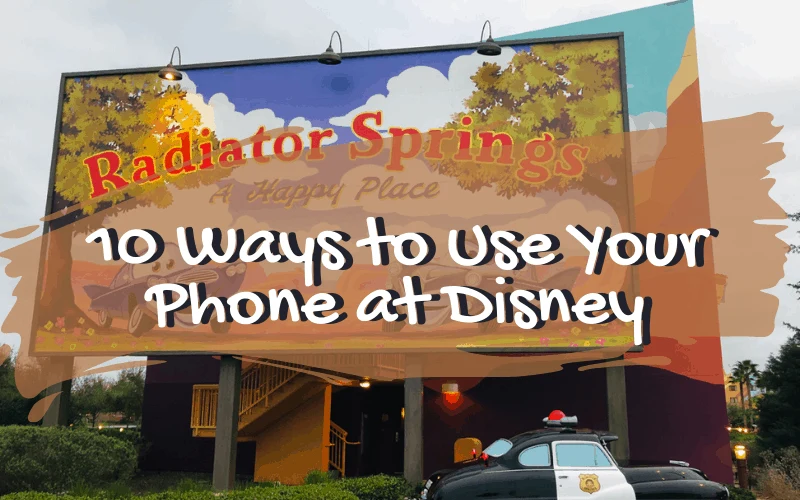 Most days, we spend way too much time on our phones. So to say that Disney has given us yet another way to make the most of the technology they already know we will have on our person while touring the parks, is anything short of genius.
Today, we are going to go over the top 10 ways to use your mobile phone while in at Disney World to make teh most of your next visit.
Download the Disney App
There is very little that the Disney app, aka My Disney Experience, can't do. From being a central location for all passes, discounts and Magical extras, all of these mobile technology features are found within the My Disney Experience App, and then some.
Plan Ahead with Mobile Order
Mobile Order was introduced in May 2017. Launched within the My Disney Experience app, Mobile Order allows guests to pre-order and pre-pay for their food at participating Counter Service Restaurants around Walt Disney World. Upon arrival at the restaurant, guests using Mobile Order can then bypass the ordering queue and go straight to a designated Pick Up Counter to get their food.
This is by far, the biggest space saver and anxiety reducing feature that I have come across. Usually choosing while in a queue for a ride, we have been known for taking a seat at the quick-service restaurant itself and ordering from there. Why not relax and guarantee a seat. We may or may not have made an entire day at Magic Kingdom feeding via Mobile Order. I was much too tired to stand in another line if I didn't have to.
View Menus with QR Codes
If your restaurant of choice does not offer Mobile Ordering, guests are now able to scan QR codes at select quick service and table service dining locations throughout the Disneyland Resort to view digital menus, reducing contact and adding convenience to your dining experience.
Tip! Just open your smartphone camera to scan the QR code. It's that easy!
Join a Mobile Dine Walk-Up List
Want to sit down for a delicious meal—but you don't have a dining reservation? Now you can use the My Disney Experience mobile app to add your party to the Want to sit down for a delicious meal—but you don't have a dining reservation? Now you can use the My Disney Experience mobile app to add your party to the walk-up list at select table-service restaurants at Walt Disney World Resort! at Walt Disney World Resort!
Mobile Check-In for Dining Reservations
It's easy to use mobile check-in during your visit. All you need is your phone, the My Disney Experience app and a dining reservation at a participating restaurant!
Here's how it works:
When your check-in window arrives, you'll receive a push notification prompting you to check-in via the app. Or, you can begin the check-in process by scanning a QR code located in the restaurant's lobby. There's no need to visit the host stand to check-in.
From the push notification or QR code, you'll be able to check-in for your reservation—and confirm your arrival time and party details.
Once your table is ready, you'll be notified to proceed to a specified location.
Join the Virtual Queue for Star Wars: Rise of the Resistance
Star Wars: Rise of the Resistance does not have a stand-by line, nor does it have a Fastpass lane. There is only one way your family is going to ride Star Wars: Rise of the Resistance, and that's through the Virtual Queue. It can be a bit of a procedure, but arriving early and being prepared is the best way to get you and your family on Star Wars: Rise of the Resistance.
Disney PhotoPass+
While Disney Photo Pass+ has been available for years and years, your photo pass + account is linked to your My Disney Experience. This means you will have almost instantaneous access to your amazing photos.
Merchandise Mobile Checkout
Recently Disney started testing a NEW mobile feature called "Mobile Checkout" for Disneyland Resort in California and we are happy to report that this testing phase has made its way to Walt Disney World! Simply scan merchandise with the app and pay on your phone. Cast Members will help with security tags and wrapping, and away you go.
Use Online Check-In Service for Your Hotel Stay
Online Check-In service to go directly to your room.
Begin the check-in process in advance on disneyworld.com or with the My Disney Experience app.
Bring your MagicBand with you, or set up the Unlock Door feature on your phone.
You may be able to head directly to your room, skipping the Front Desk!
The only hiccup with Online Check-in service is if you have something waiting for you at the front desk. As Canadians, we always have our Magic Bands sent to the front desk and we collect them during checking.
Play Disney Parks App
If the kids are ever bored, or you simply want to have some old fashioned Disney fun, the Disney Play app has a ton of neat little games based around the attraction or theme park you venture into. I know my son loves to play while waiting at the dentist office, but since the Parks have wifi, why not partake during long queues, waiting for the parade to start or a fun way to relax before bed.
—
NOTE – These services are only supported by devices running Android or iOS with the latest version of the My Disney Experience app installed and location services enabled.
Included in our "Bring the Disney Magic Home" video, we show you how to access cool features in the Disney Play App such as music playlists and games.
Your Thoughts...
Please share your thoughts in the comments or reach out on social media...We would love to hear from you.
Follow Mouse Travel Matters for Disney Parks news, the latest info and park insights, follow MTM on Twitter, Facebook, and Instagram.
You May Also Like…