Last Updated on May 16, 2020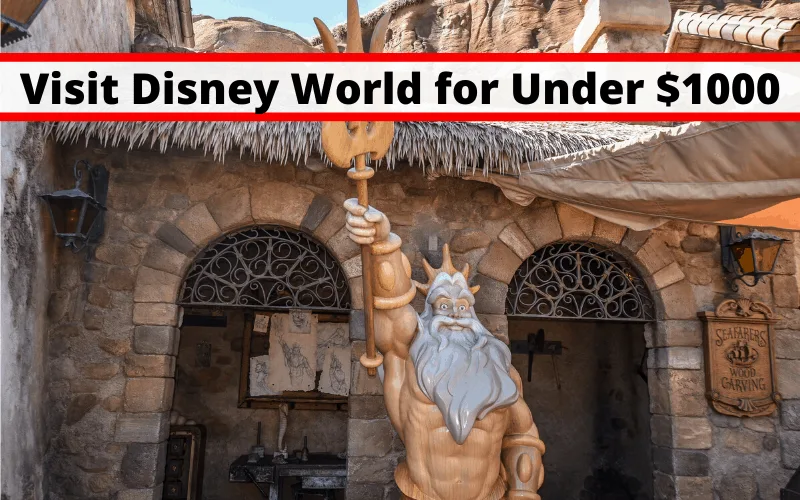 Spending too much money on a Disney vacation is dangerously easy to do. Our last family vacation was a real balancing act of exploring everything Disney had to offer, keep the kids as the focus of our trip, and stay within our budget.
This post may contain affiliate links.
To which I earn a small commission, at zero cost to you!
Find more info in our
Privacy Policy
.
We visit Disney on a Budget a few times per year, and staying within this strict budget is precisely the reason we are able to visit so often. That's how I discovered how to visit Walt Disney World for under $1000 a person.
So how is it done? I have to first admit that this number doesn't include travel to Disney World. Considering Disney guests come from all parts of the world, and have various ways to getting themselves to Disney, it would irresponsible, and impractical, of me to suggest a budget on your initial transportation to and from Orlando.
Here are the expenses I included in my calculation:
Tickets: $434
Hotel: $447
Food: $120
Duration of Your Stay
While I normally recommend 7-12 days as your average Disney vacation, if we are going on a budget, you will want to dramatically cut that down. This doesn't mean you will be missing out on anything since we are still going to check off that priority list. It just means you won't have nearly as much downtime as otherwise suggested.
At most, you will want to purchase 4 day tickets and have a rest day in the middle to explore the resorts or Disney Springs. This leaves you with 1 day to see and do everything in a single Park.
Timing is crucial. If you visit during a very crowded time of year, you will likely only be able to do half as much as you would have, had you decided to visit Disney World during the low season.
That being said, you will also want to book your resort reservation for 6 nights, 5 days. We don't typically count your arrival day or departure day as an actual full day to explore the parks, just because so much can happen that is not within your control.
The difference between a 5-day ticket and a 4-day ticket is $37 so if you can find it in your budget, by all means, spoil yourself. We still recommend saving that for something else like a souvenir.
Disney World Park Tickets
Buy Your Park Tickets in Advance. Not only will you be able to make your Disney Fastpass reservations early, thereby saving a ton of time while in the parks, but you'll save $20 per ticket when you purchase a 3-day or longer ticket over the cost at the gate! Again, this is a huge expense that isn't required if you plan your holiday correctly.
Hopper Pass vs 1 day/park
While you might think you want the flexibility of hopping to which ever park you want, on any given day, you only have 4 days. Do you really want to spend that much time on Disney transportation?
There is so much to do in each park that there is no reason to leave early, especially considering you only have 1 day in each park. The price difference is considerable; 4 day tickets = $434 and 4 day Hopper = $525. That's a $91 difference.
The Cheapest Time To Go To Disney World
With the new ticket system, Disney has switched to date based pricing. This means you will pay more for your entrance ticket during Peak season, and far less during Off-Peak or Low Season.
The cheapest times to visit are January/February (except for the holiday weekend), End of April to Mid May, End of August to Mid-October, Mid November to Mid December.
Note that prices are always cheaper on Sunday through Thursday nights than on weekend nights. Consider this when making your flight reservations as well.
Disney World Hotels for Under $100/night
This works best when you are traveling with someone else, since Disney World doesn't charge extra for more bodies in the room.
All-Star resorts are the least expensive of the Value resorts. There are tons of money-saving perks that come along with staying on-property that simply don't compare to staying off-site.
Free Transportation To and From the Airport
Merchandise pickup and resort delivery
Complimentary transportation and parking at Parks, Water parks, and Disney spring.
Disney Dining Plan
Early Access to FastPass+ and Dining Reservations
Extra Magic Hours At The Theme Parks
Complimentary Magic Bands
Priority Theme-Park Admissions
Free Parking at Theme Parks
My tentative dates comes to $149/night or $894/6 nights = $447 per person or $75/night. The price does fluctuate a little depending on the time of year you visit, so I would recommend being flexible on your vacation dates and choosing a week that has the lowest crowds and lowest resort rates/night.
Transportation to Disney World
When visiting Disney World on a budget, it is important to take as many free opportunities as possible.
There are a handful of hotels around Disney World that will shuttle you to the parks for free, on a very limited schedule I might add. Others, well, you are responsible for your own transportation and Uber can start to add up after a few days.
Not only do you need to consider the short trek from our hotel to the Parks, which is why we recommend staying on site, but the initial transportation from the Airport to you hotel. Some hotels do this for free, some charge per person in their shuttles.
Disney, on the other hand, allows all guests staying at one of their resorts to take their Disney Magical Express free of charge and they will move your checked bags for you.
Saving on Food at Disney World
According to our average spending, we have $119 left for food. If you are traveling with someone, splitting a meal can help cover a lot of costs. The portion sizes of many of the Disney Quick Service meals can be quiet large for someone that is a light eater. We definitely recommend sharing an adult menu portion with a small child.
To save the most money, we recommend having Breakfast in your room. This can be anything from yogurt and fruit, to cereal or breakfast bars. Everything can be purchased in advance from delivery services like Amazon Pantry or Garden Grocer. You'd be surprised how far a $50 order can get you, with plenty to share with your party. Purchasing breakfast in the resort can easily cost $90 per person over 6 days so be sure that your grocery bill is significantly cheaper.
Throughout the day, you are then left with 12 meals; Lunch and Dinner at $16 each. The average Quick Service meal is $11.49 plus tax so you have plenty of wiggle room to order what you want. Don't forget, ice water is free at all counter service locations.
In total, all of these little extras (Hopper Ticket, Memory Maker, Breakfast at the resort and an extra day in the parks), came to $424 extra. Between you and me, that is a lot of savings. Even enough to consider buying a few souvenirs for your family back home? Or a character dinner on your last night? Or just don't spend it and consider it a win all around.
Money-Saving Tips
Go During the Off Season
The time of year you visit can have a dramatic affect on the price of your hotel room, as well as flights.
Take your own photos
While we always recommend purchasing the Memory Maker, simply for it's amazing photos and quality of service, there are a few disadvantages. Namely, the price. At $199 per family, this can make or break the bank, so to speak.
Photo pass photographers are more than happy to take your camera, assuming that you have set everything for them in advance, and photograph your encounter on your behalf.
Free under 3
We've mentioned this a few times in the past but it is important to reiterate, children under the age of 3 are completely free at Disney. They are not charged an entrance fee, which saves you $400 on your total vacation cost.
You May Also Like…
How to Eat Gluten-Free at Disney World
Canadian Residency Discount or Free Disney Dining. Which saves you the most money?
Best 8-day Itinerary Disney World for Families
How to bring Disney World to you when you can't visit the Parks