Last Updated on February 23, 2022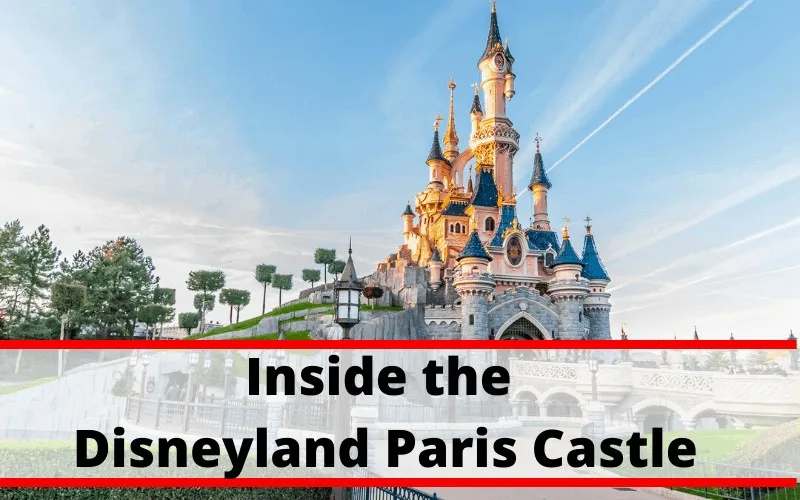 Not much is known on this side of the pond, about what goes on in Disneyland Paris. I mean, why would we? We have Walt Disney World and Disneyland California. And Paris is so incredibly far away. But, there is a lot more to Disneyland Paris than a replica of Magic Kingdom. This post will go over the Disneyland Paris Castle and what makes it stand out as the best Disney Castle.
This post may contain affiliate links.
To which I earn a small commission, at zero cost to you!
Find more info in our
Privacy Policy
.
What is the Disneyland Paris Castle Officially Called?
While the Disneyland Paris castle doesn't have a unique name, since we are in another country, with another language, she is technically called Le Château De La Belle au Bois Dormant. This translates into Sleeping Beauty's Castle.
There are a few other renderings of Sleeping Beauty's Castle around the world but this one is unique in a few different ways.
It doesn't take much exploring to know that Europe is riddled with Castles, each one grander than the last. This meant Disney Imagineers had to come up with something incredible for the Disneyland Paris version. As opposed to an amalgamation of many castles, Le Château De La Belle Au Bois Dormant is inspired by France's own Mont St Michel monastery and Germany's Neuschwanstein.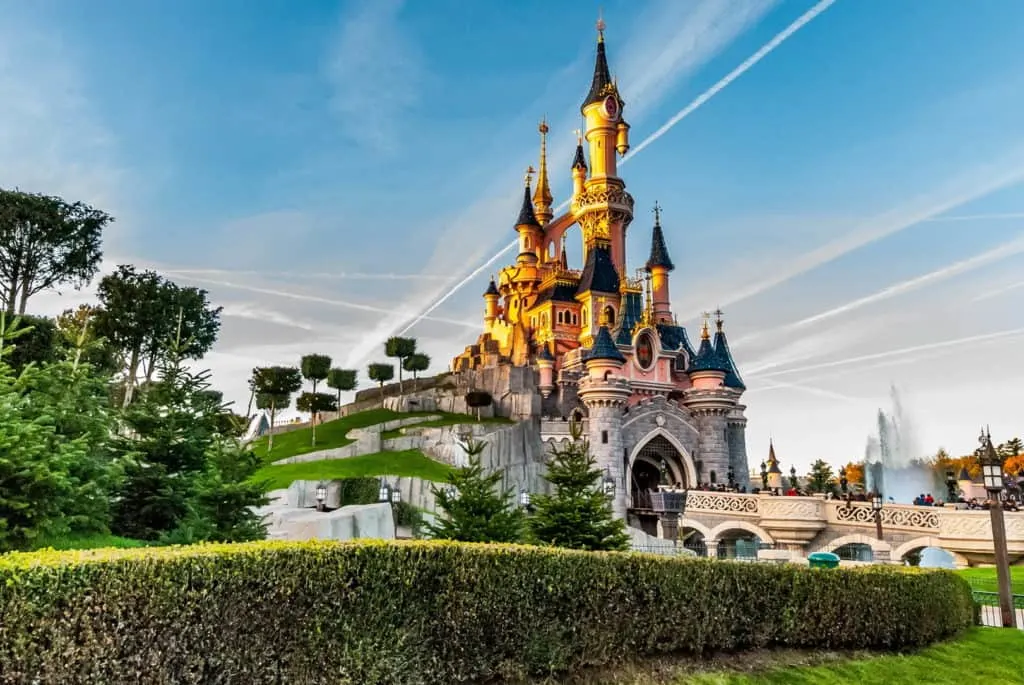 Other than it's architectural design, Le Château De La Belle Au Bois Dormant is open for guests to explore. That's right, guests are allowed and encouraged to climb the inside of the castle to explore the many paintings, artifacts, and stained glass windows.
Last but not least, it has a dragon! Not only can you climb the castle to see elements of Princess Aurora's story, but also descend into the basement cave and come face to face with the Dragon.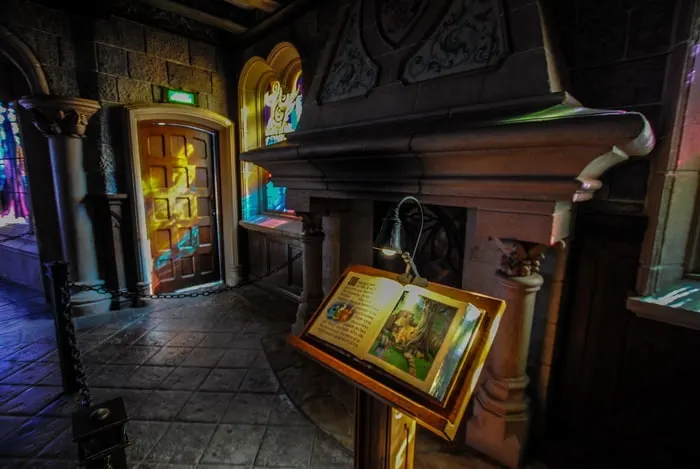 Sleeping Beauty Castle
While many would argue that the pink and blue colours of the Disneyland Paris Castle are to reflect on Princess Aurora's dress, the official reasoning for the castle's pink and blue colour scheme is that these colours pop nicely against the often grey skies of the Paris region.
When we say Disney has thought of everything, we really mean everything.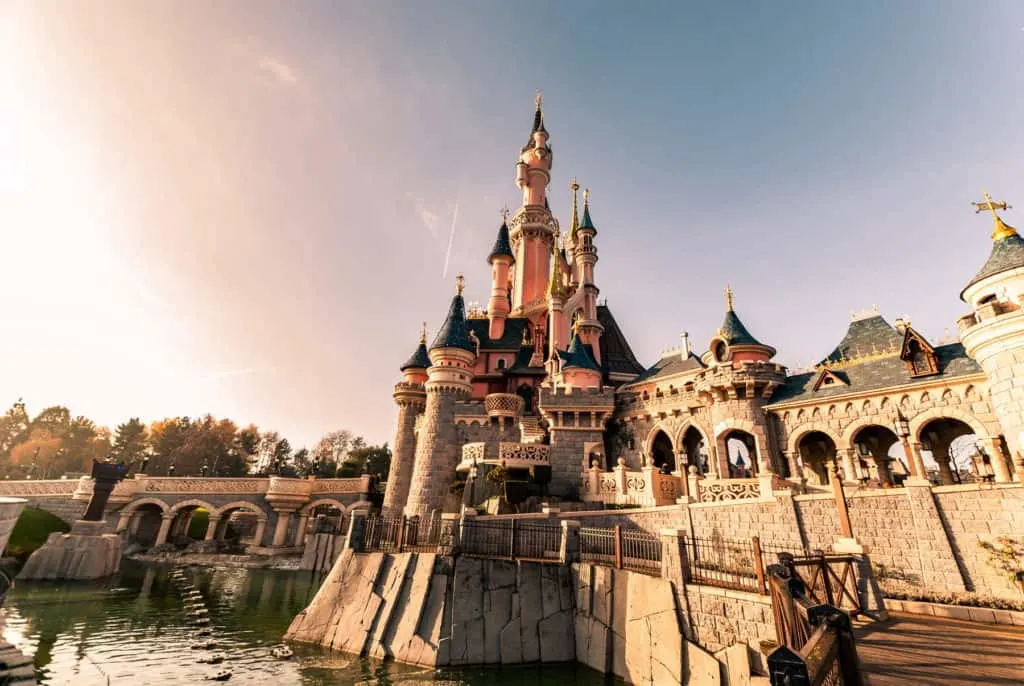 Disneyland Paris Castle Dragon
La Tanière du Dragon ("The Lair of the Dragon") is a walk-through attraction located beneath Le Château de la Belle au Bois Dormant, at Disneyland Park in Disneyland Paris, and is unique to that park. It opened with Euro Disneyland on April 12, 1992.
This incredible feat of engineering spans 27 metres from head to tail. She moves her head back and forth, as well as roars and snores.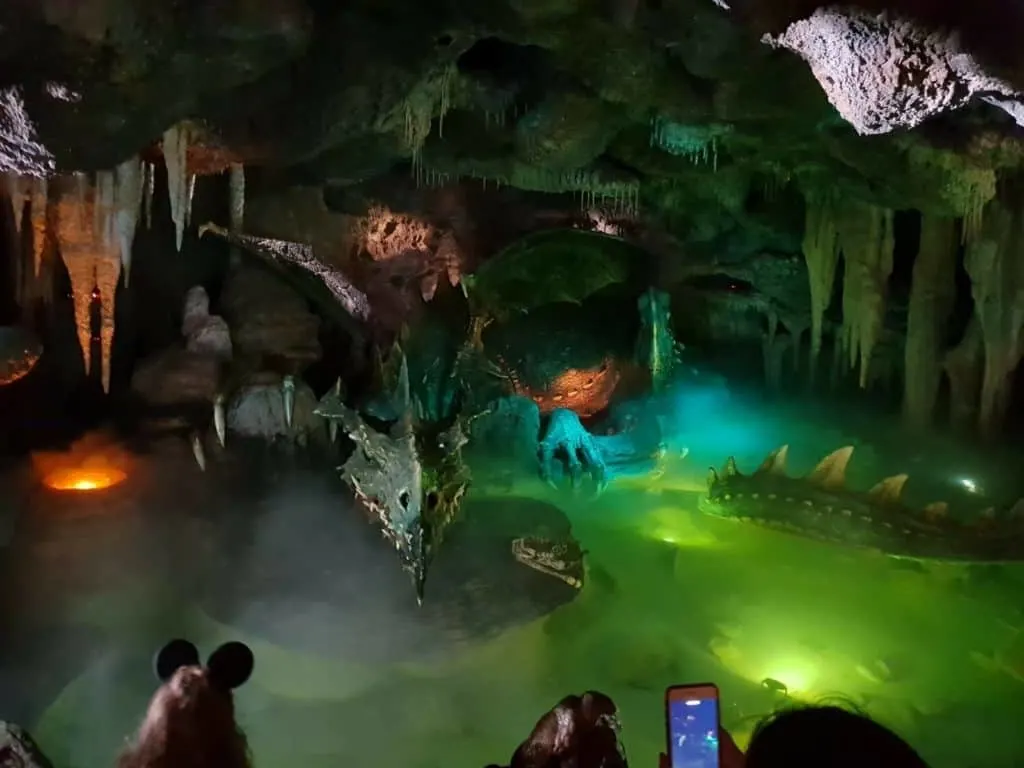 The dungeon itself doesn't open until Fantasyland is officially opened, even though guests are allowed on Main st USA and up to the Castle about 1 hour earlier. This is because the dungeon releases guests on the other side of the castle, near the heart of Fantasyland.
The dungeon is stroller friendly, but it is quite dark, for obvious reasons. The walking path isn't super wide, maybe 3 abreast, and can get narrower when people stop to look at the dragon and take photos. We recommend keeping children close by, if not in their strollers, throughout the short walk.
Disneyland Paris Castle What's Inside?
As we've mentioned, guests are encouraged to go upstairs to the second level of Le Château De La Belle au Bois Dormant and explore the stained glass windows and incredible views from this height.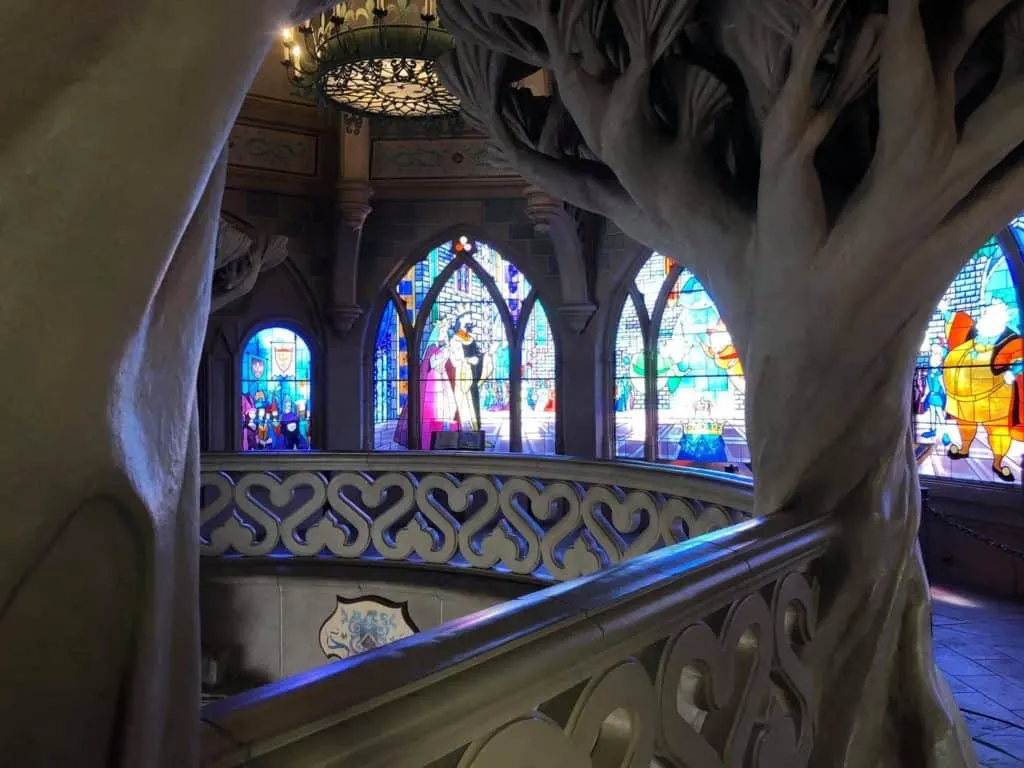 Paul Chapman, a stained glass expert from England, who had previously worked on the restoration of Notre Dame, was in his 80s when he supervised the creation of the stained glass windows for Princess Aurora's Castle.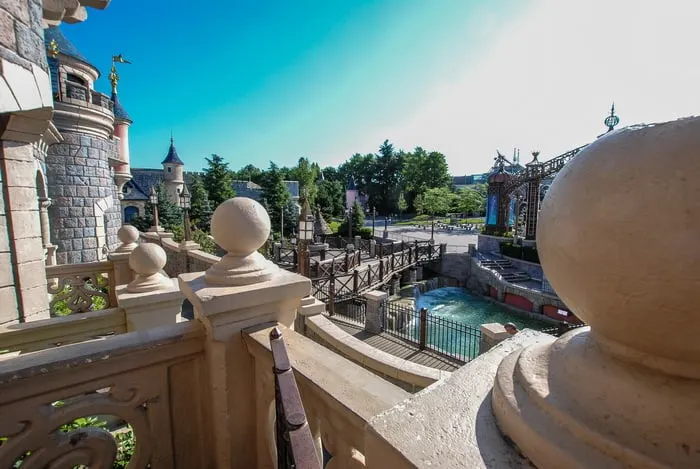 Inside is a beautiful gallery that looks down on the first floor below and stone passageways are lined with imagery depicting the story of Sleeping Beauty.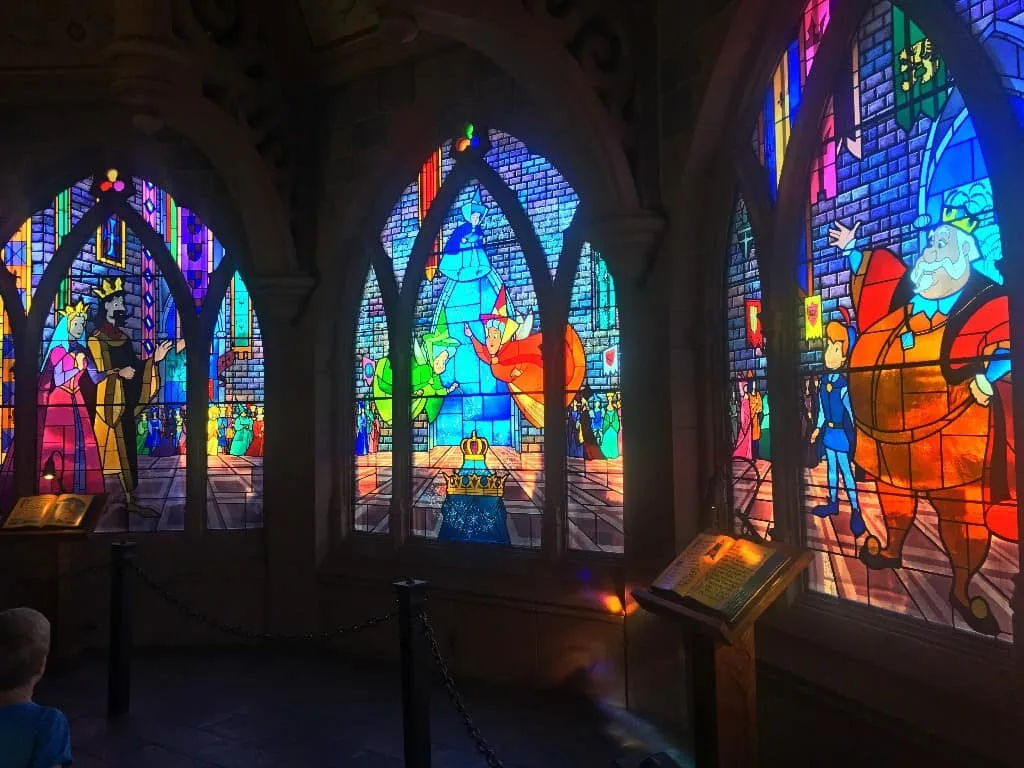 Disneyland Paris Castle height
The Disneyland Paris Castle is a staggering 50.9m, or 167 feet. It looks much taller due to force perspective, but she is only the 4th tallest of all the Disney castles (out of 6).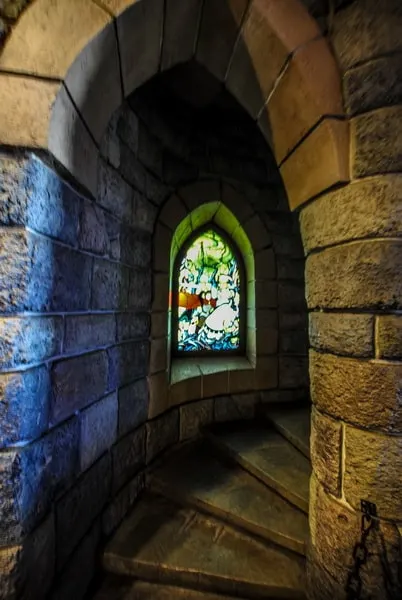 Other notable castles at Disneyland Paris
When one says "Disneyland Paris castle", there isn't usually much confusion. We all know what you mean, Le Château De La Belle Au Bois Dormant. THE castle. But, there are 4 other "things" named castle in relation to Disneyland Paris and we felt this was the right place to mention them, if ever so briefly.
Disneyland Paris Castle Hotel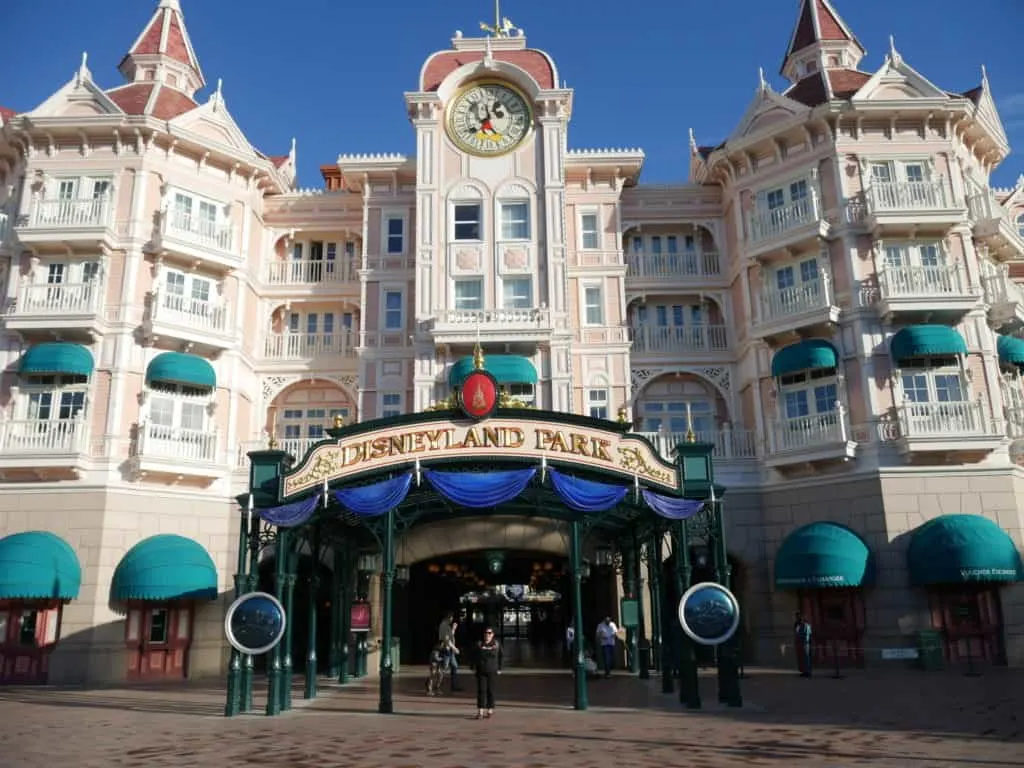 Castle Club
The Castle Club is a part of the Disneyland Hotel which receives special services. This includes a private reception desk and lounge, an American breakfast, complimentary food and drinks, a private lift to the Disneyland Park entrance, and privileged access to certain attractions with a VIP Fastpass.
Vienna House Dream Castle
Vienna House Dream Castle is an offsite hotel situated next to Disneyland Paris. They offer the same amenities as most offsite hotels, as well as a complimentary shuttle bus from the parks.
King Ludwig Castle
King Ludwig Castle is a Bavarian-style Table Service restaurant in the Disney Village. King Ludwig's Castle is hugely popular so advance reservations are highly recommended and can be made up to 2 months prior to your arrival date.
King Ludwig's Castle is situated between Planey Hollywood and Starbucks, directly across from the Sports Bar.
---
Join Mouse Travel News on Facebook, Follow us on Twitter and Instagram.
Your Thoughts...
Please share your thoughts in the comments or reach out on social media...We would love to hear from you.
Follow Mouse Travel Matters for Disney Parks news, the latest info and park insights, follow MTM on Twitter, Facebook, and Instagram.
You May Also Like…