Last Updated on July 2, 2020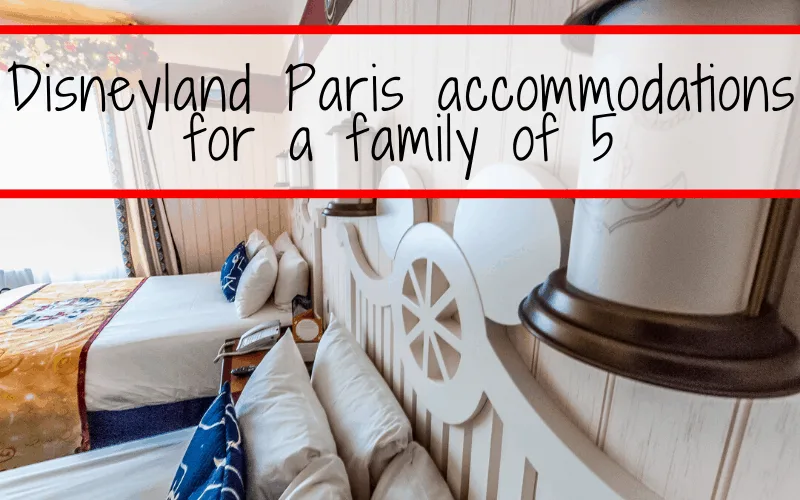 Are you looking for Disneyland Paris accommodations for a family of 5, where we won't have to split into two entirely separate rooms and the children won't end up sharing a bed or in some kind of unsatisfactory, annoyingly cramped room?
Have you ever been stuck searching for a suitable hotel room for a family of 5? It can cost a pretty penny if you don't know where to look but we are here to help you find Disneyland Paris accommodations for a family of 5.
This post may contain affiliate links.
To which I earn a small commission, at zero cost to you!
Find more info in our
Privacy Policy
.
For the most part, you will find a more budget-friendly hotel off-site, but that isn't what most people want.
Between the discounted entrance tickets, the ability to purchase the Disney Meal Plan and the complimentary shuttle bus to the parks, staying onsite at Disneyland Paris is a great way to experience your Disney vacation.
On-Site hotels
According to our research, there are a few Disney owned hotels that will accommodate a larger family; Disney's Newport Bay Club, Disneyland Hotel, Disney's Hotel Santa Fe and Disney's Hotel Cheyenne.
Disney's Newport Bay Club
Newport Bay has about 15 Family Rooms altogether that can fit a larger family. Because there are so few, and this is a popular hotel, it is best to book as soon as you know you want to visit in order to lock in your dates.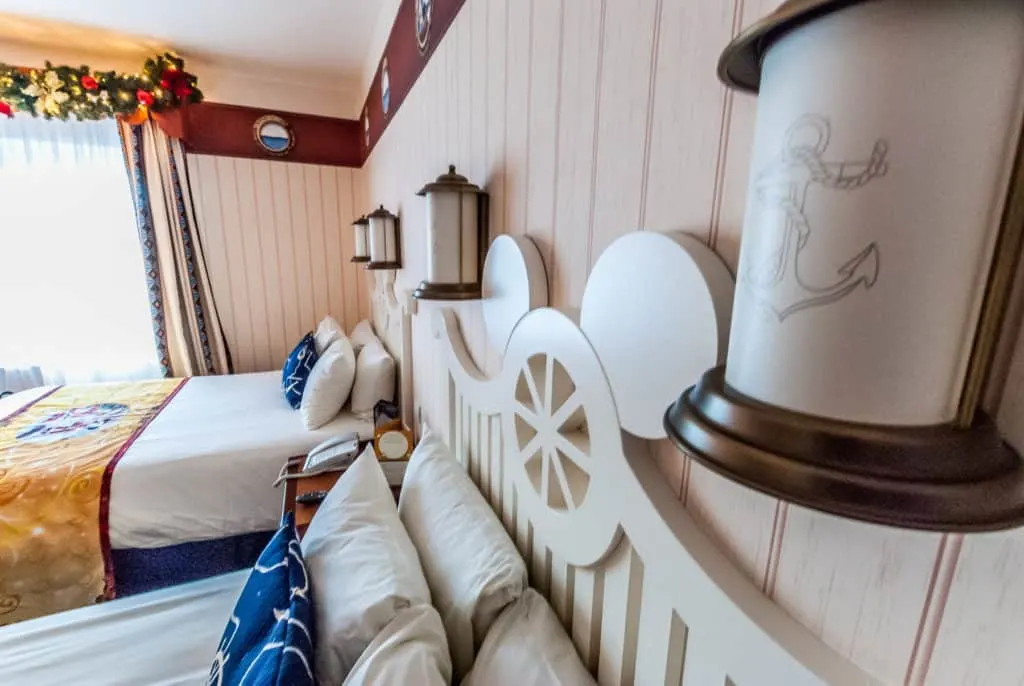 Disneyland Hotel
The Disneyland Hotel has family rooms with two doubles and one single sofa bed. Disneyland Hotel has two room types to sleep a family of five people; Superior Family Room, and Superior Family Room with Terrace.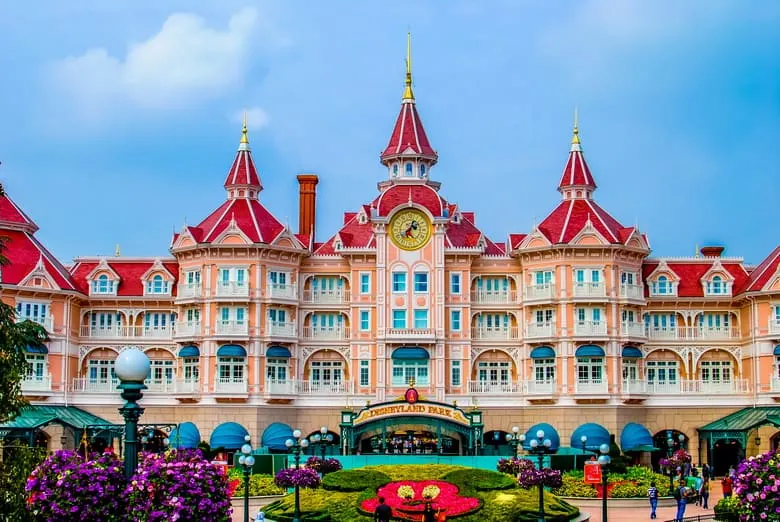 Disney's Hotel Santa Fe
The Santa Fe has some family rooms that sleep up to 6 people with two bedrooms, two bathrooms, and a small lounge area. Standard rooms have two double beds, and some have a connecting door to an adjoining room.
This is when you will need to decide if two rooms at Santa Fe are cheaper than one suite at the Disneyland Hotel.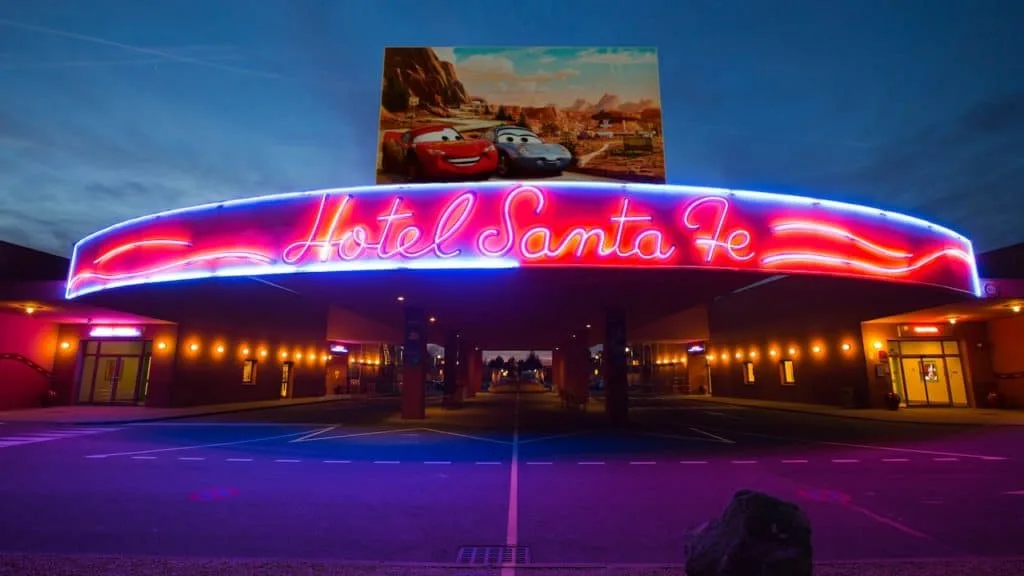 Disney's Davy Crockett Ranch
Each cabin at Disney's Davy Crockett Ranch is capable of holding families of up to 6. Premium Plus Cabin's offer 1 double bed and 4 single beds. The Trapper Tribe Cabins and Pioneer Tribe Cabins offer the same layout, but in a smaller cabin and therefore at a much lower price point.
These are great choices if you are self-driving, as there are no Disney buses that take guests to the parks from Disney's Davy Crockett Ranch.
Trapper Cabins are the farthest from everything, about 3 miles back from the pool and restaurant, and have adapted for disabled. Pioneer Cabins are exactly the same but are in between the Trapper and Premium Plus. Premium Plus are all on Loop 15 and are a 5-minute walk to the main area.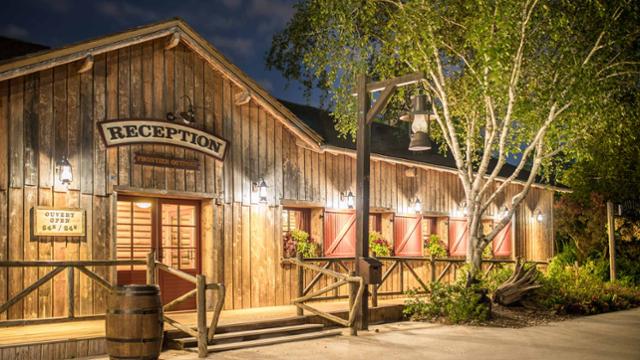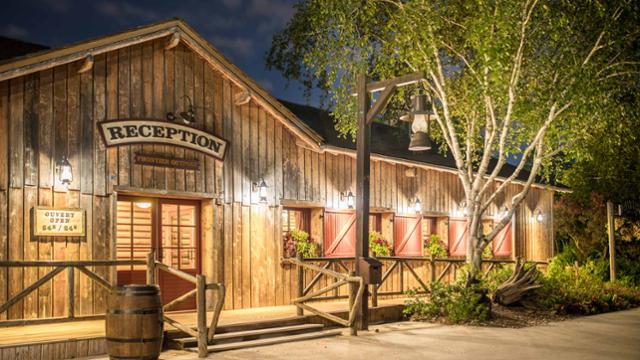 Villages Nature Paris
The newest to the Disney Onsite list, Villages Nature Paris offers a wide selection of family rooms for 5 members. Cocoon VIP Apartment with 2 rooms offers two bedrooms, perfect for 6 people, and Country Premium Apartment with 3 Rooms offers 1 double bed, 2 single beds and 1 sofa bed perfect for a family 5+.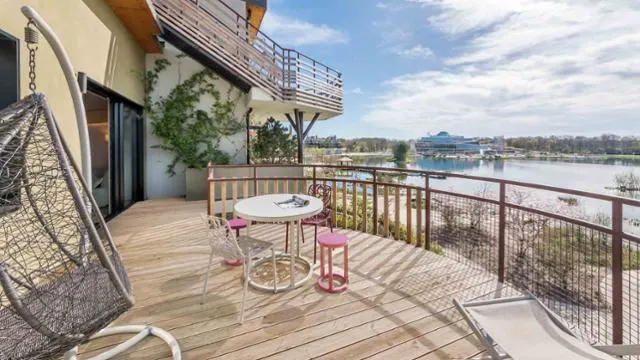 Disneyland Paris Hotels with Connecting Rooms
Disney's Sequoia Lodge, Disney's Newport Bay Club, Disney's Hotel New York – The Art of Marvel, and Disneyland Hotel also have connecting rooms that have one kingsize bed and two double beds, so they can sleep up to 6 people. This is great when the kids are a little older and want some privacy from the parents without being too far away.
Keep in mind, however, when making a reservation, that due to Fire regulations, the age of the guest rarely matters. When they say sleeps 6, they mean 6 human beings, regardless of age.
If a crib is needed for human #6, this needs to be mentioned during the reservation process. Disney is required to place you in a suitable room and can require guests to pay the upgrade fees if they have booked the wrong room (true story).
Off-Site hotels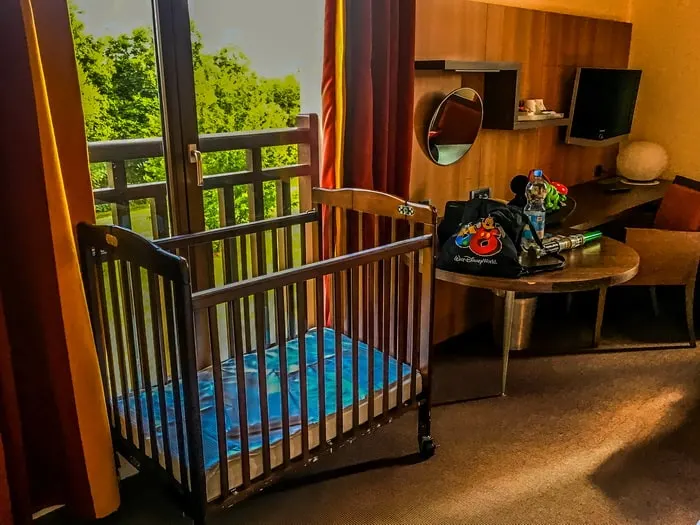 While off-site is never our first suggestion, there is merit in suggesting them anyway. There are more suites and single rooms with bunk beds and pull-out couches, and for cheaper, than you will find at any Disneyland Paris hotel.
To make it worse, off-site hotels can usually be booked throughout third-party reservation services such as Booking.com where you can get hotel discounts and loyalty points for frequent bookings.
Off-site hotels can be self-catered, making your entire vacation that much cheaper.
Where to Stay near Disneyland Paris with Family?
Best hotels for families include:
Your Thoughts...
Please share your thoughts in the comments or reach out on social media...We would love to hear from you.
Follow Mouse Travel Matters for Disney Parks news, the latest info and park insights, follow MTM on Twitter, Facebook, and Instagram.
You May Also Like…