Last Updated on August 3, 2019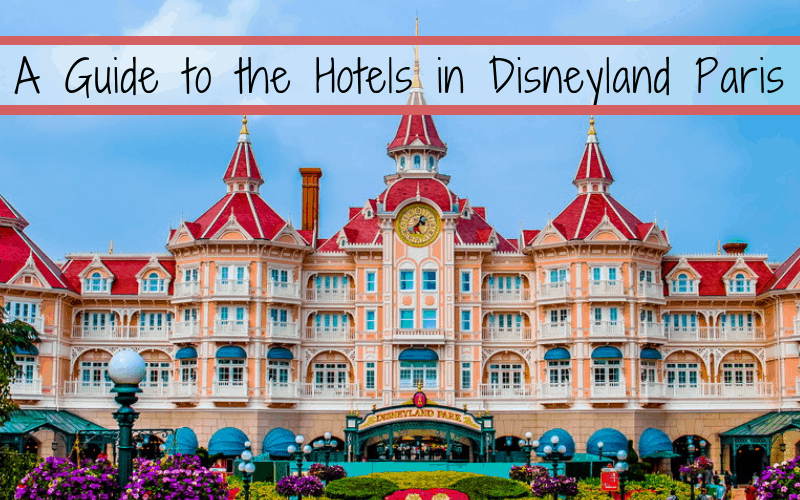 When it comes to hotels, you'll find a variety of options where you can rest your head during your Disneyland Paris vacation. By staying in one of the Disneyland Paris hotels, you'll be bringing your whole experience to the next level. So in this guide, we will take you through each hotel so you can find the perfect fit for your next stay.
The official Disney hotels vary from 2 Keys to 5 Keys so they're affordable no matter what your budget is.
All hotels offer:
Breakfast buffet and special kid's menus
Free Wi-Fi
Parking
Free Baby Cot (subject to availability and/or upon request at the Hotel)
Disney and International TV channels
Concierge service; to assist in making your reservations for dining or book your "Disney Extras"
Free shuttle services that drop you off at the entrance and bring you back to your hotel (apart from the Disneyland Hotel)
So let's start getting to know the hotels and what makes them unique…
This post may contain affiliate links.
To which I earn a small commission, at zero cost to you!
Find more info in our
Privacy Policy
.
Hotels with park tickets included
Technically, all of the hotels come with park tickets when purchasing a package. This is what you will end up buying by default from your Travel Agent or through Disney directly. They offer one extra day ticket than the number of nights you are staying; ie 6 day tickets with a 5 night stay.
For those that don't need this many tickets, or tickets at all (Annual Pass holders), you are welcome to make a hotel only reservation. This can be done through your travel agent, with Disney directly, or through a third party hotel site like booking.com. We have found a great number of hotel deals on these sites and they are all backed by an incredible guarantee.
Hotels with shuttles to Disneyland Paris
All Disneyland Paris owned hotels and partner hotels, except for Davy Crockett Ranch, offers a free hotel shuttle Disneyland Paris park.
All shuttles are not created equally, however. There are a few hotels, like Radisson Blu that only shuttles on the hour and takes significant breaks midday. Be sure to check their shuttle schedule before making your reservation.
Hotels near Disneyland Paris
Disneyland Hotel – aka the Pink Castle Hotel of Disneyland Paris
The most expensive, elaborate and closest hotel to the park, the Disneyland Hotel is the flagship of hotels at Disneyland Paris. The luxurious décor takes you back to the Victorian era, with beautiful fabrics and furniture adding a special touch in every room.
Due to its proximity, guests will not be subjected to a secondary security screening in order to enter the Parks, as they are already in the greater Disney Village area. Be the first to enter the parks in the morning and feel free to be the last to leave, as home is just a hop skip and a jump from the main gates.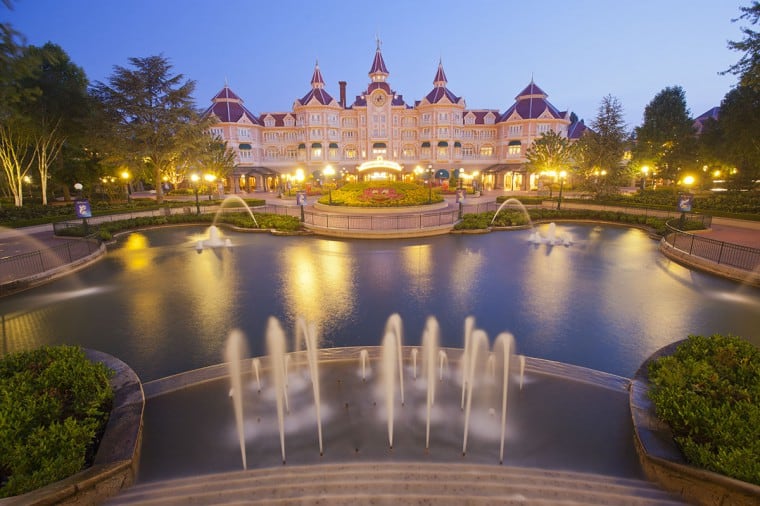 Newport Bay Club Hotel
Disney's Newport Bay Club has undergone the most extensive refurbishment in the history of Disneyland Paris. The Yacht Club restaurant reopened on 12 December 2015, with a redesigned menu inspired by the cuisine of New England with Mediterranean influences.
Enjoy the charm of this 1900s coastal mansion nestled next to Lake Disney. Awash with maritime romance, this Hotel is just a 15-minute walk from the Parks, only a few minutes by free shuttle, and you can even enjoy extra magic in the Disney Parks.
Check out our review of Newport Bay Club Hotel during Christmas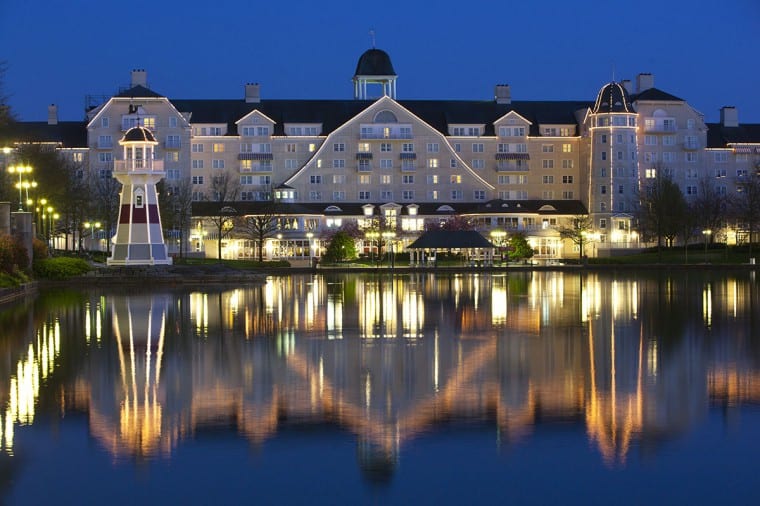 New York Hotel
From January 2019, Disney's Hotel New York will be closed, as they will be busy transforming it into a new heroic story in time for 2020. Until then, enjoy the last hurrah of this 4-star hotel shimmering with the Art Deco decadence of the Roaring Twenties.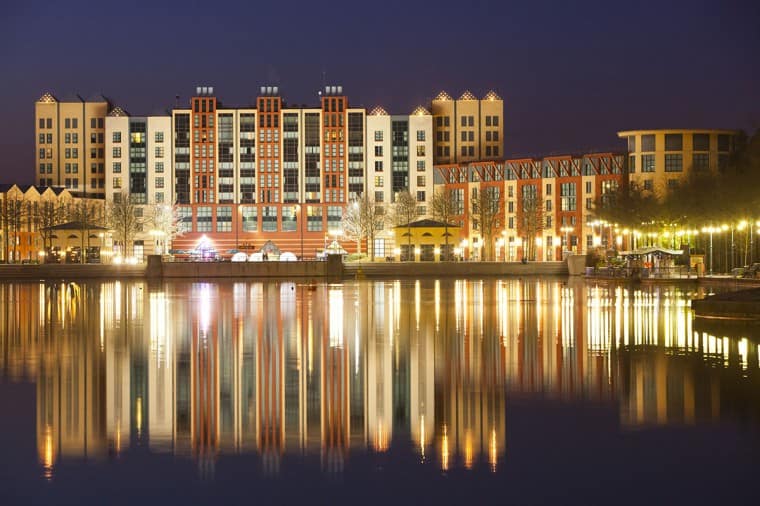 Sequoia Lodge Hotel
Disney's Sequoia Lodge with the lovely Hunter's Grill and Beaver Creek Tavern and its tree felled surroundings give you that mountain retreat feeling. We love the Bambi and friends theming. The trees are even imported from the West Coast of the United States and Canada.
Surrounded by giant sequoias and other beautifully themed landscaping, the hotel has 1,011 rooms, some in independent buildings called Lodges. 124 rooms and suites in the Main Building form the premium Golden Forest Club, which offers exclusive services such as a private and personalized check-in, luggage service and private lounge.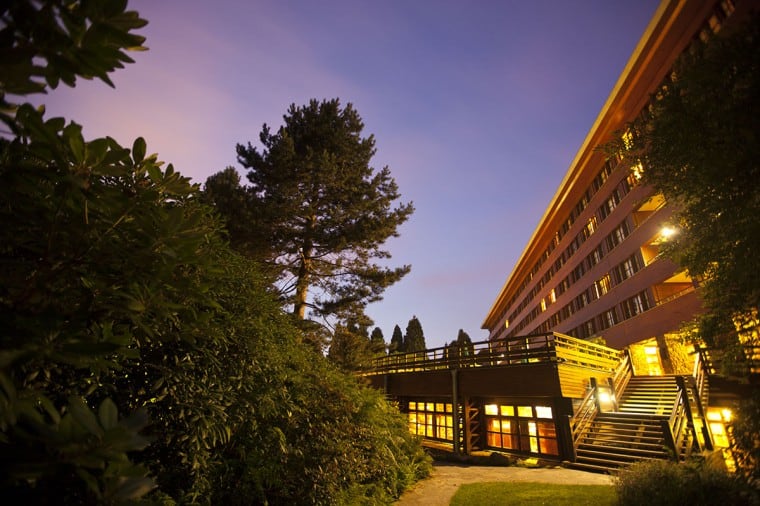 Hotel Cheyenne
As a true cowboy, experience the unique atmosphere a frontier town. The hotel features streets lined with boardwalks and two-storey wooden buildings named after famous Old West personalities like Calamity Jane and Wild Bill Hickok, as well as landmarks like the blacksmith's shop, the boarding house and the laundry. Discover newly refurbished Toy Story-themed rooms!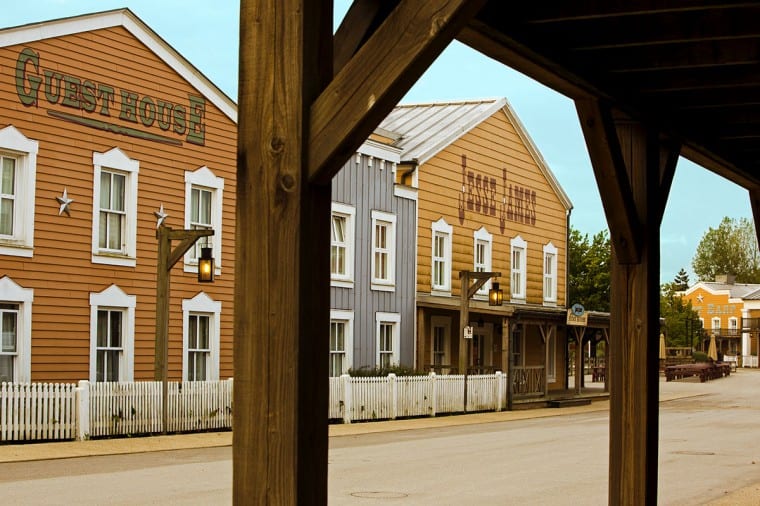 Hotel Santa Fe – Disneyland Paris Cars themed hotel
Disney's Hotel Santa Fe resembles a stop on Route 66 in the American Southwest, with adobe-style pueblos and, at the entrance, a drive-in theatre screen permanently displaying Flash McQueen & Sally, heroes of the Disney•Pixar film Cars. The hotel features La Cantina, a restaurant with an all-you-can-eat buffet offering European and Mexican specialities, and the Rio Grande Bar.
At 25 minutes walking, Hotel Santa Fe is as far from Disneyland Paris as we would like to call "close". A bus may be necessary in adverse weather conditions, or when you are really not interested in the hike.
Check out our review of Hotel Santa Fe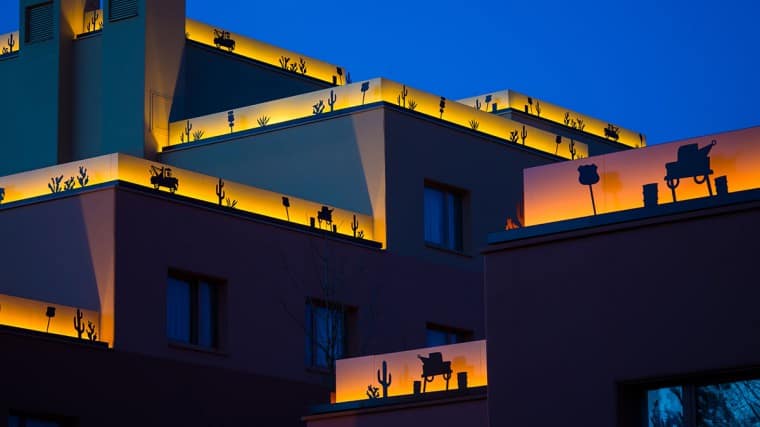 Disney's Budget hotel
Disney's Davy Crockett Ranch
It is for guests in search of relaxation in a wilderness retreat. Disney's Davy Crockett Ranch features 584 equipped log-style cabins that accommodate up to six. The ultra-budget hotel Disney's Davy Crockett Ranch is roughly 20 minutes drive and does not offer a shuttle service, for those really wanting to stretch their Disney dollars. The Ranch also features Davy Crockett Adventure, an exploration trail featuring swings, trapezes, rope bridges and ladders.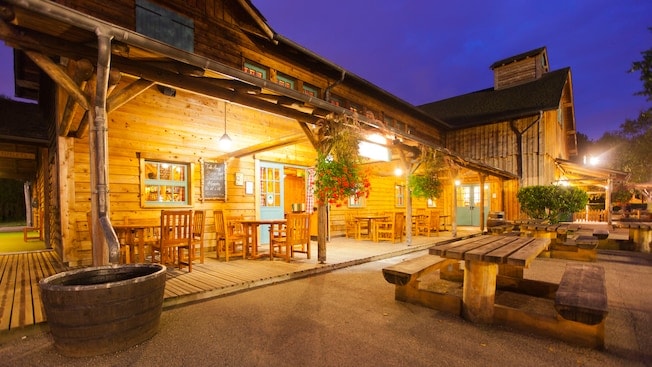 Top Disney Hotel Benefits
Characters: There are many different Disney characters in the hotels first thing in the morning.
Photopass: With so many character opportunities, it is suggested that guests purchase Photopass +during their stay.
Early Magic Time: As an added benefit of staying onsite, guests will be able to access both Parks 1.5 hours before off-site guests.
Disney Dining Plan; Meal plans are only available to guests staying onsite. Be sure to double or even triple check the restaurants and their menus and do some 'Disney Math' before deciding one way or the other.
Additional Fastpasses; Now that Disneyland Paris has rolled out the new Superfastpass system, onsite guests will be awarded a handsome discount – the Unlimited access Superfastpass for the price of the "All-access One time" Superfastpass.
Hotel Easy Pass: Think of this as an all-in-one card. This little piece of plastic acts as your room key, entrance ticket, hotel charge card and keeps track of your Disney Dining Plan credits.
Shopping to the hotel: Our favorite onsite benefit – shipping all of your purchases directly to the hotel gift shop, to be picked up later in the evening. Why carry all your bags when you don't have to?
Your Thoughts...
Please share your thoughts in the comments or reach out on social media...We would love to hear from you.
Follow Mouse Travel Matters for Disney Parks news, the latest info and park insights, follow MTM on Twitter, Facebook, and Instagram.
You May Also Like